New Independent Film Initiative Presented Over 30 Films From Filmmakers Around the World And Recognizes the Top 5

WACO, Texas - March 10, 2023 - PRLog -- The Waco Family & Faith International Film Festival hosted its 4th annual event in the Central Texas town during the weekend of February 2-4, 2023. With its mission of being "dedicated to EMPOWERING the creative spirit, SERVING with heart, and CELEBRATING all," the film festival illuminated every aspect of its mission with an all-encompassing event that featured an international competition of over 30 films.

"This year, we are ecstatic with the tremendous support we have received from the Waco community and our filmmakers," states Dr. Tyrha M. Lindsey-Warren, Founder of the Waco Family & Faith International Film Festival. "Once again, we presented some amazing films by extraordinary filmmakers from around the world. My team and I continue to be impressed with the quality submissions that this film festival continues to receive."

During the Closing Night Party on Saturday, February 4, 2023, the Waco Family & Faith International Film Festival announced the following award winners-
Grand Jury Prize for Best Animation Film (U. S. and International)

"To Turn Off the Stars" (France) / Directed by Margot Cavret

Grand Jury Prize for Best Student Film (U.S. and International)

"Family Story" (Indonesia) / Directed by Rendro Aryo

Grand Jury Prize for Best Short Film (International)

"The Hit List/Love Project" (Japan) / Directed by Jamie Kassler

Grand Jury Prize for Best Short Film (U.S.)

"The Dec1sion" (USA) / Directed by Roy Mazzagate III

Grand Jury Prize for Best Feature Film (U.S./International)

"Joe238" (USA) / Directed by Colleen Stymeist-Wood
The 2023
Waco Family & Faith International Film Festival
also honored its fourth class of "Champions Award" recipients. This honor is dedicated to recognizing individuals and organizations who are exemplars of innovation as well as "good disruption" in the film, TV, performing arts, media, music, and entertainment industry. The 2023 "Champions Awards" recipients were-
Ralph Farquhar, Executive Producer of Disney+'s "The Proud Family: Louder and Prouder"
Ke'Sha Lopez, Co-Anchor for the KWTX-TV/Ch. 10 Morning News Show in Waco and Central Texas
OZOMATLI, Latin GRAMMY Award-Winning Band
Bruce Smith, Creator and Executive Producer of Disney+'s "The Proud Family: Louder and Prouder"
Pete Sousa, Co-Anchor for the KWTX-TV/Ch. 10 Morning News Show in Waco and Central Texas
The sponsors for the 2023
Waco Family & Faith International Film Festival
were the festival's Founding Partner, TFNB Bank Your Bank for Life. The 3
rd
Annual Celebrity Golf Classic sponsor was Greg May Honda. The H.O.T.
Fashion & Style Show
was sponsored by the Waco Convention and Visitors Bureau. The Kick-Off Concert Sponsor was Pete & Michelle Groetzinger, and the Awards Sponsor was the Waco Central Texas Chapter of The Links, Inc. The Gold Star Sponsor was Creative Waco. The Silver Star Sponsors were Z's at the Curry, the City of Woodway, and Modern Texas Living Magazine. The Bronze Star Sponsors were Brazos Masonry, Extraco Banks, HEB, Marie's, Regal Cinemas, ISW Holdings, and Vision Vehicle Studios. The Community Sponsors were Uncle Nearest, Carolina Blue Cigars, Texas State Technical College, Dutch Bros. Coffee, the Texas Media Production Alliance, Raising Cane's Chicken Fingers, The Driveway Company of Waco, and Tru Jamaica Restaurant. The Media Partners were KWTX-TV, The CW, and Telemundo as well as Prophecy Media Group, which includes radio stations LEY 104.1, Latino 93.5, POWER 108FM, Classic Rock 106.7.
The 2024 dates for the 5
th
Anniversary of the
Waco Family & Faith International Film Festival
will be February 15-17, 2024. For more information on the festival and how to participate as a sponsor, volunteer, or filmmaker, visit
https://www.wacofamilyandfaithfilmfestival.com
.
Contact
L.A.I. Communications
***@laicommunications.com
Photos: (Click photo to enlarge)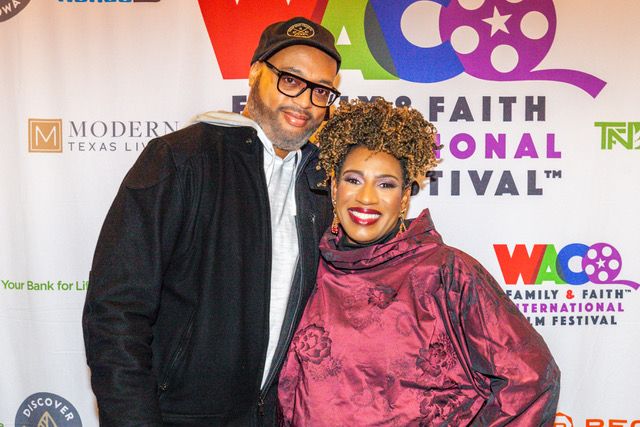 Read Full Story -
Waco Family & Faith International Film Festival Announces 4th Annual Award Winners
|
More news from this source
Press release distribution by PRLog