FlirtTool for 1 day real flat rate
Introducing FlirtTool for 1 day, a premium addition to the FlirtTool experience. With FlirtTool for 1 day we're giving our members access to their two most-requested features through community features and as well to unlimited chat capabilities. UPDATE: FlirtTool for 1 day is now available to all FlirtTool members worldwide.
Taipei, Taiwan - May 16, 2022 - Internet Dating Community FirtTool reached a milestone of 800,000 registered members this month. The site has an international membership base, predominantly covering countries located in the United Staates. United Kingdom, Canada, News Zealand and Australia. The site is a social and relationship dating community. It has been online since 2021 and has been operating under the current name since launch. FlirtTool operates on a low-cost membership fee business model. Premium membership is required to send messages to other members, which costs starts from approximately USD $2.00 for 24h membership.
FlirtTool contains the essential features of a dating website - member profiles with detailed fields and photos, video profiles, kiss messages and e-mails, and complements them with a high-performance, impressive community where internationally successful influencers regularly give tips on various topics, such as dating, travel, computer games, experiences in love life. The whole thing is then topped off by live events, where so far US icon Dash Preistley and dating coach Dominik, among others, have answered users' questions. - A sophisticated search function with the possibility to search for "compatibility". The MAZU AI system determines compatibility ratings based on a number of parameters, including personal preferences in members' profiles.
From now on, FlirtTool offers a unique "get-to-know-offer" for a short time: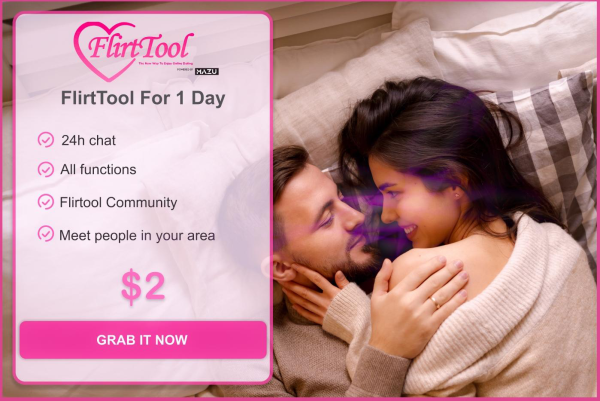 With the promise that AI personality MAZU will find a hyperlink (your personal soulmate) with up to 95% probability.
* the following things are to be considered:
- There must be at least 2 current photos of you available in the profile. (no fake pictures!)
- you have to fill out your profile completely and truthfully.
- you must have already chatted with at least 10 users.
Start your new dating adventure now and register your FlirtTool account now and for free: https://flirttool.com/register
Media Contact
Company Name: Dialogmakers International Ltd.
Contact Person: C Ching Hsu
Email: Send Email
Phone: 0970539015
Address:2F, No. 2-1, Lane 23, Wenhua Street
City: Pingzhen District
State: Taoyuan City
Country: Taiwan
Website: https://flirttool.com/