There is a limited amount of time to initiate a lawsuit after medical malpractice. Long Island and Suffolk & Nassau County residents who have been injured due to medical malpractice should "ask for Sam" and speak to an attorney for free by calling 877 ASK4SAM.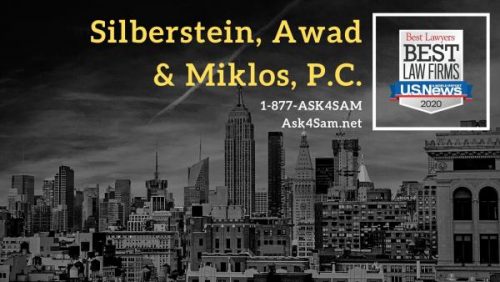 Hauppauge, United States - March 3, 2022 /PressCable/ —
It's a simple fact that all human beings make mistakes. Everyone from janitors to neurosurgeons can have a bad day. However, usually when a janitor has a bad day it doesn't negatively affect the rest of somebody's life, but when receiving Medical Care the repercussions of negligent care can be devastating – even fatal – and when that happens people usually need help picking up the pieces, and getting as close to normal as possible.
Long Island residents who have been injured due to medical malpractice are strongly encouraged to seek a free consultation with an attorney from Silberstein Awad & Miklos (SAM), who are expert Long Island medical malpractice attorneys with multiple locations and offices on Long Island and in Suffolk and Nassau Counties. All you need to do is remember to "ask for Sam" by calling 877-ASK4SAM or visiting ASK4SAM.net
Medical malpractice requires that a number of criteria exist in order to be evaluated as legitimate medical malpractice. Those criteria are:
1. There must have been an established doctor-patient relationship.
2. The doctor must depart from accepted standards of care.
3. The departure must cause harm to the patient.
4. Damages must occur.
Medical malpractice occurs whenever a doctor or other healthcare professional fails to provide the requisite level of care and, as a consequence, injures the patient. The standard of care for a particular condition is determined by the level of care offered by medical providers in the same field in similar situations. If a doctor violates this standard of care, patients may have a valid legal claim against them. Depending on various considerations, the appropriate standard of care varies. For example, factors such as the patient's age, the nature and extent/severity of the medical condition, the standard protocols for treating the medical condition, etc., may determine whether a claim is valid. The lawyer for a patient who has been injured by another person must prove that the injury was caused by the negligence of the defendant.
A study published by the British Medical Journal indicated that medical errors are potentially the third leading cause of death in the United States, but most people simply don't know their rights and don't pursue their rights within the appropriate amount of time provided by the law.
The amount of time someone has to file a lawsuit is called the statute of limitations. To start a lawsuit against someone, papers must first be filed in a courthouse, and then delivered to the person named or persons as defendants in the lawsuit – the medical professionals who may have been negligent. Each state has its own laws regarding when you can file a lawsuit. A patient has two and a half years from the date of their last negligent act to file a medical malpractice lawsuit in New York State. If medical malpractice or negligence occurred at a municipal hospital in New York State, there are very strict and much shorter time limits for filing a lawsuit. A Notice of Claim must be filed with the municipality no later than 90 days after an event and a lawsuit must be filed within one year and 90 days after the event. At hospitals operated by the State of New York, a Notice of Intention to File Claim must be made within 90 days of the event. There are specific tolls for lawsuits involving children, mental disability, and continuous treatment.
Once this process has begun, it can take between 24 and 36 months to fully resolve, though certainly some cases can go even longer than that, while others can resolve much more quickly. An initial consultation with a medical malpractice lawyer like the malpractice attorneys at Silberstein Awad & Miklos is always free. Initial investigation of the matter after consultation is also conducted without an hourly charge or fee. The reason is most Long Island medical malpractice attorneys operate on the contingency fee which has long been recognized as a fundamental way to provide access to the judicial system for people who otherwise couldn't afford an attorney. The benefit of this means there's never any cost to the individual to pursue Justice and the only time they would pay anything would be after a successful verdict or judgment or settlement has been reached and then the payment would only come as a portion of what was earned or awarded.
A spokesperson for the law firm of Silberstein Awad & Miklos commented, "Over its more than 30-year history, Silberstein, Awad & Miklos, P.C. has prosecuted almost one thousand medical malpractice cases and argued nearly 100 matters before New York State's Appellate Courts. In the process, the firm has acquired a breadth of experience in medical malpractice that sets it apart from other New York firms.
"Experience counts. We can't think of a type of medical malpractice claim that we haven't successfully resolved for our clients. Our past achievements provide a secure foundation for each new client we represent. Senior partners Mr. Awad and Mr. Miklos are recognized leaders in their field. Both have been selected as the top trial lawyers in medical malpractice by virtually every peer-review organization."
Malpractice isn't limited to any particular event, and is a catch-all term that can include anesthesia errors, surgical errors, medication errors, birth injuries, brain damage, induced cerebral palsy, surgical mistake, diagnostic errors, prescription errors, spinal cord injuries, missed cancer diagnosis, delayed stroke or heart attack diagnosis, and wrongful death. Judgements in medical malpractice cases can award based on prognosis for future medical and therapeutic needs, lost wages were ability to work, emotional damages, distress, and other non-economic damages. Long Island residents and those injured in Nassau and Suffolk counties are encouraged to seek legal help as soon as possible. Simply remember to ask for Sam by calling 877-ASK4SAM.
Contact Info:
Name: Joe Miklos
Email: Send Email
Organization: Silberstein, Awad & Miklos, P.C. | Nassau & Suffolk County Medical Malpractice & Injury Lawyers
Address: 300 Vanderbilt Motor Parkway New York #200, Hauppauge, New York 11788, United States
Website: https://ask4sam.net/nassau-county-personal-injury-attorney/
Source: PressCable
Release ID: 89066436