From Social Gatherings to Networking Events, Conferences, Sporting Events and Everything In Between — SpaceTym® Creates Community with the Click of a Button
(PRUnderground) December 2nd, 2021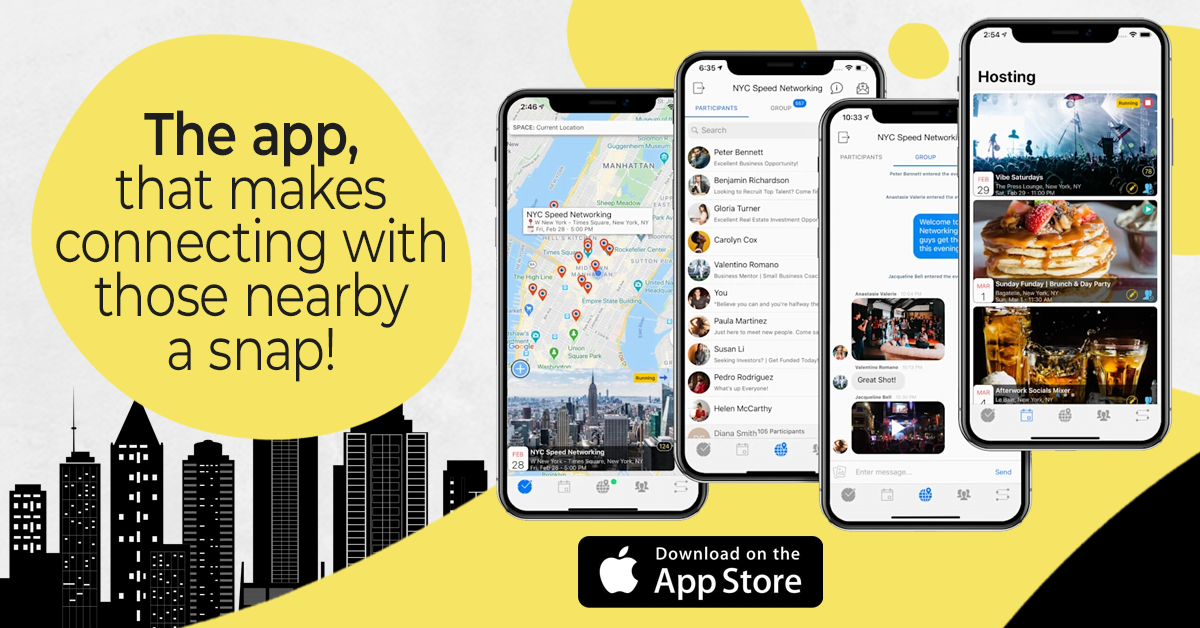 Why do we attend certain events? Whether it be concerts, sporting events, conferences, seminars, or even social gatherings, what creates the desire to attend? Odds are, the reasoning can be boiled down to one key element: it is what interests us and is a part of what makes us who we are. Together we join a collective of like-minded people who share similar interests, business ventures, and curiosities; but how do individuals network and connect amid the digital renaissance? Surely exchanging business cards is becoming a practice of the past, and modern problems need to be solved using modern solutions. 
The truth is, sometimes breaking the ice in social or professional settings can be intimidating, or even anxiety-inducing, but one company is on a mission to revolutionize the way we connect with those sharing the same space and time at any given occasion. SpaceTym® is a cutting-edge event networking app that empowers users to chat, connect, and network with like-minded people in a particular social setting or event with the click of a button. 
SpaceTym® creates a safe and seamless space for users to instantly find out who is who, engage in group-chats with attendees, invite people for a private 1-1 chat, send connection requests, share status messages and much more without ever leaving their seat. The perfect tool for event attendees and promoters alike, SpaceTym® adds an instant boost of participation and audience engagement. Event organizers and promoters are provided with strategic insights to understand audience analytics and engagement at any given event, a space to gather RSVP's and obtain user-generated content, and a streamlined promotion platform all in one place.
The new tech startup born in the heart of Silicon Valley seeks to breathe new life into interpersonal connections after nearly two years of lockdowns and isolation. SpaceTym® provides a new area of opportunity for event planners, venues, promoters, hosts, and talent to promote and market events while simultaneously creating a space for others to find meaningful connections. 
"In today's digital age where we are always striving to make new connections, either by sending cold emails, random LinkedIn/ Facebook requests – why not also make sure to maintain all the connections that we make in our real lives?"
Through proof of concept, dedication to innovation, and unwavering commitment to cultivating meaningful connections amid the digital age; SpaceTym's purpose-driven vision has come to fruition. 
To learn more about SpaceTym®, please visit the App Store at:  
About SpaceTym®
SpaceTym® is a revolutionary event networking app designed to cultivate powerful connections for those sharing the same time and space at any given event. SpaceTym® empowers users to chat, connect, and network with the click of a button, without requiring any of private contact details and without ever leaving one's seat. Spacetime refers to "any mathematical model which fuses the three dimensions of Space and the one dimension of Time into a single four-dimensional manifold". This very concept of Spacetime is the inspiration behind SpaceTym® — to let users instantly connect with people they're sharing Space and Time with. This ideal has become a focal point for interpersonal connection, yet more often than not, individuals choose to only socialize with those they know. SpaceTym® cultivates a safe, simple, and seamless platform where like-minded people sharing the same space at the same time can connect and interact on a deeper level. Perfect for any event, virtual or in-person, SpaceTym® empowers users to chat, connect, and discover who is who without ever leaving their seats.
The post Introducing SpaceTym®: The One-of-a-Kind Event Networking App Revolutionizing Interpersonal Connections in the Digital Age first appeared on PRUnderground.
Press Contact
Name: Roop Satsangi, Founder & CEO

Phone: 347-933-0255

Email: Contact Us

Website: https://www.spacetym.com/
Original Press Release.