Will China's Real Estate Woes Cause Bearishness in the U.S.?
November 12, 2021 at 10:58 AM EST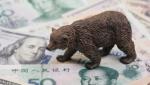 China's Evergrande crisis exposed cracks in the country's real estate sector, and this could have a domino effect on other countries around the globe, including the U.S. — or could it? The U.S. is all too familiar with a real estate crisis, as overinflated housing values coupled with...