Will New Housing Data Spell Trouble for Homebuilder ETFs?
August 19, 2021 at 06:00 AM EDT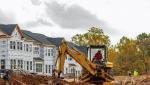 The housing market has been explosive over the last year, despite rising lumber prices, but recent data suggests that a peak may be in sight, which could be problematic for homebuilding ETFs. On Wednesday, homebuilder confidence data, as measured by the NAHB/Wells Fargo Housing Market Index,...