Will the Biotech Space Consolidate in the Back Half of the Year?
July 14, 2021 at 08:00 AM EDT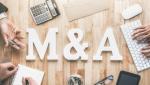 Industry analysts continue to posit that biotechnology consolidation is poised to accelerate through year-end – a scenario that could propel the ALPS Medical Breakthroughs ETF (SBIO) further forward. While there's frequent chatter about biotechnology mergers and acquisitions, particularly...