Finding a solution for heel pain from Plantar Fasciitis has become more simple and affordable. The new CopperJoint Plantar Fasciitis socks are quickly becoming a viral success.
(PRUnderground) April 7th, 2021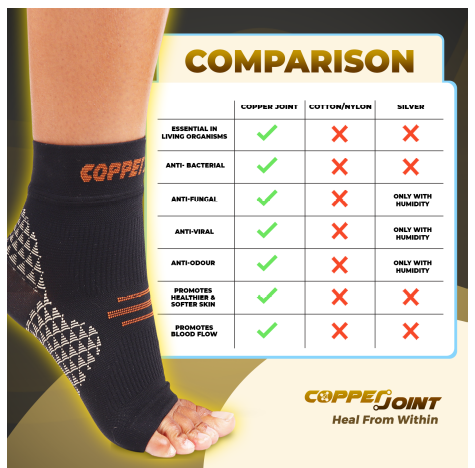 Plantar Fasciitiis is a common problem that hurts many people's ability to enjoy their everyday lives. Unfortunately, many of the products offered on the market to address this foot and heel issue have either been overrated or have come with large price tags. However, there is light emerging, Leading health and wellness accessory company CopperJoint have debuted an attractively priced solution that many are saying is so effective that it will set a trend for 2021, the CopperJoint Plantar Fasciitis Socks. The new product is available on Amazon.com and can be worn by both men and women.
"Our Plantar Fasciitis socks are a product we are very proud of," commented Stefano Starkel, Founder of CopperJoint. "They are helping people be more mobile with less pain, which is a real breakthrough. We are passionate about everything we offer, but this is clearly an exceptional solution to a very real concern for men and women of all ages."
According to CopperJoint, the compression socks also help with other kinds of Heel Pain, Achilles Tendonitis, Inflammation, and related issues. They can also dramatically help reduce or eliminate inflammation. The high-quality design anti-microbial material of the socks is even infused with pure copper, something that many holistic health authorities believe accelerates internal healing when close to an injury.
Reviews for the Plantar Fasciitis socks have been off the charts.
Amanda Miller, recently said in a five-star review, "I don't usually take time to write a long review but let me just say..relief! I've been dealing with pain in my right foot for at-least two years. I've seen multiple doctors including an orthopedic doctor who diagnosed me with anterior tibialis tendonitis..walking boot, cast.. no relief! After a few days of wearing this I am not feeling any pain!! Like seriously I'm buying a few more pairs!"
For more information or to order be sure to visit https://www.amazon.com/plantar-faciitis-socks/dp/B085RW3QQ1.
About CopperJoint
At CopperJoint, we provide drug-free, pain-relief solutions by creating premium copper-infused garments and supports. Our goal is to improve the quality of life for people suffering from joint and muscle pain due to accidents, arthritis, age, or injury. We are committed to use only the highest copper content and make copper compression therapy affordable for everyone.
The post CopperJoint Plantar Fasciitis Socks set Wellness & Recovery Trend for 2021 first appeared on PRUnderground.
Press Contact
Name: Stefano Starkel, Founder

Phone: 307-309-4055

Email: Contact Us

Website: https://www.copperjoint.com
Original Press Release.