There's a great deal of discussion about the new CopperJoint Ankle Brace. The company explores if this is just a trend, or truly a revolutionary resource for potential muscle and joint pain relief.
(PRUnderground) March 25th, 2021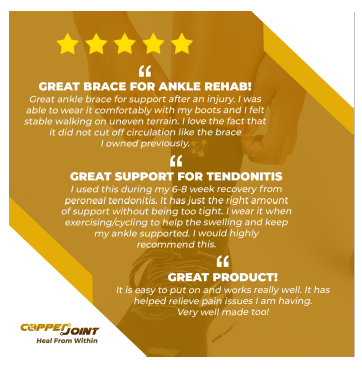 Health and wellness products often come and go, with many making claims that just don't pan out in the end. With the skyrocketing popularity of the CopperJoint Ankle Brace for Women, many have asked if this is a joint relief product that delivers lasting benefits or just another trend that won't help those in pain. The team at CopperJoint recently answered this question with quite a bit of enthusiasm. Pointing to their strong belief, backed up by results, that this is a product that will be used for years to come, and not at all hype.
"When we have a new product that really picks up in sales there's always some people who will wonder if this is just something trendy happening, rather than a product that should be seriously explored," commented Stefano Starkel, Founder of CopperJoint. "With our brand, when big sales are seen, or there's reviews popping up everywhere, you can be sure this is something organic and a genuine response. Our Ankle Brace is powerfully effective, simple to use, and affordable. That's a hard combination to beat."
The CopperJoin Ankle Brace for Women is available in a number of different sizes on Amazon.com.
Key features of the product include adjustable straps to help make the ankle brace fit perfectly; tight compression to give stability and fight inflammation; its material is anti-bacterial and hygienic, helping to make wearing for long periods practical; cleaning the ankle brace is simple with soap and water; and the brace is infused with pure copper, believed by many holistic health experts to help speed recovery internally when worn close to an injured joint or strained muscle.
The positive reviews of the Ankle Brace for Women continue to pour in.
Kathryn G., said in a five-star review, "I still need support for my ankle and I love this brace. It has a compression sock feel which is great when you have to wear shoes. The adjustable straps help with ankle stability and I am able to wear it for hours on end. I foresee myself buying another as I use this one 14+ hours a day. I tried two different brands before this one and this is my go to."
For more information or to order be sure to visit https://www.amazon.com/ankle-brace-for-women/dp/B085RVYCTF.
About CopperJoint
At CopperJoint, we provide drug-free, pain-relief solutions by creating premium copper-infused garments and supports. Our goal is to improve the quality of life for people suffering from joint and muscle pain due to accidents, arthritis, age, or injury. We are committed to use only the highest copper content and make copper compression therapy affordable for everyone.
The post CopperJoint Reveals if its Trending new Ankle Brace For Women is Hip or Hype first appeared on PRUnderground.
Press Contact
Name: Stefano Starkel, Founder

Phone: 307-309-4055

Email: Contact Us

Website: https://www.copperjoint.com
Original Press Release.