Could the Pullback in Gold and Silver ETFs Be a Buying Opportunity?
March 22, 2021 at 15:49 PM EDT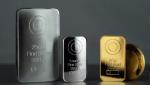 Gold, silver, and metals ETFs are dipping in trading Monday, fueled in part by some recent chart-based selling and stabilizing stock prices, as striking bond yields ease somewhat. There is considerable debate as to whether the downtrend will continue or if this is a buying opportunity for gold and...