An ankle compression sleeve can be a great relief for many athletes. Thanks to CopperJoint, now an ankle sleeve option exists that fits perfectly and is comfortable to train in no matter the temperature.
(PRUnderground) March 18th, 2021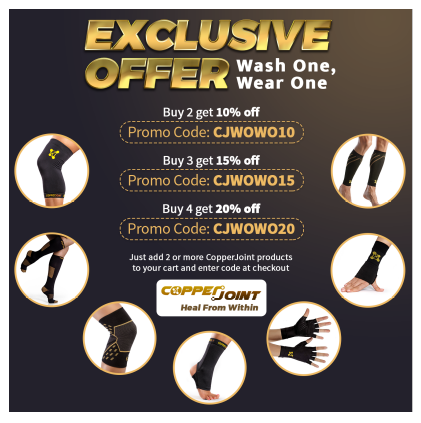 One of the keys to getting the most out of a joint or muscle support product is the ability to wear it comfortably. Otherwise no matter how well it functions, many people will not wear it long enough or skip wearing when it becomes uncomfortable. In exciting news, leading wellness company CopperJoint recently announced the launch of its new CopperJoint Ankle Sleeve. A key factor in its design: the ankle sleeve stands up to intense training in hot or cold weather, and can be worn for long periods of time without becoming irritating. Clearly answering the demands of the market, the new compression sleeve has been welcomed by shoppers with open arms.
"We know well that when it comes to training, and that often means sweating, wearing a poorly designed compression sleeve in hot weather is close to torture," commented Stefano Starkel, Founder of CopperJoint. "Cold weather isn't much better with these kind of products. We are proud of the fact our new ankle sleeve is comfortable and effective no matter the weather conditions, temperature, or how hard you are training."
According to the company, key features of the ankle compression sleeve include it being made of the highest quality making it durable and effective; tight compression that offers relief from inflammation, along with a number of other common foot and ankle issues; the ankle sleeve is easy to clean taking just minutes; and it is even infused with pure copper, which has been shown, in some cases, to help accelerate the healing process.
Evette R., recently said in a five-star Amazon.com review, "Ever since busting my left ankle dancing ballet in high school, it's been weaker than I'd like so I thought I'd get something to stabilize it when working out. This ankle support brace provides excellent support and protection. Plus it fits in my running shoe and it's super comfortable. I can even wear this while not working out too."
For more information or to order be sure to visit https://www.amazon.com/ankle-sleeve/dp/B085RW5RPY.
About CopperJoint
At CopperJoint, we provide drug-free, pain-relief solutions by creating premium copper-infused garments and supports. Our goal is to improve the quality of life for people suffering from joint and muscle pain due to accidents, arthritis, age, or injury. We are committed to use only the highest copper content and make copper compression therapy affordable for everyone.
The post New CopperJoint Ankle Sleeve Stands up to Hot or Cold Weather Intense Training first appeared on PRUnderground.
Press Contact
Name: Stefano Starkel, Founder

Phone: 307-309-4055

Email: Contact Us

Website: https://www.copperjoint.com
Original Press Release.