Most foot and ankle support products can't stand hard training or be worn comfortably in extreme weather. The new CopperJoint Foot Brace can do all of this and much more.
(PRUnderground) March 10th, 2021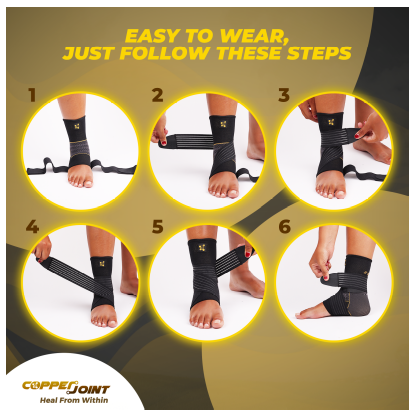 The right choice in foot or ankle support can make all the difference when it comes to athletic performance and having a greater chance of staying injury-free. When it comes to those who train qith some intensity, the choice in braces that can be counted on are few and far between. The good news, is that top-rated joint support manufacturer CopperJoint have stepped up to answer the call, with its new CopperJoint Foot Brace, now available on Amazon.com. The new foot and ankle support brace has been designed for normal use all the way to intense training, and can be worn comfortably in both hot and cold weather.
"When it comes to vigorous training a brace or joint support product needs to be made to the highest quality or they are just not going to last long," commented Stefano Starkel, Founder of CopperJoint. "Here at CopperJoint we always put quality first. It's how we have built our reputation and why our customers know they can count on our old and new products alike. We know our new Foot Brace is going to become one of our favorites. It fills a real need on the market today."
Some highlights of the foot brace's features include its tight compression that can deliver quick relief from inflammation; a special strap to help get the perfect fit; it is breathable and flexible for comfortable all day use; and its special copper-infused fabric is believed to help speed internal healing processes by many in the holistic health world.
Customers are very enthusiastic about the new CopperJoint release.
T.L., recently said in a five-star review, "I injured my ankle by hyperextending it. Dr. diagnosed peroneal tendonitis. I used this during my 6-8 week recovery. It has just the right amount of support without being too tight. I wear it when exercising/cycling to help the swelling and keep my ankle supported. I would highly recommend this."
For more information or to order be sure to visit https://www.amazon.com/foot-brace/dp/B085RVYCTF.
About CopperJoint
At CopperJoint, we provide drug-free, pain-relief solutions by creating premium copper-infused garments and supports. Our goal is to improve the quality of life for people suffering from joint and muscle pain due to accidents, arthritis, age, or injury. We are committed to use only the highest copper content and make copper compression therapy affordable for everyone.
The post CopperJoint Foot Brace can Withstand Hot or Cold Weather Intense Training first appeared on PRUnderground.
Press Contact
Name: Stefano Starkel, Founder

Phone: 307-309-4055

Email: Contact Us

Website: https://www.copperjoint.com
Original Press Release.