For a foot brace to be truly valuable it needs to be comfortable. The new CopperJoint Arch Support can be worn all day and night without any concern.
(PRUnderground) March 9th, 2021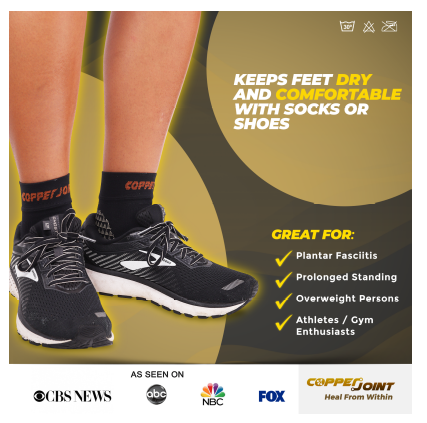 Achilles Tendon pain, sprains, and a long list of sports injuries can often be addressed by wearing a correctly designed arch support. Two factors that discourage many from wearing them is that most on the market are quite uncomfortable, while some even can cause itchiness. Fortunately, relief is now available. Health and wellness leaders CopperJoint recently celebrated the launch of its new CopperJoint Arch Support, a firm brace, that also fits snugly and comfortably, and whose material is itch-free. The new arch support has been met with quick enthusiasm from happy customers.
"Our arch support can be quite magical when it comes to foot pain relief," remarked Stefano Starkel, Founder of the company. "At CopperJoint we specialize in helping to heal joint pain in ways that are practical. That means an arch support that can be worn without having to scratch at it all day and night. We are very pleased with this new foot brace and we know our customers will too."
Features of the CopperJoint Arch Support include highlights like it being available in a number of sizes helping to ensure a proper fit; tight compression to help alleviate pain; firm arch support to help protect and strengthen feet; and its anti-odor, anti-microbrial material that is infused with pure copper – which when close to a joint injury has been shown in some studies to speed recovery.
Early reviews for the arch support have given it two thumbs up.
P. Drury, recently said in a five-star review, "I returned another brand that I couldn't even get on my foot it was so tight but this one gives support to my ankle and is not so thick I can't wear it under a sock, I can even sleep in it and adjust support as needed, the Velcro is so strong I can barely loosen it but the other brands Velcro didn't even hold!"
For more information or to order be sure to visit https://www.amazon.com/arch-support/dp/B085RW5RPY.
About CopperJoint
At CopperJoint, we provide drug-free, pain-relief solutions by creating premium copper-infused garments and supports. Our goal is to improve the quality of life for people suffering from joint and muscle pain due to accidents, arthritis, age, or injury. We are committed to use only the highest copper content and make copper compression therapy affordable for everyone.
The post New Arch Support From CopperJoint Provides Ultra Comfort and Does Not Cause Itchiness first appeared on PRUnderground.
Press Contact
Name: Stefano Starkel, Founder

Phone: 307-309-4055

Email: Contact Us

Website: https://www.copperjoint.com
Original Press Release.