Carpel Tunnel Syndrome impacts every one from office workers, to athletes, to normal people of sexes and ages.
(PRUnderground) March 5th, 2021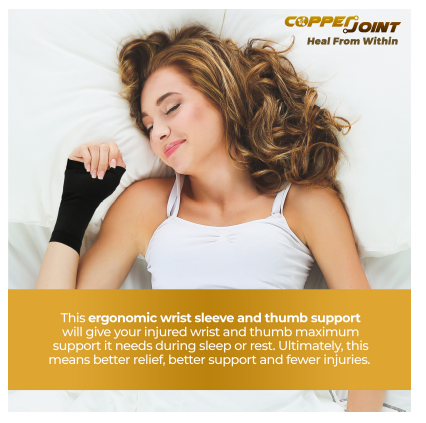 Not being able to lift normal things, open cans and bottles, or type without pain are all issues associated with Carpel Tunnel Syndrome. This makes living a normal life without pain or constantly needing assistance a challenge that is difficult to overcome. The good news is that a new product has been providing significant relief for many users. Enter the new CopperJoint Thumb Brace. Designed with helping addressing the concerns that come along with Carpal Tunnel, arthritis, and other hand, wrist and thumb injuries, the new joint relief product has been met with very real enthusiasm across the board.
"With firm thumb support like our new Thumb Brace provides a person's quality of life can be much more satisfying," commented Stefano Starkel, Founder of CopperJoint. "Carpal Tunnel Syndrome is a very serious problem and we are happy to have put our team behind developing a premium, affordable joint and muscle relief product that can truly help."
According to CopperJoint, key features of the thumb brace include its ability to reduce wrist, hand, and thumb pain in many cases; the brace can also fight hand and finger fatigue thanks to its tight wrap, compression, and support; the brace's material is infused with copper, pointed to by holistic health experts as having a positive effect on the healing process; and much more.
Reviews for the new product have been completely positive.
Amanda D., recently said in a five-star review, "Carpal tunnel syndrome is not fun at all. It's painful and sometimes prevents me from doing everyday housework and even caring for the kids. Since purchasing this I have seen a drastic change in pain. The compression holds all tendons, muscles and bones in place so that pain doesn't happen. It's tight enough to stop the pain but loose enough to be comfortable. I usually wear it at night and get up pain free. It can be worn at daytime as well for almost instant relief. It's made well and has incredible stretch. The fabric is breathable and comfy. A must have for anyone who suffers from carpal tunnel syndrome, wrist hand or thumb arthritis or even sports injuries. Great value!"
To learn more about the Ankle Support Brace or to order be sure to visit https://www.amazon.com/thumb-brace/dp/B08CBBDP3F.
About CopperJoint
At CopperJoint, we provide drug-free, pain-relief solutions by creating premium copper-infused garments and supports. Our goal is to improve the quality of life for people suffering from joint and muscle pain due to accidents, arthritis, age, or injury. We are committed to use only the highest copper content and make copper compression therapy affordable for everyone.
The post New CopperJoint Thumb Brace Potentially Helps Ease Pain for Carpal Tunnel Syndrome first appeared on PRUnderground.
Press Contact
Name: Stefano Starkel, Founder

Phone: 307-309-4055

Email: Contact Us

Website: https://www.copperjoint.com
Original Press Release.