Will Fear Keep Investors From Taking On More Corporate Bonds?
August 14, 2020 at 10:34 AM EDT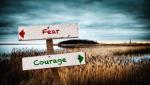 If gold's rally is evident of anything, it's that investors are still wary of the uncertainty that the coronavirus pandemic might bring moving forward. As such, this could inject a heavy load of volatility into the corporate bond space, which might keep risk averse investors away. "Bond investors...