Can the Cyclical Sector Stage a Comeback as Economy Reopens?
May 27, 2020 at 12:30 PM EDT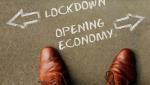 While the pandemic sell-off was in full swing, cyclical sectors took a hit as investors sought safer havens like bonds and gold. Fast forward to today, and the prospect of an economic recovery could be setting the stage for a cyclical sector comeback. Per a Wall Street Journal report, a number of...