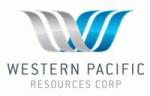 VANCOUVER, BRITISH COLUMBIA -- (Marketwired) -- 08/30/16 -- Western Pacific Resources Corp. ("Western Pacific" or "the Company") (TSX VENTURE: WRP) is pleased to announce that it has settled its debt to Unico Incorporated/Deer Trail Mining Company - in the amount of US$200,000, 10,062,546 common shares of the Company and an assignment of a 50% interest in the net smelter return ("NSR") royalty on the Mineral Gulch Property up to a maximum of US$2,300,000 - as previously announced in a news release dated July 29, 2016, related to the Deer Trail Mine acquisition. The Company now has no significant debt and a balance sheet which will allow the company to move forward and pursue new opportunities.
About Western Pacific Resources Corp.
Western Pacific is a publicly traded resource exploration company whose shares trade on the TSX Venture Exchange under the symbol "WRP". Western Pacific's team is led by technical and financial experts whose aim is to succeed in creating shareholder value through the development of its projects as well as pursuing property acquisitions and other strategic opportunities.
ON BEHALF OF THE BOARD
Michael Callahan, President & CEO
For more information visit the Company's website at www.westernpacificresources.com.
Neither the TSX Venture Exchange nor its Regulation Services Provider (as that term is defined in the policies of the TSX Venture Exchange) accepts responsibility for the adequacy or accuracy of this release.
Certain statements contained in this news release constitute forward-looking statements within the meaning of Canadian securities legislation. Forward-looking statements contained in this news release include, without limitation, statements in respect of the settlement of debt and development of future projects. These statements relate to future events, business prospects or opportunities and product development. All such statements other than statements of historical fact are forward-looking statements. Forward-looking statements are often, but not always, identified by the use of words such as "seek", "anticipate", "plan", "continue", "estimate", "expect, "may", "will", "project", "predict", "potential", "targeting", "intend", "could", "might", "should", "believe" and similar expressions. The Company believes that the expectations reflected in those forward-looking statements are reasonable, but no assurance can be given that these expectations will prove to be correct and such forward-looking statements should not be unduly relied upon. Actual results and developments may differ, and may differ materially, from those expressed or implied by the forward-looking statements contained in this news release.
Forward-looking statements involve known and unknown risks, uncertainties, assumptions of management and other factors that may cause actual results or events to differ materially from those anticipated in such forward-looking statement, including but not limited to: (a) the Company not having the financial ability to meet its exploration and development goals; (b) risks associated with the results of exploration and development activities, the interpretation of drilling results and other geological risks, estimation of mineral resources and the geology, grade and continuity of mineral deposits, project cost overruns or unanticipated costs and expenses; and (c) such other risks detailed from time to time in the Company's quarterly and annual filings with securities regulators and available under the Company's profile on SEDAR at www.sedar.com.
Although the Company believes that the expectations conveyed by the forward-looking statements are reasonable based on the information available to it on the date such statements were made, no assurances can be given as to future results, approvals or achievements. Such forward-looking statements have been made for the purpose of assisting investors in understanding the Company's business, financial and operational performance and plans and may not be appropriate for other purposes. The forward-looking statements contained in this news release are expressly qualified by this cautionary statement. The Company disclaims any duty to update any of the forward-looking statements after the date of this news release to conform such statements to actual results or to changes in the Company's expectations except as otherwise required by applicable law.
Contacts:
Fiona Grant Leydier
Investor Relations
(604) 692-2891
info@wrpv.ca