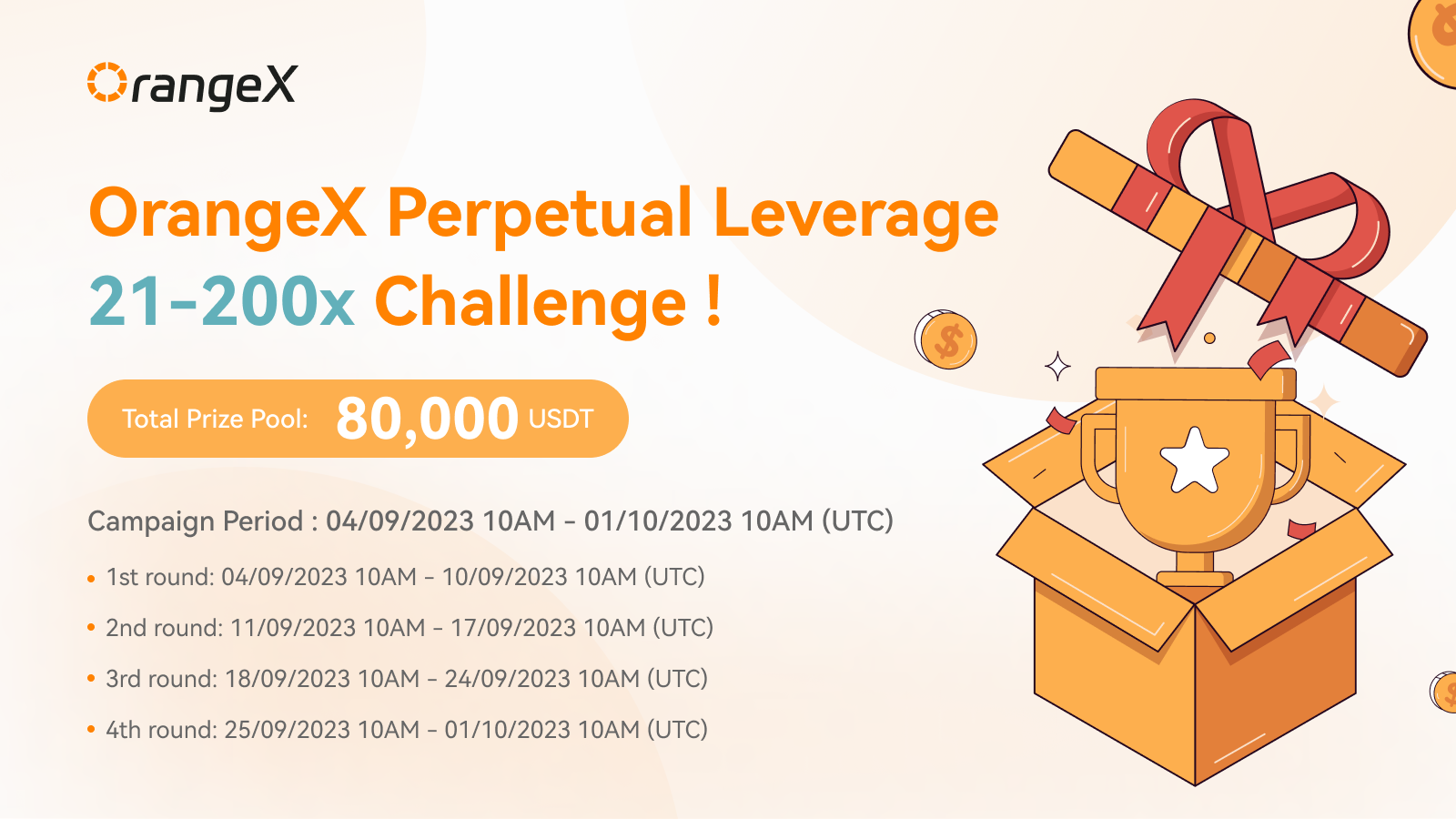 Seychelles, 19th September 2023, ZEX PR WIRE,
 To further enhance the trading experience for both existing and new traders, OrangeX conducts a month-long campaign with the prize up to 80,000 USDT. This captivating event, kicking off on September 4, is designed to reward all users who engage in perpetual trading with leverage of ≥ 21x on a weekly basis.
OrangeX offers USDT margin perpetual contract trading with adjustable leverage ranging from 1-200x in both cross margin and isolated margin mode. Additionally, OrangeX boasts support for over 100 types of altcoin trading pairs and provides users with powerful trading tools such as hedge mode, K-Line quick order, and TP/SL features for both entire and partial positions, ensuring a highly flexible and adaptable trading environment.
Leverage Your Fortune: OrangeX's 80,000 USDT Trading Extravaganza!
The event unfolds over four distinct rounds, with data aggregation occurring from Monday through Sunday. Each round boasts its own enticing prize pool, and any perpetual trade executed with leverage of ≥ 21x automatically qualifies for participation in the campaign.
Campaign Period: 04/09/2023 10AM – 01/10/2023 10AM (UTC)
1) 1st round: 04/09/2023 10 AM – 10/09/2023 10 AM (UTC)
2) 2nd round: 11/09/2023 10 AM – 17/09/2023 10 AM (UTC)
3) 3rd round: 18/09/2023 10 AM – 24/09/2023 10 AM (UTC)
4) 4th round: 25/09/2023 10 AM – 01/10/2023 10 AM (UTC)
Prizes: each round offers a tantalizing 20,000 USDT bonus, totalling 80,000 USDT in rewards
Special Rewards for New Users
During the campaign period, new users with OrangeX account who use ≥ 21x leverage in perpetual trading and have an accumulated trading volume ≥ 30,000 USDT will receive a 5 USDT bonus.This rewards are offered on a First Come First Served basis, with 2,000 vacancies for each round.
Accumulated Trading Leaderboard Rewards
For those users who engage in perpetual trading with ≥ 21x leverage and amass an accumulated trading volume ≥ 90,000 USDT, a bountiful prize pool worth of 10,000 USDT awaits.

Users are welcome to participate in all rounds of campaigns and can claim the accumulated trading leaderboard rewards simultaneously. To learn more about the terms and conditions of the round, click
here
.
What's OrangeX bonus?
OrangeX bonuses represent a form of user reward attainable through various events, campaigns, and promotions. These bonuses allow users to explore our services without assuming any risk. It's important to note that these bonuses are specifically for Contract Trading, not Spot Trading. Attempting to withdraw or transfer trading bonuses will result in the entire bonus amount being revoked.
While you can't withdraw the bonus amount itself, you can use it just like your regular funds to trade contracts. Any profits you make from your trading, as long as they're in the form of Realized PNL (Profit and Loss), can be withdrawn.
Based on our product strengths and technological prowess, OrangeX is rapidly expanding its team and advancing further on the path of compliance. We are dedicated to consistently bringing you fresh events and delightful surprises. Join this vibrant community of traders and kickstart your participation in this exciting campaign!
About OrangeX
CoinMarketCap (CMC) and CoinGecko-listed exchange, OrangeX, founded in 2021 in Seychelles, stands as a worldwide cryptocurrency trading platform renowned for its cutting-edge technology, proficient team, and seasoned financial knowledge. Our paramount strengths encompass strict regulatory adherence, robust fund and system security, unwavering transparency, and dependable products, all of which collectively culminate in the delivery of top-tier professional services to our esteemed users.
For media inquiries, please contact: marketing@orangex.com