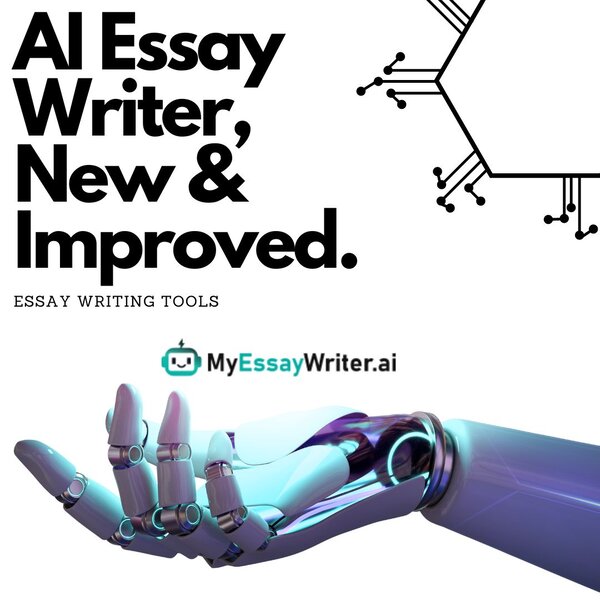 South Carolina, USA, 25th July 2023, ZEX PR WIRE, Experience the power of AI essay writing with advanced Natural Language Processing training, an updated information database, real-time editing, additional grammar & plagiarism checks, readability and tone analysis, and other new features with MyEssayWriter.ai 1.1. 
New & Exciting Features of MyEssayWriter.ai

Let's dive into the exciting details of how our AI essay writer has now been improved to maximize its efficient usage by users. 
Advanced NLP Training
Our AI essay writer has undergone extensive training using advanced NLP algorithms, enabling it to produce high-quality and coherent essays. This training ensures that it can comprehend complex topics, articulate ideas effectively, and deliver accurate and well-structured content, benefitting users with reliable and proficient writing assistance.
Updated Knowledge Database
The tool has received a comprehensive knowledge base upgrade, incorporating the latest information, credible sources, and references. This enhancement benefits users by ensuring that the essays generated are up-to-date, well-informed, and supported by accurate and relevant data, enabling them to produce insightful and reliable content effortlessly.
In-text Citation
Our AI writing tool's latest version now includes the capability of in-text citations. This feature greatly benefits users by automatically generating accurate and properly formatted citations within the text, saving time and ensuring the academic integrity of their work. 
Readability Analysis
Our tool's latest version incorporates a readability analysis feature, allowing users to assess the readability of the generated essays. This benefit empowers users to gauge the clarity and comprehension level of their writing, ensuring that the content is easily understandable by the intended audience and meets their specific readability requirements.
Tone Analysis
The newest version offers a tone analysis feature as well. This feature provides valuable insights into the overall sentiment of the essay, helping users ensure that the tone is suitable for the intended audience and purpose, ultimately leading to more engaging and impactful writing.
Abstract Writing
The tool now also has an added capability to automatically generate abstracts for the essays created. This feature benefits users by providing concise and well-summarized overviews of their content, saving time and effort in crafting abstracts manually. With this addition, users can quickly grasp the main points of their essays and easily share the key ideas with others, enhancing the accessibility and usefulness of their written work.
Essay Review
The review feature allows users to assess the quality and coherence of the essay generated. This valuable addition benefits users by providing them with an opportunity to identify and address any potential issues, ensuring that the final piece is polished, well-structured, and meets their desired standards, thereby enhancing the overall effectiveness and impact of their writing.
Grammar Checking
The new and exciting Grammar Checking feature benefits users by automatically detecting and correcting grammar errors in the generated essays. This feature ensures that the writing is free from grammatical mistakes, leading to improved clarity and professionalism in the content, ultimately helping users produce high-quality and error-free essays effortlessly.
Plagiarism Checking
The tool now also includes a Plagiarism Checking feature, providing users with the advantage of automatically scanning the generated essays for any copied content from external sources. This feature guarantees the authenticity and originality of the writing, assisting users in upholding academic integrity and preventing potential plagiarism concerns, thereby improving the credibility and reliability of their work.
Pricing & Availability
Previously, the tool was offered to users completely free of charge. However, the latest version now provides a free trial period, allowing users to experience its enhanced features. After the trial, users have the option to upgrade to the latest version by subscribing at a highly affordable rate of just $4.99 per month for a limited time. The actual subscription price is $29.99 but at an exclusive 85% promotional discount; users can subscribe to the tool at the discounted rate of $4.99.  
This pricing structure ensures that users can continue to access the advanced functionalities of the tool while maintaining an accessible and budget-friendly subscription plan.
To subscribe to the tool, you just have to take a free trial. Once you are satisfied with the tool and its output, click on the button 'Upgrade to Premium.' A popup will appear asking you to set up an account by just adding an email address and password. After your account has been set up, you can enter your payment details, which are kept highly confidential. After the payment has been made, you can enjoy writing with your AI companion throughout the month, whenever you want. While each AI tool has its own unique strengths and limitations, all of them are effective in helping students stay on top of their assignments. So, choose the AI tool that serves your needs the best. 
MyEssayWriter.ai 1.1 is now live! Test it out with a complimentary trial and unlock powerful features for your academic success.
#AIWriting #FreeTrialOffer #85%OffOnSubscription
About
MyEssayWriter.ai is a leading company offering an innovative AI essay writing tool designed specifically for students. Since our inception in 2022, we have been dedicated to revolutionizing the way students approach academic writing. By leveraging advanced artificial intelligence, we aim to empower students with a user-friendly and efficient AI tool that streamlines the essay writing process, enabling them to produce exceptional papers and achieve their academic goals with confidence. For more information, visit: https://www.myessaywriter.ai/