Reed Maintenance Services, Inc., a leading dumpster rental company servicing Huntsville, Alabama, is proud to announce its initiatives and unbeatable offerings that aim to revolutionize waste management solutions in the city. With a commitment to excellence and customer satisfaction, Reed Maintenance Services, Inc. continues to redefine the dumpster rental industry by providing reliable, efficient, and affordable services.
Service Areas: Reed Maintenance Services, Inc., is pleased to reaffirm its commitment to provide exceptional customer service to cities and towns across Alabama. Residents and businesses in Arab, Albertville, Guntersville, Huntsville, and Madison can enjoy the convenience and professionalism offered by Reed Maintenance Services, Inc . The company's extended reach ensures that more communities have access to their top-notch dumpster rental services.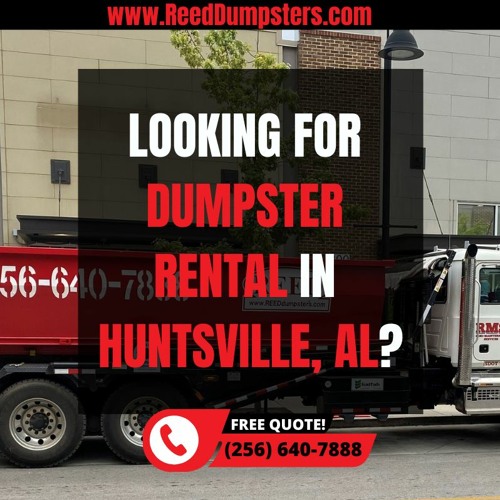 Diverse Range of Dumpster Sizes: Recognizing that every project has unique requirements, Reed Maintenance Services, Inc. offers a wide selection of dumpster sizes, ranging from small 20-yard containers to larger 40-yard containers. Whether customers are undertaking home renovations, construction projects, or commercial cleanouts, they have the perfect dumpster size to accommodate the needs of homeowners and business owners alike.
Flexible Rental Durations: At Reed Maintenance Services, Inc., they understand that different projects require varying rental durations. Which is why the company offers flexible rental options to suit their customers' timelines. From short-term rentals for weekend cleanups to long-term rentals for ongoing construction projects, they work closely with clients to ensure they have the dumpsters for the duration they need, without any unnecessary costs.
Environmentally Conscious Practices: As part of their commitment to sustainable waste management, Reed Maintenance Services, Inc. prioritizes environmentally conscious practices. The dumpster rental company collaborates with local recycling facilities to maximize the recycling of materials and minimize landfill waste. By choosing Reed Maintenance Services, Inc., customers contribute to a greener future by reducing their environmental footprint.
Hassle-Free Booking Process: Reed Maintenance Services, Inc. has a booking process to make it as simple and efficient as possible. Customers can request a dumpster rental through their user-friendly website or by contacting their expert customer service representatives. The company's customer service experets are dedicated to providing prompt and personalized assistance to ensure a smooth and hassle-free experience for every client.
Competitive Pricing and Transparent Rates: Reed Maintenance Services, Inc. believes in providing exceptional value for money. The company offers competitive pricing and transparent rates, with no hidden fees or surprises. Customers can trust that they are getting the best possible service at an affordable price, backed by the company's commitment to honesty and integrity.
A company representative had this to say. "We are proud to be Alabama's premier dumpster rental service. Our initiatives and unbeatable offerings are designed to meet the diverse needs of our customers while prioritizing their convenience, sustainability, and satisfaction. We look forward to continuing to serve communities in Huntsville and all of our service areas with professionalism and reliability."
About Reed Maintenance Services, Inc.:
Reed Maintenance Services, Inc. is a trusted dumpster rental company operating in Northern Alabama. With a mission to provide exceptional waste management solutions, the dumpster rental company offers reliable, efficient, and affordable dumpster rental services for residential and commercial projects. Committed to customer satisfaction and environmental responsibility, Reed Maintenance Services, Inc. thrives to exceed expectations with their professionalism and dedication.
https://www.youtube.com/watch?v=V25gXHv_ytg
To learn more about Reed Maintenance Services, Inc. in the Huntsville, Alabama area visit this link: https://www.reeddumpsters.com/dumpster_rental_huntsville_al/
###
For more information about Reed Maintenance Services Inc., contact the company here:

Reed Maintenance Services Inc.
Shane Withey
(256) 640-7888
shanew@reedmaintenance.com
4700 Union Grove Rd
Union Grove, AL 35175