Fiverr (NYSE: FVRR), a company with a mission to revolutionize how the world works together, was featured in a recent analysis report that discussed Fiverr's performance as remote work has become increasingly common. The report, written by LikeFolio Founder Andy Swan, reads, "Mentions of hiring a freelancer are up +46% YoY and mentions of working as a freelancer are up +28% YoY. Demand for companies that connect freelancers with potential employers is rising. Fiverr (FVRR) serves as a prime example, with company PI at an all-time high level: +32% YoY on a 90-day moving average. Fiverr has secured double-digit revenue growth in every quarter since its 2019 IPO, with revenue up +27% YoY in the recently reported Q1'22."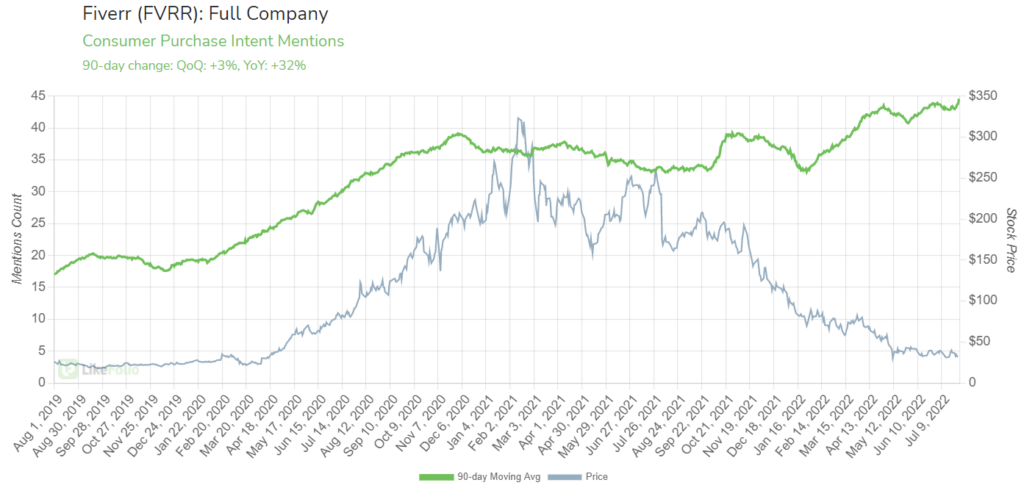 About Fiverr International Ltd.
Fiverr's mission is to revolutionize how the world works together. The company exists to democratize access to talent and to provide talent with access to opportunities so anyone can grow their business, brand or dreams. From small businesses to Fortune 500, over 4 million customers worldwide worked with freelance talent on Fiverr in the past year, ensuring their workforces remain flexible, adaptive and agile. With Fiverr's Talent Cloud, companies can easily scale their teams from a talent pool of skilled professionals from over 160 countries across more than 550 categories, ranging from programming to 3D design, digital marketing to content creation, from video animation to architecture. For more information, visit www.Fiverr.com.
About InvestorWire
InvestorWire is the wire service that gives you more. From regional releases to global announcements presented in multiple languages, we offer the wire-grade dissemination products you'll need to ensure that your next press release grabs the attention of your target audience and doesn't let go. While our competitors look to nickel and dime you with hidden fees and restrictive word limits, InvestorWire keeps things transparent.
As part of its service, InvestorWire provides coverage of noteworthy announcements. To further expand visibility of achievements being made throughout a multitude of sectors, InvestorWire's syndication partners have extended the digital coverage to include individual broadcasts on financial websites and platforms visited by millions of investors daily.
For more information, please visit https://www.InvestorWire.com
Please see full terms of use and disclaimers on the InvestorBrandNetwork website applicable to all content provided by IBN, wherever published or re-published: http://ibn.fm/Disclaimer
InvestorWire (IW)
8033 Sunset Blvd Suite 1037-IW
Los Angeles, CA 90046
310.299.1717 Office
www.InvestorWire.com
Editor@InvestorWire.com
InvestorWire is part of the InvestorBrandNetwork.