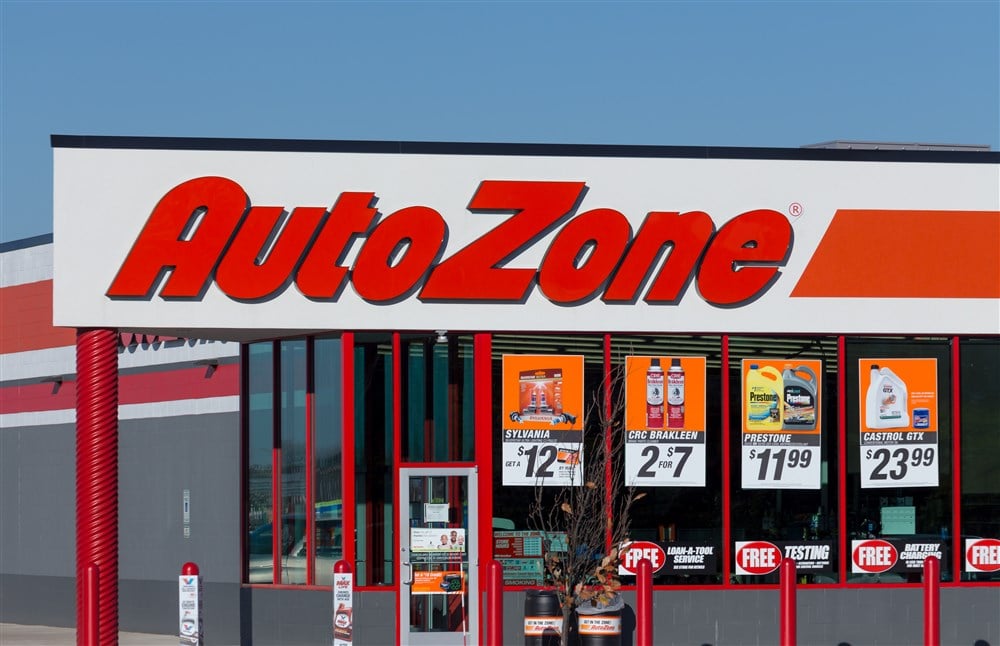 If you are looking at the AutoZone (NYSE: AZO) chart and thinking it's time to sell some of this stock, think again. While the 200% increase versus 2020's bottom suggests it's time to take some profits off the table, any price weakness may also be considered a buying opportunity. AutoZone is a buy-now-and-hold-forever stock of the highest caliber and has several tailwinds to support its market. The price action in AZO stock is pulling back following the Q4 release, and it may fall further. The takeaway for today is that this stock is in a sustained uptrend driven by results, growth, and share repurchases that show no signs of stopping. 
AutoZone's Executive Transition Is Ultra-Smooth 
AutoZone announced its executive transition this summer and chose to go the internal route. The decision was sound and paid off, given the Q4 results and outlook for international expansion. The results also included two more promotions that cemented the current acting COO in his role and lifted another VP to the position of CFO. Philip Daniele, CEO-elect, says the promotion sets the two as equals and together form his senior management team. His role will become official in January when the board of directors meets. 
The Q4 results are promising and align with the long-term outlook. The company reported $5.69 billion in net revenue, which is up 6.4% compared to last year and beat the consensus estimate by 150 basis points. The gains were driven by a weaker-than-expected comp in the US, about 1.7%, offset by strength in the International segment. The International segment grew by 34%, with strength in Brazil and Mexico, leading emerging markets. 
The bottom results are better and support the robust outlook for share repurchases. The company's operating expenses increased by 30 basis points YOY but not enough to offset the 118 basis point improvement in gross margin. One-offs impacted gross margin, but merchandise margins primarily drive improvement. Store growth may slow in 2024 because the company will focus on operational quality, but it is not expected to cease. Margin improvement is expected to continue and lead to another year of double-digit earnings growth. 
AutoZone: A Top Shelf Name In Autoparts
AutoZone trades at a significant premium to competitor Advance Auto Parts (NYSE: AAP) but is outperforming in every way. While AutoZone does not pay dividends, it doesn't matter because it repurchases shares. The company bought back 403,000 shares for about $1 billion during the quarter and has $1.8 billion left under the current authorization. That's worth about 2% and 4% of the market cap, respectively, and the board will likely up the authorization as this one is depleted. 
AutoZone uses debt to leverage its repurchases, but the current load is light. Total debt is up YOY but less than 50% of total assets, with ample cash flow to sustain growth and payments without additional EPS growth next year. The share count is down more than 6.6% compared to last year and is driving value for shareholders. 
Analysts And Institutions Own AutoZone
The sell-siders own AutoZone and see it moving higher. The analysts rate it a Moderate Buy with a target of about 7.5% above $2470, and the price target is up significantly compared to last year. The caveat is that the institutions, which own approximately 90% of the stock, started selling in Q3. Their activity ramped in Q3 following a top in Q2 and may cap upside potential in the near term. However, institutional selling aligns with profit-taking after the 200% run-up and is not a serious threat to investors. 
The stock is still trading above critical support and showing signs of support in early trading. Support is at the 150-day EMA consistent with long-term investors, including institutional buying. If the market can sustain this level, shares of AZO should continue to move sideways and may retest the all-time high soon. If not, this stock could retest firmer support levels near $2,300 before rebounding.