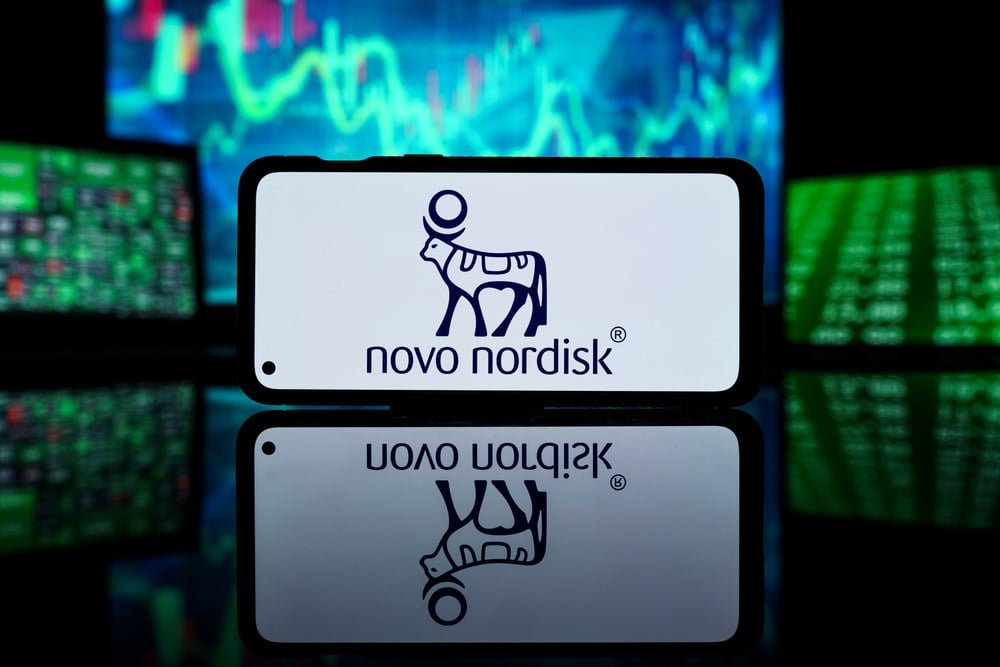 Weight-loss drugs are the pharmaceutical industry's equivalent of AI, in the sense of being a product with the capability to send shares soaring. Novo Nordisk A/S (NYSE: NVO), maker of Wegovy, saw its stock gap up more than 16% on August 8, after the weight-loss medication demonstrated a noteworthy reduction in the risk of cardiovascular events for overweight adults. 
The rally sent Novo Nordisk to a new all-time high. 
According to a company news release, Wegovy reduces the risk of major adverse cardiovascular events by 20% in those adults. 
The findings were part of a randomized, double-blind, parallel-group, placebo-controlled trial. Novo conducted an extensive five-year study involving over 17,000 adults with cardiovascular disease but without diabetes.
Also Looks Good For Eli Lilly
This development carries positive implications for the broader category of weight-loss pharmaceuticals, which includes Eli Lilly & Co.'s (NYSE: LLY) Mounjaro, among others.
Mounjaro and Wegovy are manufactured using different chemical compounds, but their biological effects are similar.
Shares of Eli Lilly surged 14.43% on August 8, rallying to new highs after its second-quarter report topped analysts' views. The company also raised its full-year outlook. 
Novo Nordisk also makes Rybelsus and Ozempic using the same chemical compound, semaglutide. Rybelsus and Ozempic are marketed as diabetes drugs, and compete with Lilly's Mounjaro.
In a statement accompanying the news about the Wegovy clinical trial results, Martin Holst Lange, executive vice president for development at Novo Nordisk, said, "People living with obesity have an increased risk of cardiovascular disease but to date, there are no approved weight management medications proven to deliver effective weight management while also reducing the risk of heart attack, stroke or cardiovascular death."
Game Changer For Payor Debate
In a research note following Novo Nordisk's news about the clinical trials, Bank of America said the news was a "game changer for payor debate on obesity." Analysts also said the news was important for product launches outside the U.S., drug reimbursement, and that it could aid in the Medicare coverage debate.
"Novo has been an EPS upgrade story for the last 18 months, predominantly driven by Ozempic, with Wegovy a smaller additional factor (for near-term EPS). We expect this to continue," wrote the Bank of America analysts.
The data released on August 8 were preliminary. Bank of America expects more to be presented at the American Heart Association scientific conference in November. 
"Novo has framed the trial as potentially paradigm-changing, similar to that of Diabetes Control and Complications Trial trial in the 1990s for diabetes, in so much as it could change the perception on the importance of managing obesity," said B of A analysts. 
Analysts See Earnings Rising
Wall Street expects Novo's earnings to rise by 49% this year, to $5.24 per share. In 2024 that's seen rising by another 18% to $6.17 per share. Those estimates were revised higher recently. 
With the August 8 price action, Novo rallied out of a base that it began forming in April, prior to the company's first-quarter earnings report. 
How can you handle a stock that gaps out of a base? 
First, be sure the stock is growing revenue and earnings. Novo Nordisk has a good track record in that regard, with both accelerating in the past two quarters. You also want to be sure other factors, such as return on equity are strong. In this case, Novo's 69% ROE indicates a well-managed company that's likely well-positioned for further growth, as analysts expect.
Consensus View of "Buy"
A look at MarketBeat's Novo Nordisk analyst ratings show a consensus view of "buy." Although only a small number of analysts specifically cover the stock's U.S.-listed American Depositary Receipts, the company says around 30 analysts cover its overseas-listed shares. 
If you're eyeing Novo Nordisk or any stock that gaps out of a base, here's how to determine at what point it may be actionable: Look on the stock's chart to determine its price five minutes after the daily session's open. For example, on August 8, Novo Nordisk was trading at $184, as you can see using the Novo Nordisk chart, set to a one-minute view.
Try to nab shares as close as you can to that level. You don't want to keep chasing the stock higher, but a gap-up is a good sign, indicating that institutional investors have conviction in the stock's future prospects.