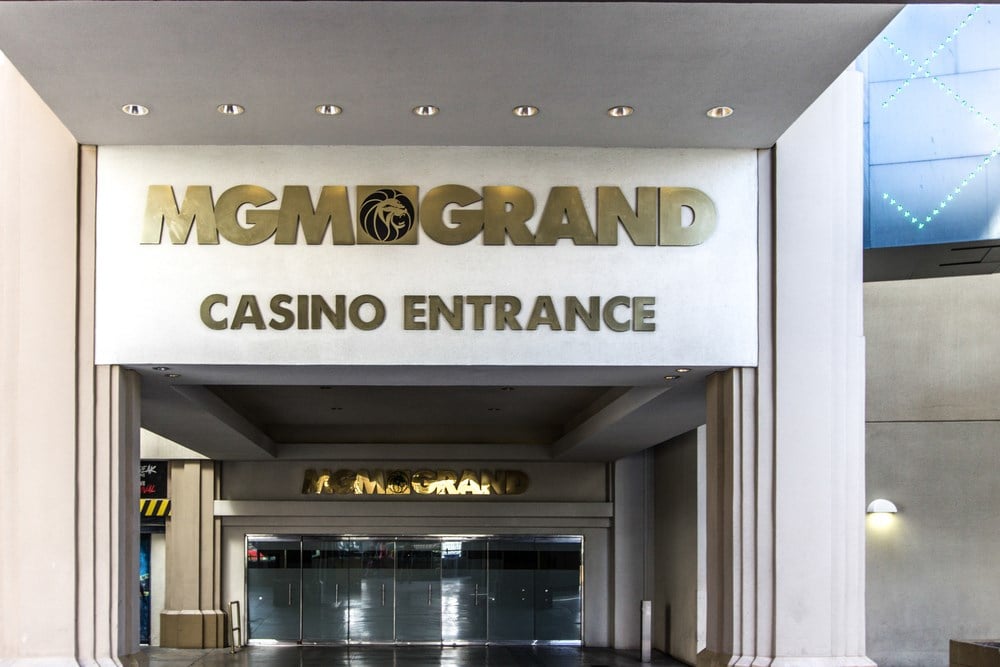 Casino operator MGM Resorts International (NYSE: MGM) suffered with the rest of the casinos during the pandemic but has recovered back to profits earlier than its competitors Wynn Resorts Limited (NASDAQ: WYNN) and Las Vegas Sands Co. (NYSE: LVS). MGM operates 18 casino properties in the U.S. and Macau
It's seeking a license to build an integrated casino resort in Japan. The business continues to recover at all its properties, with the most significance in China with the lifting of zero-COVID restrictions. The company is hitting its stride as its properties and mobile gaming helped it post a consolidated revenue record in Q2 2023.
Marriott Bonvoy and MGM Resorts
MGM Resorts closed a deal with Marriott International Inc. (NYSE: MAR) for its 180 million Marriott Bonvoy loyalty club members. By the fall of 2023, they can book rooms, earn and redeem points at 17 MGM Resorts domestic properties. MGM expects the Marriott customer base to grow to a meaningful segment of its hotel mix by 2025.
Sports Betting and iGaming
MGM has built up its portfolio of sports betting and iGaming properties. BetMGM is the sports betting mobile app brand used in the U.S. created from a partnership with Entain. It is currently approved in 26 North American gaming jurisdictions. The LeoVegas is the equivalent sports betting and iGaming app operator approved in nine jurisdictions in Canada and Europe. Its BetMGM sports betting and gaming app had its first quarter of positive EBITDA.
A key benefit of the BetMGM is the 37,000 rooms in Las Vegas that import new customers nightly, resulting in 30,000 customer acquisitions monthly. BetMGM expects to bring its platform to Kentucky upon the legalization of sports betting and will open a retail BetMGM Sportsbook at Sandy's Racing and Gaming.
Macau Recovery
The lifting of zero-COVID restrictions helped MGM China accelerate its recovery. Macau's average daily visitors rose to 64,300 compared to 19,100 in the year-ago period. MGM recovered 57% of the first half of 2019. MGM China outperformed the rest of Macau as visitors rose to 73,600 daily.
MGM China's net revenues rose 418% YoY to 741 million versus $143 million in the year-ago period. It reported adjusted property EBITDAR rose to $209 million compared to a loss of $52 million, up 21% versus Q2 2019.
Accelerating on the Recovery Road
On August 2, 2023, MGM reported its Q2 2023 earnings for the quarter ended in June 2023. The Company reported an earnings-per-share profit of 56 cents beating consensus analyst estimates for a profit of 56 cents by 3 cents.
Revenues rose 21% year-over-year (YoY) to $3.94 billion, beating analyst estimates of $3.82 billion. MGM generated a free cash flow of $887 million in the first half of 2023. The company bought back 15 million shares for $626 million in the quarter.
Las Vegas Sports and Entertainment Capital Tailwinds
MGM CEO Bill Hornbuckle highlighted upcoming events generating strong traffic and bookings for its Las Vegas properties, including Black Hat at Mandalay Bay, Magic at Convention Center and Beyonce at Allegiant Stadium. MGM is the official gaming partner and founding partner of Allegiant Stadium. MGM operates Mandalay Bay. Formula 1 in November and the fall schedule for the Las Vegas Raiders are guaranteed to bring traffic.
Nearly 70% of the Formula 1 ticket inventory is already committed to room bookings at twice the occupancy and four times the average rate of 2022. Formula 1 is shaping up to be a record casino event.
The 2024 Super Bowl in Allegiant Stadium in February 2024 already sees bookings at three to four times higher room rates. The 35,000-seat Tropicana stadium will be home to the As on 24 acres on the Las Vegas strip. When constructed, it will represent 2.4 million seats annually, driving 400,000 new tourists to MGM Resorts properties.
CEO Hornbuckle summed it up, "The A Stadium, Allegiant, and T Mobile represent 100,000 seats holding three professional sports teams directly adjacent to one or more of our properties with a possibility for multiple events on the same day. It's clear that Las Vegas has become the world's premier sports and entertainment destination."
MGM Resorts analyst ratings and price targets are at MarketBeat.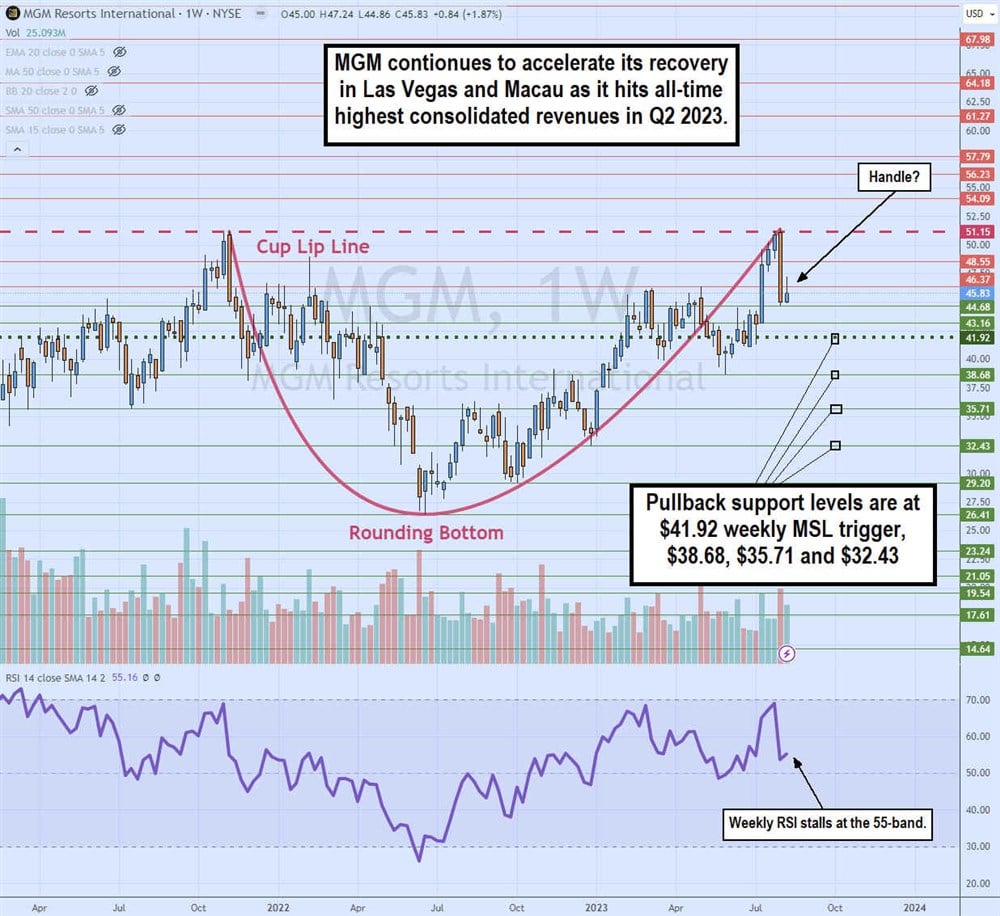 Weekly Cup Pattern Awaiting a Handle
The weekly candlestick chart on MGM illustrates a completed cup pattern formed from a rounding bottom and awaits the formation of a handle. The cup lip line formed after peaking at $51.15 in November 2021 as MGM fell to a low of $26.41 by January 2022. Shares eventually formed a weekly rounding bottom and climbed back to $45.84 before forming a weekly market structure low (MSL) breakout through the $41.92 trigger. MGM finally completed the cup pattern by testing the $51.15 in July 2023 before dumping it on its Q2 2023 earnings release. The 11.61% drop from the lip line could start a handle formation as the weekly relative strength index (RSI) oscillator attempts to coil back up at the 55-band. Pullback support levels are $41.92 weekly MSL trigger, $38.68, $35.71 and $32.43.