Growth or value? Top or bottom line? While investing in stocks with both is preferable, they tend to be expensive. Stocks that meet one of the two priorities tend to be better priced.
During earnings season, investors get exposed to numerous stocks that fall into the growth or value category. If you prefer value over growth as a stronger bottom line versus the top line, then here are two stocks that should be on your watchlist.
Datadog is an observability platform that lets you monitor and analyze your technology infrastructure. This includes servers, cloud-scale applications, databases and services. Datadog collects real-time metrics and reports them on a unified dashboard.
Like the "eye in the sky" surveillance and security cameras in a casino, Datadog gives you a bird's eye micro view of your applications and alerts you to any infrastructure problems that arise. Datadog continues to expand its generative artificial intelligence (AI) features like Bits AI assistant to help DevOps investigate and respond to incidents.
It unveiled over 11 AI-related integrations at its user conference. Its client list includes well-known companies like Sofi Technologies Inc. (NASDAQ: SOFI), Comcast Co. (NASDAQ: CMCSA) and DraftKings Inc. (NASDAQ: DKNG).
Strong Q2 2023 Performance
Datadog reported Q2 2023 non-GAAP earnings-per-share (EPS) of 36 cents beating consensus analyst estimates for 28 cents, an 8-cent beat. GAAP operation loss was $22 million, while non-GAAP operation income was $105.5 million. Revenues rose 25.4% year-over-year (YoY) to $509.45 billion, beating analyst estimates for $501.55 billion.
Large customers with over $100,000 in annual run rate (ARR) rose 24% to 2,990 from 2,420 in the year-ago period.
Mixed Guidance
Datadog issued mixed guidance for Q3 2023 for EPS between 33 to 35 cents versus 29 cents consensus analyst estimates, but revenues lowered to $521 million to $525 million versus $536.2 million analyst estimates.
Its full-year 2023 guidance followed the same theme with higher EPS of $1.30 to $1.34 versus $1.18 consensus estimates but lowered revenues of $2.05 billion to $2.06 billion verse $2.10 billion analyst estimates.
Datadog analyst ratings and price targets are at MarketBeat.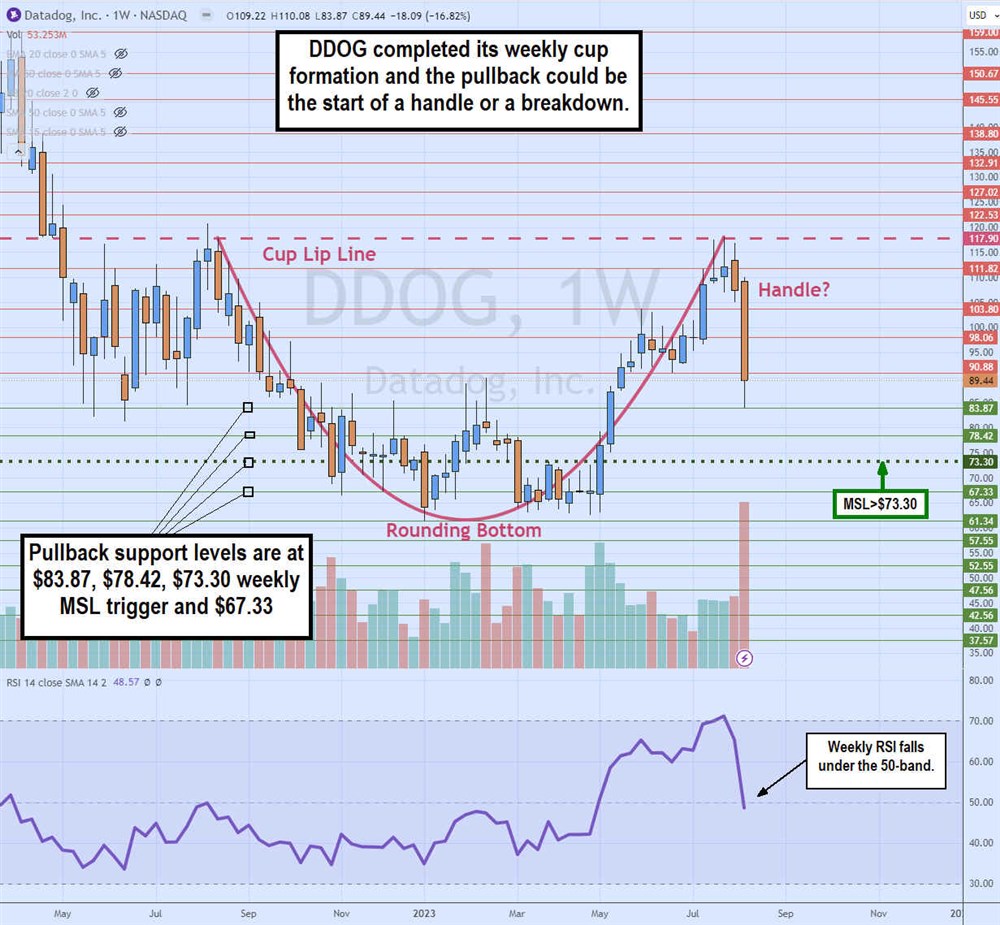 Weekly Rounding Bottom and Cup Pattern
The weekly candlestick chart on DDOG illustrates that the cup lip line started at $117.90 in August 2022 as shares fell to a low of $61.34 by January 2023. DDOG formed a rounding bottom that formed a breakout on the $73.30 market structure low (MSL) buy trigger in May 2023. Shares ground to a retest of the $117.90 lip line before dumping on its Q2 2023 earnings report guidance as shares collapsed to $83.87.
The weekly relative strength index (RSI) rejected the 70-band to fall below the 50-band. The sell-off could form a handle for a cup and handle pattern if it stabilizes and retests the cup lip line. On the other hand, it could be a weekly breakdown if it heads lower, powered by the falling RSI oscillator. Pullback support levels are $83.87, $78.42, $73.30 weekly MSL trigger and $67.33.
Weight Watchers is turning its downward business trajectory back up with the acquisition of clinical weight-loss management platform Sequence Inc. Sequence helps qualifying members get prescriptions for glucagon-like peptide-1 (GLP-1) drug prescriptions for weight-loss. GLP-1 has made headlines for extreme cases of weight loss with Semaglutide.
Originally developed for diabetes management, the weight loss side effects prompted off-label uses for obesity management. Pharmaceutical giant Novo Nordisk A/S (NYSE: NVO) can't keep its Ozempic and Wegovy drugs on the shelves. The acquisition of Sequence is WWs entrance into the clinical weight-loss drug segment, which it will market to its customers. The synergy between services and companies was a brilliant step to turn its fortunes around.
Strong EPS Beat
On Aug. 3, 2023, WW reported Q2 2023 EPS of 65 cents beating the 12 cents consensus analyst estimates by 53 cents. Revenues fell 15.8% YoY to $226.8 million, missing analyst estimates of $227.44 million. The company gained 37,000 clinical subscribers. Digital workshops and businesses fell 4.3% YoY. At the end of the period, subscribers were 4.1 million.
Downside Guidance
WW lowered its full-year 2023 revenues to $890 million to $910 million, down from prior guidance of $910 million to $930 million, versus $934.58 consensus analyst estimates. Operating income is expected between $39 million to $51 million, excluding restructuring and acquisition costs. Adjusted operating income is expected between $80 million to $85 million.
WW CFO Susan Stark commented, "While, as anticipated, revenue was down year-over-year primarily due to the headwinds from 2022's ending subscriber base, our actions to optimize our real estate footprint and organizational structure drove record high adjusted gross margin. Given encouraging subscriber trends and improved margins, we now expect full-year adjusted operating income towards the high end of our previously provided guidance range, despite modestly reduced revenue expectations."
WW International analyst ratings and price targets are at MarketBeat.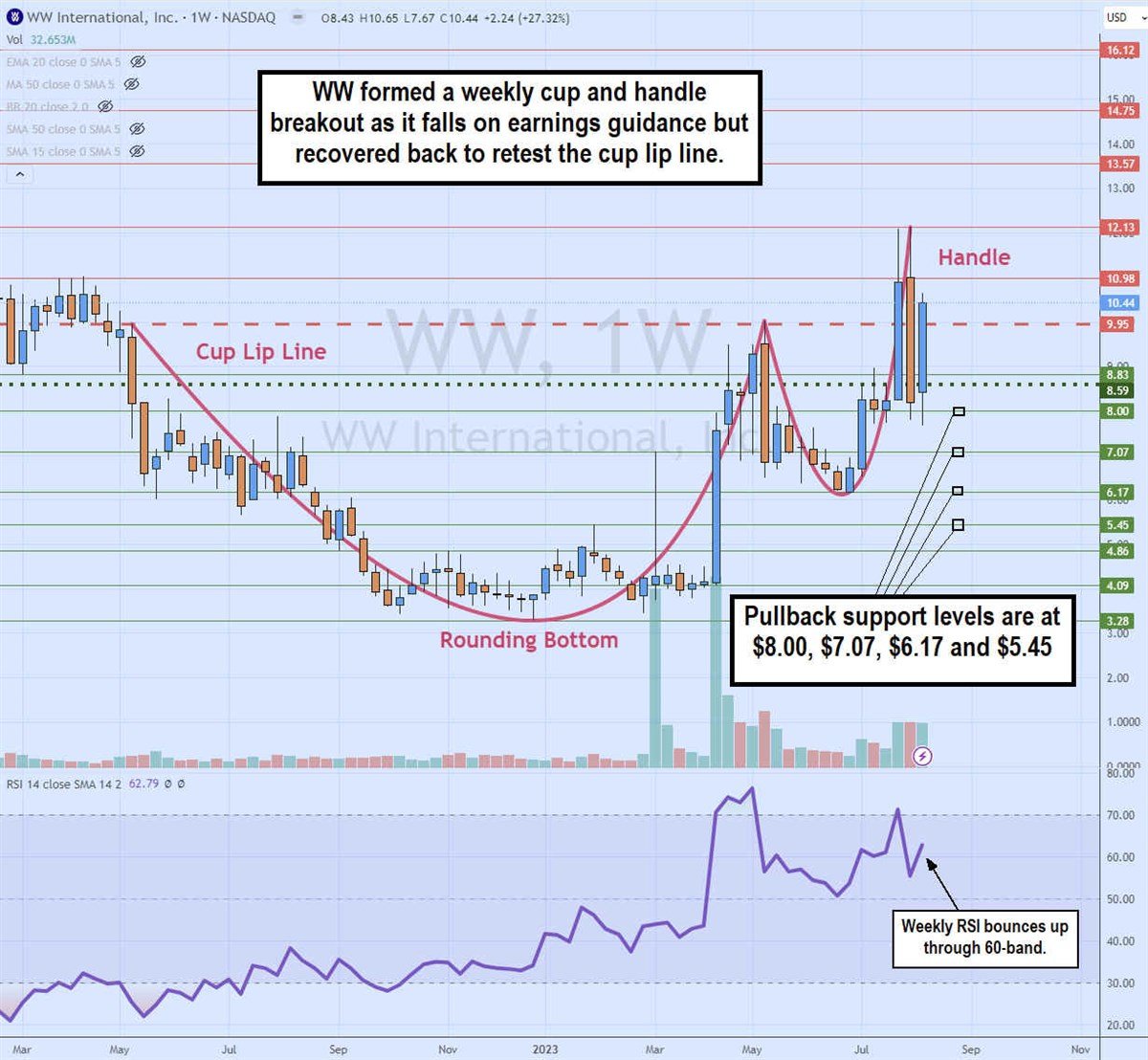 Weekly Cup and Handle Breakout
The weekly candlestick chart shows the cup and handle breakout. It formed on the $8.59 weekly MSL trigger break through the $9.95 cup lip line. The handle formed a bottom at $6.17 and peaked at $12.13. Shares fell on its Q2 2023 earnings release to a low of $7.67 but quickly coiled back up through the cup lip line. The weekly RSI coiled back up through the 60-band. Pullback support levels are at $8.00, $7.07, $6.17 and $5.45.