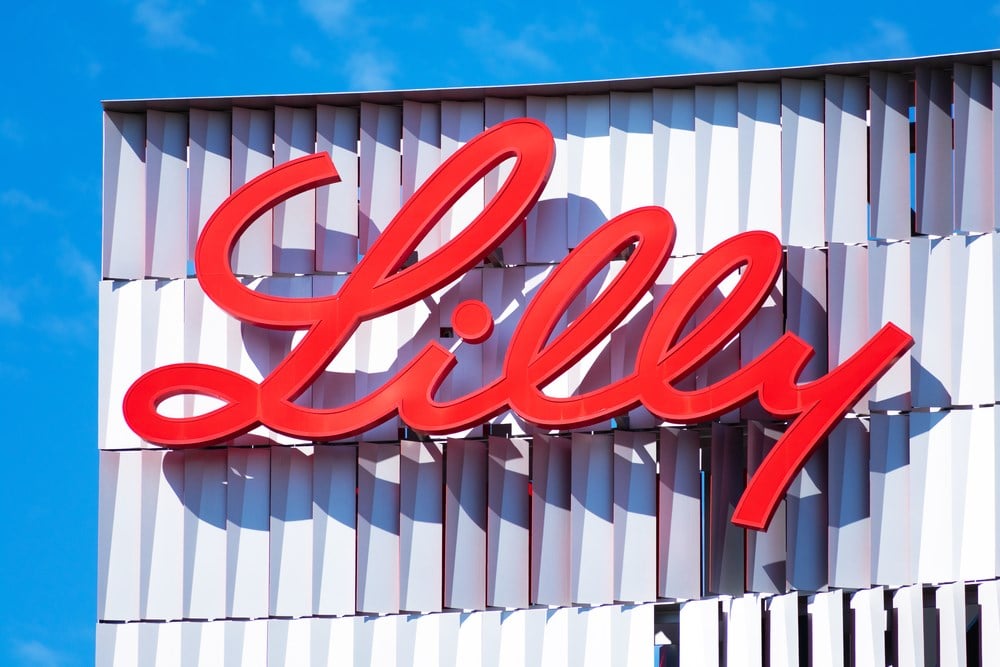 Shares of Eli Lilly & Co. (NYSE: LLY) closed 2.80% higher for the week ended July 21, a week after Lilly said it would buy Versanis, a privately held clinical-stage biopharmaceutical company focused on the development of new weight-loss treatments. 
Pharmaceuticals and biotechs are scrambling in a race to develop weight-loss drugs with the best results. For example, in addition to its acquisition of Versanis, Lilly is also developing a drug whose generic name is retatrutide.
According to reports, at a recent scientific conference, researchers said participants in clinical trials of retatrutide lost as much as 24% of body weight after being treated with the drug for 48 weeks. 
Meanwhile, Amgen Inc. (NASDAQ: AMGN) is evaluating its own treatment for obesity. 
Top Clinical Candidate Is Weight-Loss Drug
Versanis' top candidate, with the generic name bimagrumab, was originally developed by Novartis AG (NYSE: NVS) as a treatment for muscle loss. 
The drug is currently in clinical trials, where it had positive results reducing fat mass, while simultaneously building lean muscle mass. 
The drug works by targeting molecules that contribute to fat accumulation. 
Should the drug prove effective, and get FDA approval, it could be used together with treatments such as Mounjaro, Lilly's diabetes drug that helps control blood sugar and makes patients feel full. 
Seeking Additional FDA OK For Mounjaro
Lilly is seeking FDA approval for Mounjaro's use as a weight-loss drug. It's shown positive results for that application in clinical trials. The company is hoping to get full approval later this year. 
Lilly offered to acquire Versanis for up to $1.925 billion in an all-cash transaction. According to reports, the deal would consist of a payment upfront, as well as payments later, pegged to agreed-upon milestones. 
Lilly is among many pharmaceutical and biotech companies chasing the lucrative weight-loss market. 
Novo Nordisk A/S (NYSE: NVO) makes Ozempic and Wegovy. The drugs are administered via weekly injection. Similar to Lilly's Mounjaro, sales soared because patients are shedding more pounds, faster, than with previous generations of weight-loss medications. Also like Mounjaro, it was initially developed and marketed as a diabetes treatment. 
Wegovy Sales Climbing Fast
Novo's revenue grew by 24% in the first quarter, to $7.767 billion. Sales of Wegovy accounted for around $676.8 million of that, with sales jumping by 240%. 
Another of Novo's injectable weight-loss meds, Saxenda, saw sales grow by 72% in the quartet, to $486.4 million, topping analysts' views. 
One potential fly in the ointment: a shortage of semaglutide, the active ingredient contained in both Wegovy and Ozempic. The shortage is due to the sharp increase in demand for those two drugs. 
Novo Nordisk shares are up 23.28% year to date. A look at the Novo Nordisk chart shows that price increase. Following a big run-up early in the year, the stock retreated from highs in late April, and has been consolidating below $172.97, reached on April 21, ahead of the most recent earnings report. 
Novo is due to report its second quarter on August 10. As always, watch for those results as a potential catalyst for a move in either direction. While there's essentially zero doubt that weight-loss meds will continue their fast pace of uptake in the medium to long term, any disappointing quarterly sales results could mean a selloff, whether or not short-sighted.
Novo Nordisk: Analysts Say "Buy"
MarketBeat's Novo Nordisk analyst ratings show a consensus view of "buy," although the current consensus price target is $145, a downside of 12.44%. Is it possible the stock could consolidate further, before taking off? Of course, but the optimistic rating suggests Wall Street sees potential in the company and its weight-loss drugs, in particular. 
A smaller company, Viking Therapeutics Inc. (NASDAQ: VKTX) has also entered the race. In March, the company said its experimental treatment proved safe in clinical trials, and boosted weight loss. 
Viking shares soared 69.30% on the news, but more recently, shares sold off sharply as the clinical data from Lilly's retatrutide showed the drug also reduced liver fat content in some patients, in addition to aiding weight loss. Viking has a promising candidate that reduces liver fat.
Viking Conquering Year-To-Date Returns
Viking, which has a market capitalization of just $1.529 billion and, like many biotechs without a commercialized product, has no revenue, is down 28.42% in the past month and down 27.58% in the past three months. Despite those declines, the stock is still holding a year-to-date gain of 63.40%.
Depending on several factors involving its liver fat and weight-loss treatments, Viking could go on to post big gains or become an acquisition target, but at this phase, it remains a speculative stock.