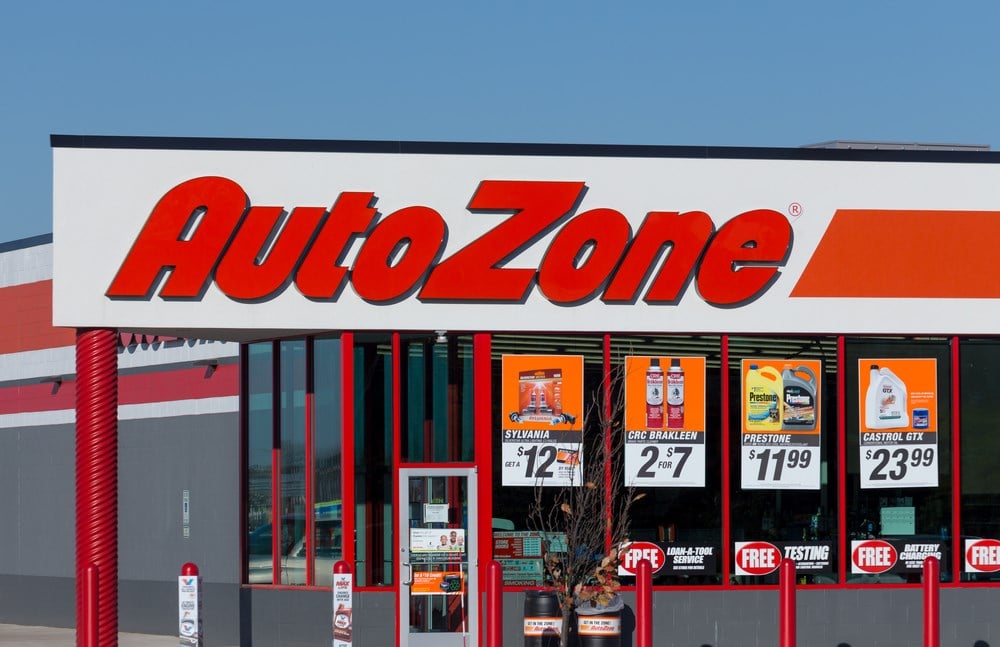 Sometimes a dodgy earnings report can be a blessing in disguise. A revenue miss in last month's fiscal Q3 report for AutoZone Inc (NYSE: AZO) sent their shares down more than 10%, upsetting a rally that's effectively been underway since March 2021. Over that timeframe, their shares have jumped as much as 140% and come closer and closer to hitting the $3,000 mark. 
Last month's dip following the softer-than-expected sales number threatened to put that milestone on the back burner, but it's starting to look more and more like that was a solid buying opportunity. And with AutoZone shares again trending higher, we here at MarketBeat think they could soon hit the $3,000 marker. Let's take a look at some of the reasons why. 
Fresh Upgrades
Firstly, AutoZone shares have just received two significant upgrades. Earlier this month, Evercore ISI, who weren't waiting too long after the post-earnings dip to encourage investors back in, upgraded its rating to Outperform from Market Perform. The team there made the move on the basis that AutoZone is well-positioned to achieve profitable market share growth and maintain stable margins within the favorable auto aftermarket.
Analyst Greg Melich and his team noted that the recent decline in AutoZone's share price opened up an appealing entry point for investors, considering the company's leading position in a favored subsector of the auto aftermarket retail industry. They added that while an immediate return to double-digit growth in the "Do-It-For-Me" segment is not expected, achieving decent single-digit growth in the near term is doable, with the potential for further acceleration over time.
Evercore also believes that a substantial increase in commercial growth will be sufficient to drive approximately 3% growth in same-store sales. Additionally, they anticipate margin recovery following years of investment in pricing.
Echoing Evercore's comments, the team over at UBS also boosted their AutoZone rating for similar reasons last week. According to a team of analysts led by Michael Lasser, AutoZone is on track and looking good to snatch up market share, while their profit outlook is improving as supply chain issues dissipate. This is something investors would have been watching closely for, as it was specific headwinds here that did the damage to their Q3 revenue number.  
The UBS team upgraded their rating on AutoZone shares from Neutral to Buy and also emphasized the attractive buying opportunity created by the current valuation and the recent dip. They noted that the market's perception of AutoZone's commercial prospects had dampened in recent months, causing compression in its multiple.
But as AutoZone demonstrates its ability to navigate these risks successfully, its shares have the potential to rally. UBS' fresh price target of $2,900 is a testament to this. It represents an additional upside from here of about 20% and would put shares within a whisker of $3,000. 
Share Buyback
Aside from having two solid bull voices in their corner, AutoZone shares are also set to benefit from a fresh $2 billion share buyback scheme that was approved last week. This is one of the clearest signals a company's leadership can give to the market that they believe their shares are trading well below fair value. By being willing to put their money where their mouth is, they're giving any investors thinking about getting involved some extra confidence. 
With these bullish updates and added volume on the bid, it's no surprise that AutoZone shares are already well underway to undoing all of the damage from last month's dip. As MarketBeat noted earlier this month, even with its comparatively high price point, AutoZone is still a deal. A low price-to-earnings ratio of 19 puts paid to any concerns that they're overbought, while fundamental industry tailwinds such as above-average inflation and increased miles driven in the U.S. bodes well for their longer-term outlook. 
Yes, they slipped a little last quarter, but all signs point to shares already trending higher, which means they'll soon be knocking at the door of $3,000.