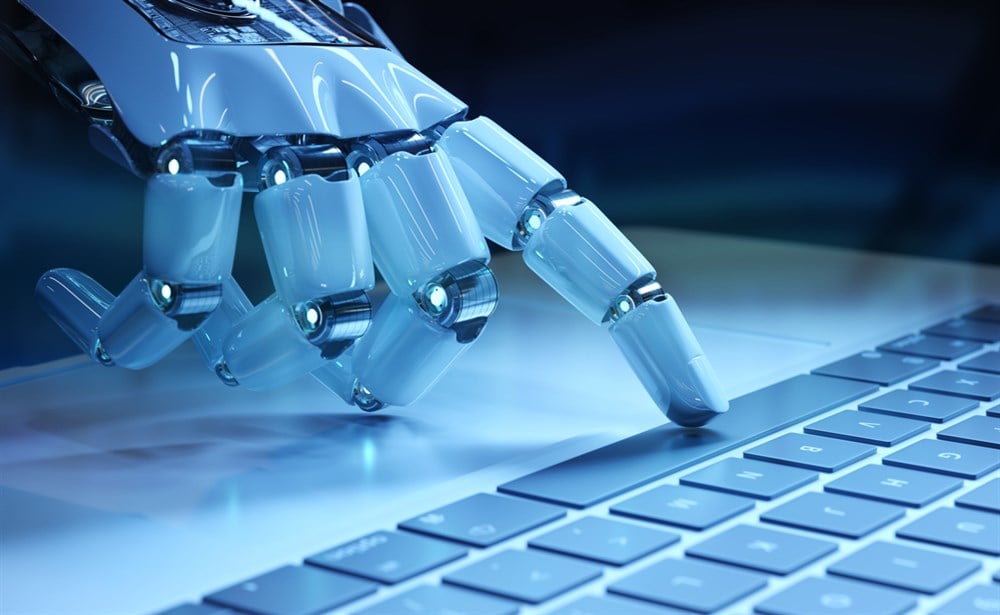 CXApp Inc. (NASDAQ: CXAI) shares have been caught up in the artificial intelligence (AI) mania. On no news, its shares spiked to $21 on April 23, 2023, and have been melting since. The AI bug has bitten the mainstream thanks to the battle of the  AI giants Microsoft Co. (NASDAQ: MSFT) and Open.ai's Chat-GPT and Alphabet Inc (NASDAQ: GOOGL) Google Bard AI. Unfortunately, it can also cause some pretenders to appear like contenders. CXApp is one of those stocks that has seen a surge in stock price and volume with no news or fundamentals to support it.
What Does CXApp Do?
CXApp is a workplace experience "SuperApp" with over 150 native features and 75 partner integrations for flexible workplace experience for hybrid workplaces, remote workers and on-site/ in-person workers. The hodgepodge mix of features ranges from employee onboarding to booking desk and room reservations, office mapping, indoor navigations, amenities and reservations, event management, workplace analytics and gauging occupancy metrics. The app does everything, with over 100+ API integrations, but there's little documentation on using AI.
Where's the AI?
There needs to be more information about its AI functionality. Its CEO, Khurram Sheikh, described CXApp at the TiEcon 2023 conference, "CXApp is a 'category-maker' company that has developed the most engaging application for the hybrid workplace market – in reality, this is the Workplace SuperApp with over 150 native features and 100+ API integrations. We are excited about the intersection of customer experience (CX) and connected intelligence (AI) that our platform enables, and I look forward to sharing the unique opportunities for innovation in this industry-defining sector at TiEcon 2023."
Caught Up in the AI Hype?
Perhaps the run-up in shares is that its stock symbol contains "AI" in it, as in CXAI. While having a trendy stock symbol has pushed up shares of C3.ai Inc. (NASDAQ: AI) by over 200% in the year, the company develops and sells enterprise AI solutions on its platform. The company has well-known clients like Baker Hughes Inc. (NYSE: BHI) and The Coca-Cola Co. (NYSE: KO), generating over $300 million in annual revenues in 2023. CXAI provides little information about how its mobile app or platform features AI services or implementation. Its S-1 doesn't mention AI in describing its platform functions. However, it does list some well-known companies on its website as users of its app, including Adobe Inc. (NASDAQ: ADBE) and Pfizer Inc. (NYSE: PFE).
Financials
CXApp has yet to release an earnings report as a public company. The company went public through a reverse merger with a special purpose acquisition corporation (SPAC), KINS Technology Group. Based on its S-1 filing, the company generated $8.47 million in revenues, up over 200% but lost ($25.6 million). It lost ($40.26 million) in 2021. Operating cash flow fell from ($16.92 million) in 2021 to ($18.9 million) in 2022.
Management expects $15 million in revenue for 2023. It expects 2025 revenues to rise by over $29 million. The workplace experience app segment is expected to grow at a 19% compound annual growth rate (CAGR) by 2025 to $988 million. The book value exceeds $64 million, but most of its assets are intangible assets and goodwill. The company has $13 million in cash, but that doesn't look like it will last long without a capital raise based on its 2022 burn rate. Investors need at least an earnings report release to better gauge the company.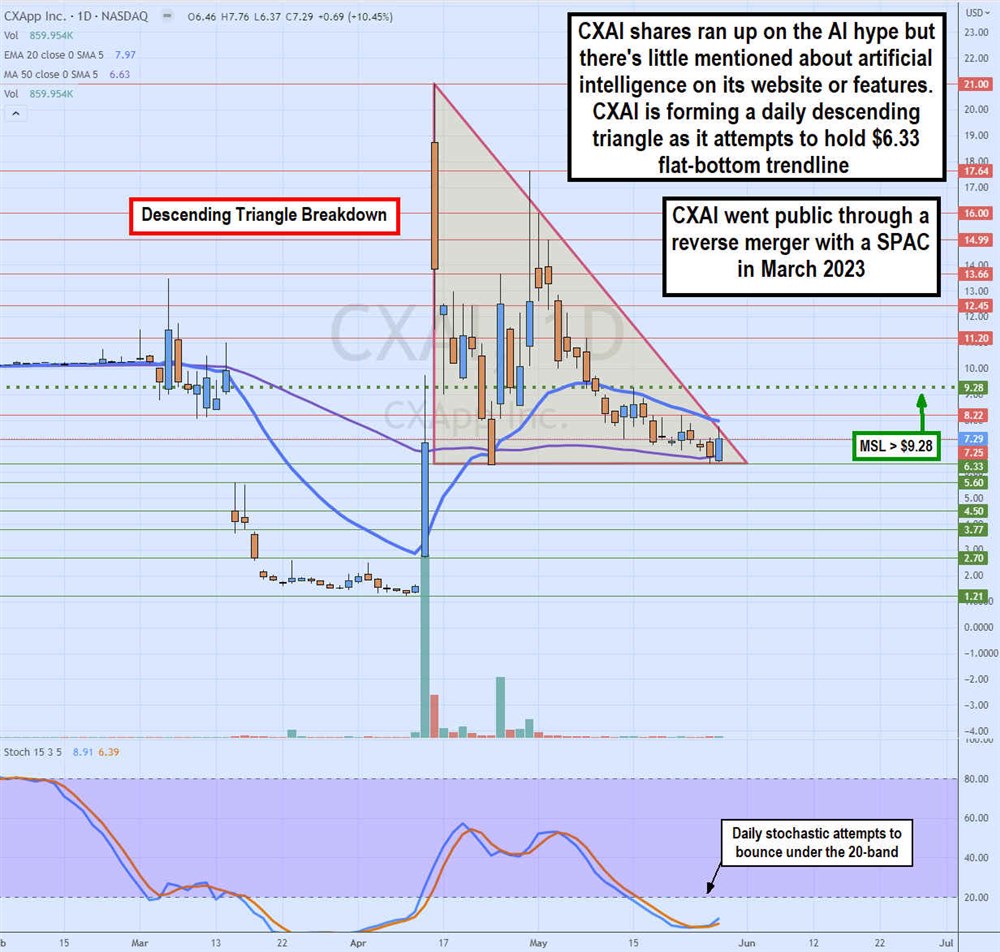 Weekly Descending Triangle
AI had previously formed a cup and handled breakout with a cup lip line at $28.48 and a handle forming off the $20.16. The previous cup and handle breakout surged to $34.68 before the short-seller Kerrisdale's letter to the SEC triggered panic selling on the bear raid. This sent the share down through the handle low of $20.16 to a new handle low of $16.79. The market structure low (MSL) buy trigger formed at $20.63.
The weekly stochastic formed a mini inverse pup drop, now stalling under the 40-band. The MSL triggered on the Q4 guidance announcement spiking shares to a high of $28.15 before a daily market structure high (MSH) formed at $25.06. The larger cup and handle can trigger the new cup lip line breakout at $34.49. Pullback supports are at $23.58, $20.63 weekly MSL trigger, $18.52 and $16.79 handle low.