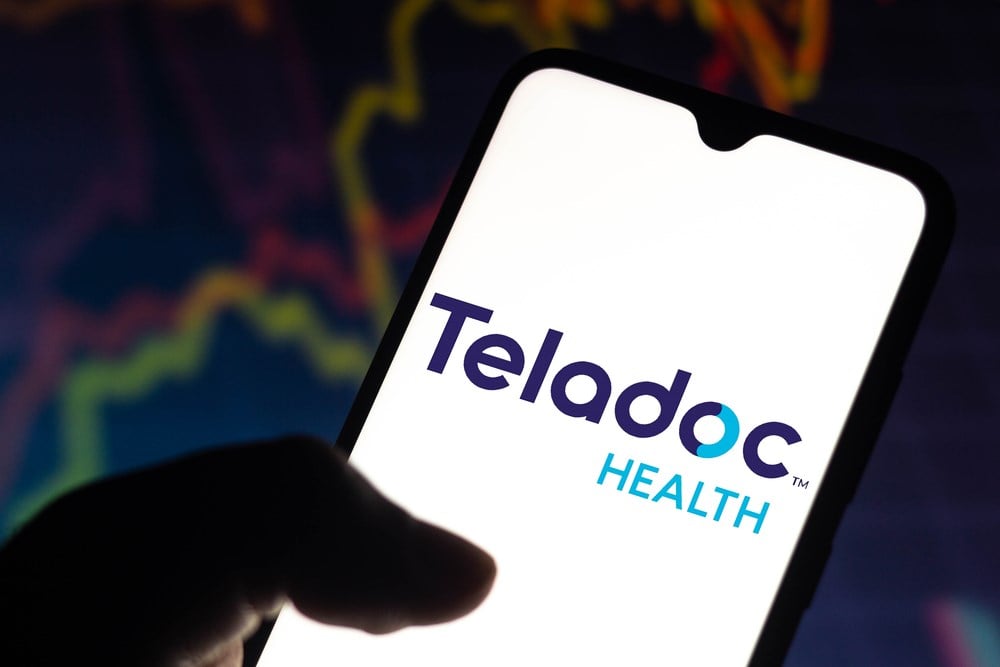 Virtual healthcare services company Teladoc Health Inc. (NYSE: TDOC) has had a treacherous journey rising to a high of $308 in Feb 2021 and falling to a post-pandemic low of $21.60 in January 2023. The company saw its stock price catapulted higher during the pandemic as short-staffed hospitals prioritized COVID-19 emergencies. Elective care and routine doctor visits were shut down during the pandemic, and many healthcare stocks performed well.
Teladoc provided a way to meet with a medical practitioner conveniently and virtually, seeking treatment and advice from home. Shares could be setting up for a breakout through its weekly rectangle range, especially after announcing its entry into the physician-based weight loss management segment to commence in Q3 2023.
Becoming a Giant
Teladoc became the most extensive virtual health provider by acquiring the diabetes management telemedicine platform Livongo for $18.5 billion in 2020. The company was and is still losing money. However, the sentiment was strong, and shares remained triple-digit until normalization kicked in as consumers returned to doctors offices and resumed elective procedures. This accelerated the downward trajectory for the company.
Livongo Bust
Unfortunately, the Livongo acquisition led to a ($13 billion) goodwill impairment charge in the following two years. This means they overpaid for a company doing just over $300 million in 2020. However, Teladoc's $4.5 million acquisition of behavioral health platform Better Health in 2015 hit the jackpot growing into the world's largest online therapy service, growing revenues by 43% annually to $1 billion by 2022. 
BetterHelp Boom
BetterHelp provides on-demand counseling and behavioral and mental health services conveniently through its virtual platform accessible via mobile devices and desktop computers. Its services are provided through banners targeting specific audiences like Faithful Counseling targeting Christians, Pride Counseling targeting the LGBTQ, and Terappeuta targeting Spanish-speaking customers. As it grew in popularity, the company found more ways to monetize its growing database. Unfortunately, Better Help was rocked by a scandal that threatened to undermine trust in the company. 
Betrayal of Trust Settlement
BetterHelp committed a "betrayal of trust," according to the Federal Trade Commission (FTC), by sharing sensitive patient health data with third parties, including significant ad platforms including Meta Platforms Inc. (NASDAQ: META), Snap Inc. (NASDAQ: SNAP) and Pinterest (NASDAQ: PINS). What made it worse was that the company misrepresented that it wouldn't share customer information with other parties, which it did to secure more advertising sales. The FTC claims BetterHelp shared the health information of seven million consumers with advertisers. The FTC is negotiating a $7.8 million settlement with BetterHelp.
Top Line Growing Again
On April 26, 2022, Teladoc released its fiscal first-quarter 2023 results for the quarter ending March 2023. The company reported an adjusted earnings-per-share (EPS) loss of (-$0.42) excluding non-recurring items, versus consensus analyst estimates for a loss of ($0.49), beating estimates by $0.07. Revenues rose 11.3% year-over-year (YOY) to $629.24 million, beating analyst estimates for $618.24 million. Many expenses occurred in the first quarter, including ($46 million) in stock-based compensation, restructuring costs of ($8.1 million) and amortization of acquired intangibles of ($50.3 million).
Teladoc CEO Jason Gorevic commented, "With a strong financial position, we can fund and invest in innovations and a world-class team of medical professionals as we support leading employers, health plans, hospital systems, and governments around the world. We have solid momentum heading into the rest of the year as the market embraces Teladoc Health's unified whole-person care experience."
Downside Guidance
Teladoc lowered its fiscal Q2 2023 revenue guidance between $635 million to $660 million versus $642.72 million. The company expects fiscal full-year 2023 revenue guidance to come between $2.575 billion and $2.675 billion versus $2.61 consensus analyst estimates. EPS losses are expected between ($0.55) to ($0.45) versus ($0.37). Full-year 2023 EPS losses are expected between ($1.70) to ($1.25) versus ($1.31) consensus analyst estimates.   
Entering the Weight Management Segment
In the similar steps taken by WW International Inc. (NASDAQ: WW) entering the prescription weight-loss drug prescription business with its acquisition of Sequence Inc., Teladoc will also be implementing its own weight-management and prediabetic care service. The service will enable customers to receive physician prescriptions for weight loss drugs if necessary. The weight loss drug segment is on fire, led by Novo Nordisk A/S (NYSE: NVO) and Eli Lilly & Co. (NYSE: LLY). They anticipate the expansion to commence in Q3 2023. Teladoc analyst ratings and price targets can be found on MarketBeat.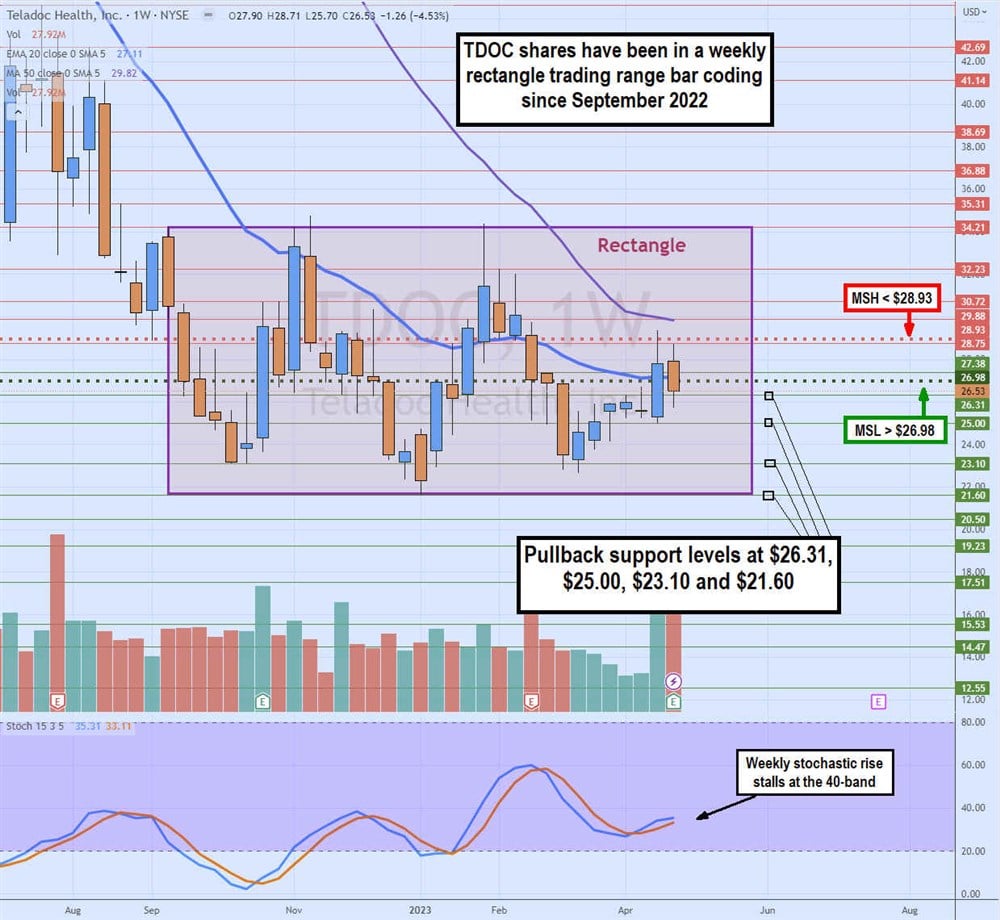 Weekly Rectangle Range
The weekly candlestick chart on TDOC illustrates the rectangle trading range its been barcoding at since September 2022. The upper trendline is $34.21, with the lower trendline at $21.60, the swing low on January 2023. Shares staged a rally triggering the weekly market structure low (MSL) breakout through 26.98 as it retested the upper trendline of $34.21 again at the end of January 2023.
The weekly market structure high (MSH) sell triggered the breakdown below $28.93 before the weekly stochastic crossed back up, attempting to trigger the weekly MSL again at $26.98. Pullback support levels are at $26.31, $25.00, $23.10 and $21.60 weekly swing low.