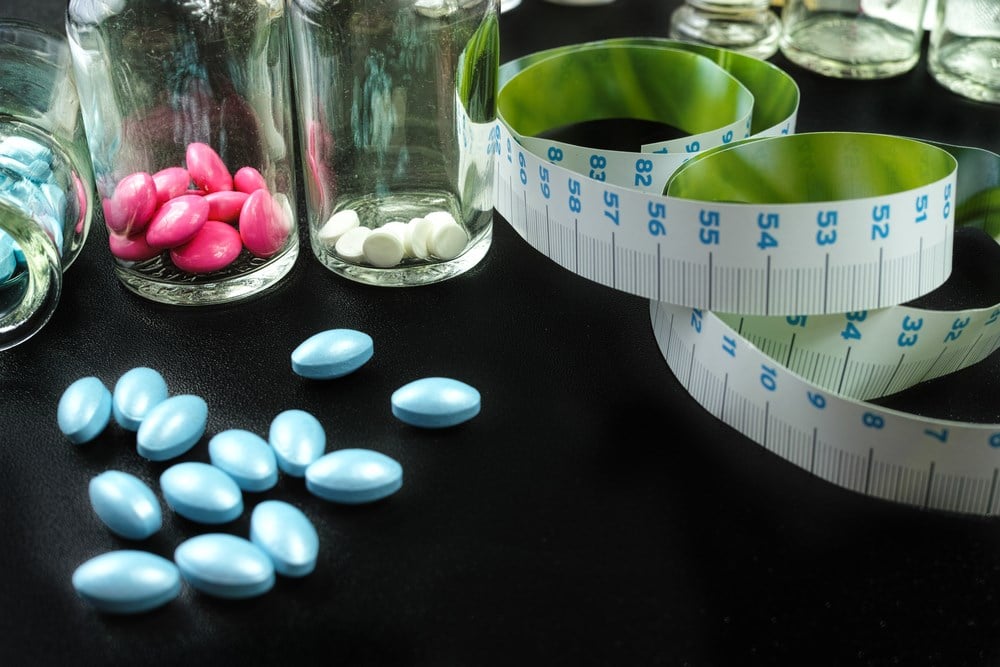 The topic of weight loss drugs has been making recent headlines. The positive phase 1 clinical trial for Viking Therapeutics Inc. (NASDAQ: VKTX) GLP-1 treatment VK2735 caused its shares to rally more than 50%. It found that participants lost up to 8% of body weight using single and weekly doses in several months.
Dietary food and nutritional weight loss giant WW International Inc. (NYSE: WW), formerly known as Weight Watchers, completed a game-changer acquisition of cloud-based telehealth weight-loss platform Sequence Inc. WW will be integrating and offering the telehealth platform which can prescribe FDA-approved weight loss drugs to its database of 3.5 million active users and 20 million former users.
Sequence prescribes FDA-approved GLP-1 agonists weight loss drugs primarily from two major pharmaceutical companies. Here are details on the top drug makers in the weight-loss drugs segment.

Novo Nordisk is the top player in the weight-loss drug segment. Their hugely popular drug Ozempic is a GLP-1 agonist technically called Semaglutide. It has been on the market for over six years and is approved for Type-2 diabetes to improve blood glucose levels. It's not technically approved for weight loss, but that has yet to stop its social media popularity, with people testifying to dramatic results. Ozempic is only approved for treating Type-2 diabetes to regulate glucose levels.
Weight loss is a side effect. Using Ozempic for weight loss without having Type-2 diabetes is known as "off-label" use. Semaglutide boosts insulin release, which helps limit glucose levels by inhibiting super production in the liver and quelling appetite. Ozempic is a once-a-week pen injection. During its trials, participants lowered their A1C levels by more than 1%, lowering their risk of heart attack and stroke.
Wegovy FDA Approval
In 2021, Novo Nordisk received the approval of Wegovy to treat obesity. Wegovy is for adults with a body mass index (BMI) of 30 or higher or a BMI of 27 or higher if you have one or more weight-related medical conditions like Type-2 diabetes, high blood pressure or high cholesterol.
Wegovy is also Semaglutide but uses a higher maximum dosage and is specifically approved for weight loss, not diabetes. It is also a weekly injection. Wegovy was approved for chronic weight management for patients ages 12  and older. Its studies show an average of 15% weight loss in adults and 16% in children.
Health insurance may be tricky with Wegovy since it's used for weight loss, whereas Ozempic is for treating Type-2 diabetes. Wegovy is expensive, costing just under $1,400 a month without insurance. Ozempic costs around $900 without insurance. Coverage of either depends on insurance coverage options.
Demand has been so great that Novo is experiencing supply shortages of drugs. The caveat is that you can gain the weight right back once you get off Wegovy. Novo Nordisk cited that obesity care sales grew 84% in 2022. Ozempic was its top growth contributor in 2022.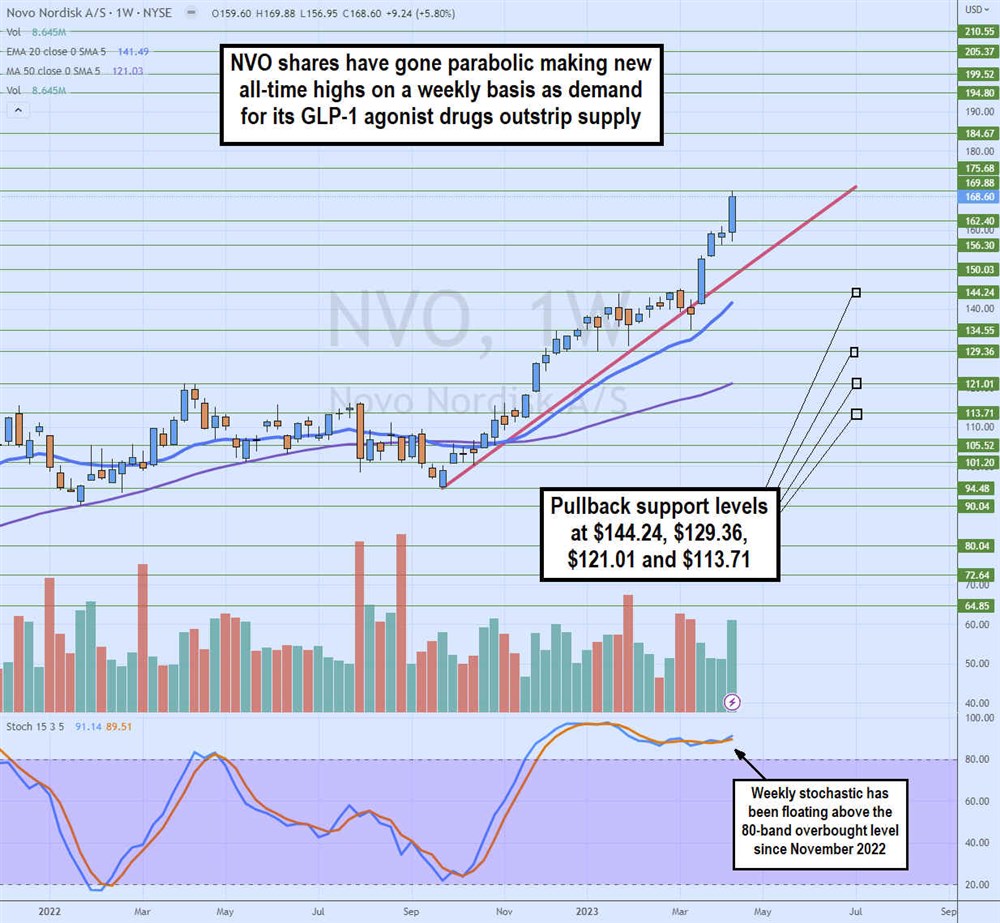 Weekly Parabolic Uptrend
The weekly candlestick chart on NVO depicts a parabolic uptrend since putting in a swing low at $94.48 in September 2022. The weekly stochastic bounced from the 25-band straight through the 80-band overbought level and has remained there since November 2022. The market structure high (MSH) trigger at $134.55 in March 2023 was ignored as shares spiked up through the rising trendline to squeeze shares to new highs at $168.60 in April 2023. Pullback support levels are $144.24, $129.36, $121.01 and $113.71.

Eli Lilly manufactures the Mounjaro injectable, technically called Tirzepatide, which also uses Semaglutide to lower body fat and normalize blood sugar levels. It uses an injection pen injection and mimics the actions of two hormones as a GIP and GLP-1 agonist and weekly injectable. It's FDA-approved for Type-2 diabetes to improve glycemic control. Its clinical trial of more than 2,500 overweight and obese participants resulted in an average weight loss between 15% to 20% of body weight versus a placebo of 3% weight loss over 72 weeks or 16 months.
While doctors can prescribe it for "off-label" use for people without diabetes, Lilly is awaiting official FDA approval under fast-track status for people without diabetes.
Oral Weight Loss Treatment
Lilly is in the process of commencing its Phase 3 trials for Orforglipron, which is an oral medication that also mimics GLP-1. Phase 2 studies showed patients losing up to 15% of their body weight after eight months.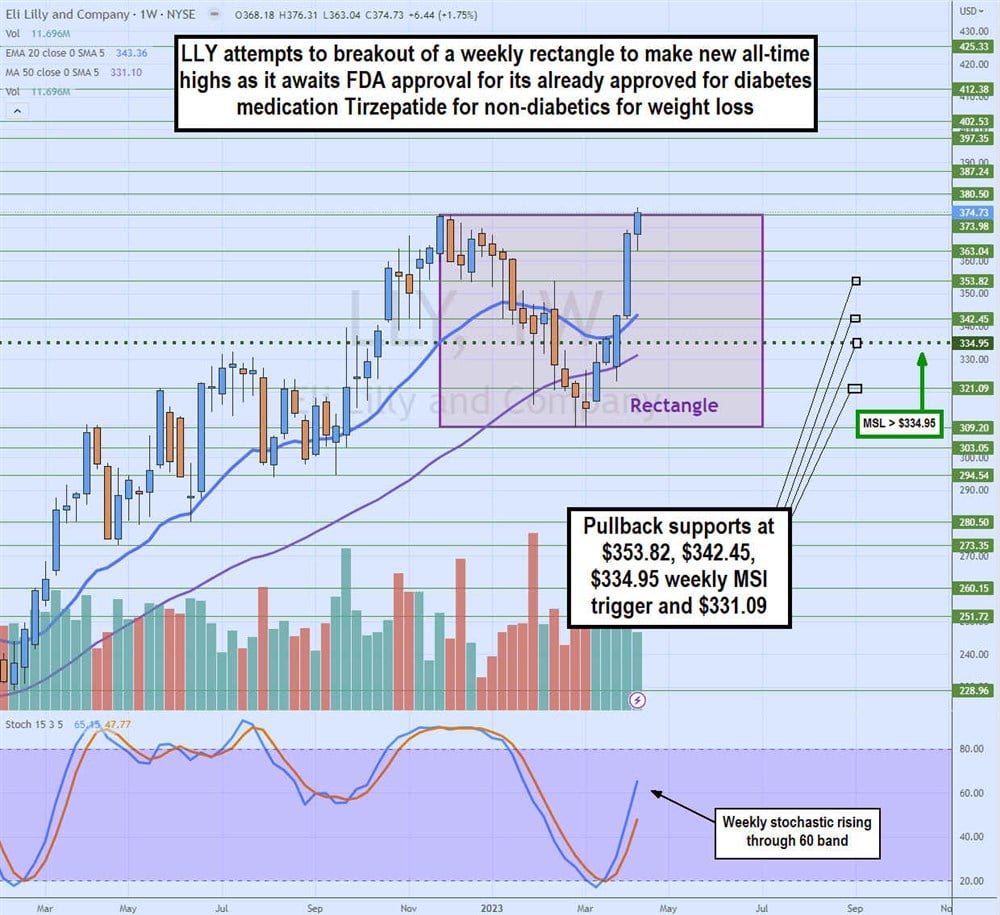 Weekly Rectangle Breakout  
LLY attempts to break out of a weekly rectangle range on its weekly candlestick chart. The weekly rectangle formed after peaking at $373.98 in November 2022, falling to a low of $309.20 by February 2023. Shares staged a rally on the weekly market structure low (MSL breakout through $334.95, powered by the rising weekly stochastic.
Shares are retesting the $373.98 flat top trendline for a breakout to new all-time highs. Pullback support levels are $353.82, $342.45, $334.95 weekly MSL trigger, and $331.09.