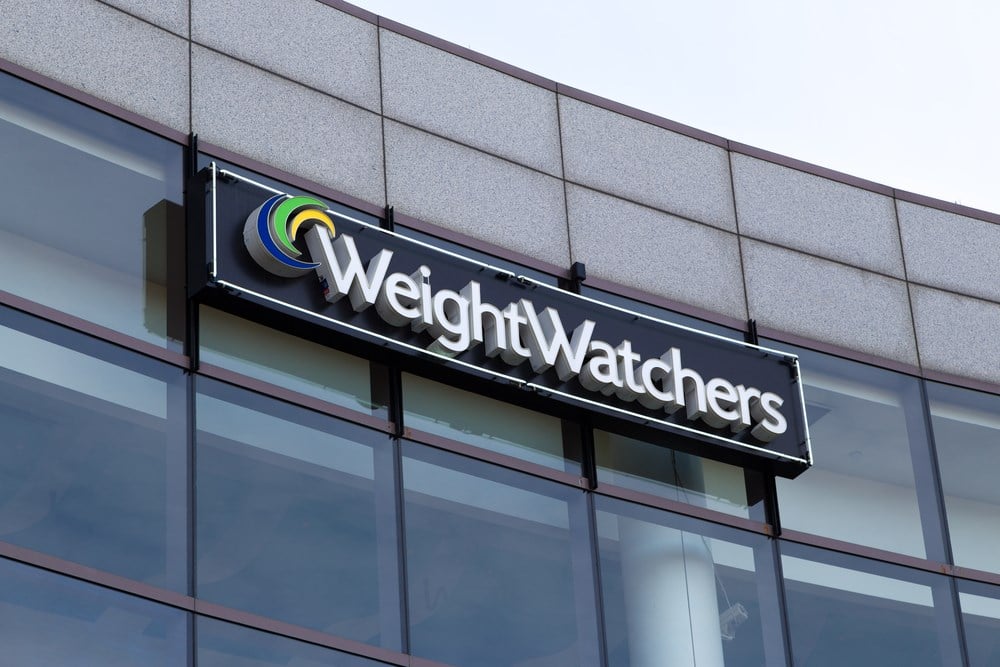 Weight management food and services provider WW International Inc. (NYSE: WW) stock took a 25% spike as it closed its acquisition of telehealth weight loss platform provider Sequence Inc. WW, formerly known as Weight Watchers, has been on a downward trajectory during its restructuring with mounting (paper) losses. Its membership ended in 2022 at 3.5 million. Membership sign-ups are down YoY in 2023 due to "intentionally shifting" annual marketing spend from winter to fall to align with its digital product launches in the second half of 2023.
The pivot into offering weight loss drug prescriptions is a game-changer for the company. It's legacy food and meal plan business and clinical weight loss platform could result in a significant windfall for the company.
About Sequence Inc.
Sequence markets itself as a one-stop weight loss telehealth platform that provides dieticians, fitness coaches, and clinicians to provide customized weight loss programs. Its platform can prescribe FDA-approved GLP-1 (glucagon-like peptide-1) drugs. GLP-1 drugs work by stimulating insulin secretion to lower blood sugar levels. It suppresses glucagon to maintain normal blood glucose levels.
It also helps reduce appetites and slow the movement of stomach contents into the small intestines letting the patient feel fuller longer. Sequence charges a $99 monthly membership fee with an average weight loss of 15% in 26 weeks or six months.
GLP-1 Weight Loss Drugs
These drugs initially treat type-2 diabetes but have shown weight loss effects. The platform prescribes GLP-1s ranging from Tirzepatide, Semaglutide, Liraglutide, and Dulaglutide from various pharmaceutical brands from drug companies, including Eli Lilly& Co. (NYSE: LLY), Novo Nordisk A/S (NYSE: NVO), Amgen Inc. (NASDAQ: AMGN)  and Pfizer Inc. (NYSE: PFE). Biotech Viking Therapeutics Inc. (NASDAQ: VKTK) saw positive clinical data on its GLP-1 candidate VK2735 as participants saw a weight loss of up to 7.8% using its single and multiple dose treatments.
The Initial Announcement Gap and Crap
The announcement of its intent to acquire Sequence was announced on its March 7, 2023, earnings release. The news sent shares screaming higher by 42%, reaching a high of $7.07 before the excitement subsided as shares fell back to a low of $3.80 by the end of the month. A downgrade to a Sell rating with a $4 price target by Craig Hallum the following day didn't help matters. Analyst Alex Fuhrman commented that doubling the stock price is hard to justify when the core business is still challenged.
Ugly Results
On March 7, 2023, WW released its fourth-quarter fiscal 2022 results for the quarter ending December 2022. The company reported a GAAP earnings-per-share (EPS) loss of ($0.46) items versus consensus analyst estimates for a profit of $0.01, a (-$0.45) miss. The operating loss of $50.8 million was primarily due to the ($57.6 million) in non-cash impairment charges for Franchise Rights Acquired and Goodwill.
Adjusted operating income was $24.2 million when backing out the non-cash impairment. Revenues fell (-18.8%) year-over-year (YoY) to $223.9 million, beating consensus analyst estimates for $224.6 million. Full-year 2022 operating loss was ($283 million) primarily due to $396.7 million) in non-cash intangible impairment charges resulting in an adjusted operating income of $153.5 million.

Weakening Metrics
Subscription revenues fell (15.6%) YoY, and product sales fell (14.1%). Subscribers fell by (14.9%) YoY from declines in its digital business. Gross margins fell to 56.7% versus 61.2% in the year-ago period. Net loss was ($32.5 million) versus a net profit of $29.9 million in the year-ago period.
Lowered Guidance
The company issued fiscal Q1 2023  revenues of around $235 million. Operating loss is expected between ($30 million) and ($35 million) including around ($20 million) in restructuring charges.
CEO Comments
WW International CEO Sima Sistani commented, "It has been nearly one year since I joined Weight Watchers - a time of significant transition, rationalization, and bold moves throughout the organization. We ended 2022 with 3.5 million subscribers, ahead of our guidance, improving our position as we started the year."
Goldman Sachs Upgrade
On April 11, 2023, Goldman Sachs upgraded shares of WW to a Buy with a $13 price target. The target price was raised to $13 from $3.80. Analyst Jason English sees significant potential in the efforts to capitalize on obesity drugs, "With the now completed acquisition of Sequence, WW will begin to offer a pharmaceutical-based clinical subscription service that it can integrate with its legacy behavioral-based weight management offering." He feels WW not only can reach out the service to its existing database but also hit the lapsed 20 million former WW users in its database.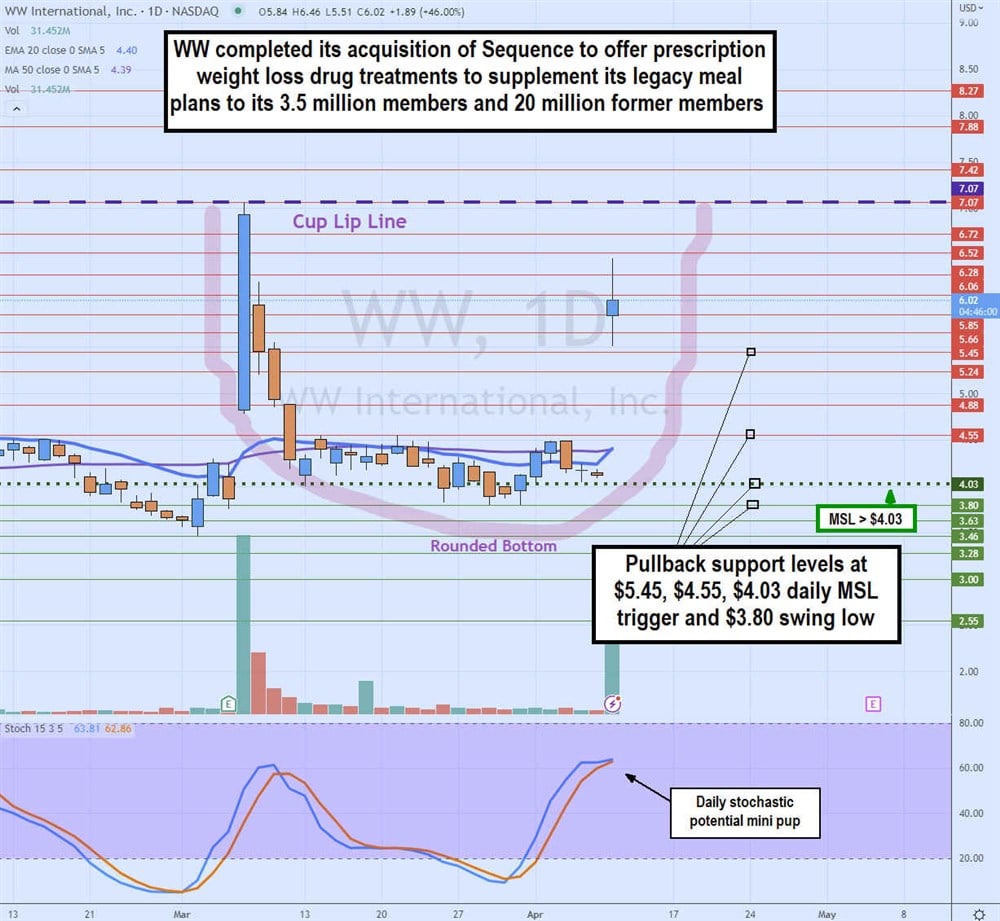 Daily Rounded Bottom to Cup and Handle Potential
The daily candlestick chart on WW shows the lip line formed at $7.07 on the initial announcement to buy Sequence on March 7, 2023. Shares faded back down to $3.80 by the end of the month to consolidate. Shares triggered a daily market structure low (MSL) trigger breakout on April 11, 2023, on the announcement of the completion of the acquisition, causing a gap, as well as Goldman Sachs, upgrade with a $13 price target.
Shares still need to complete the cup by retesting the lip line. The daily stochastic is attempting to form a mini pup above the 60-band. Pullback support levels sit at $5.45, $4.55, $4.03 daily MSL trigger and $3.80 swing low.