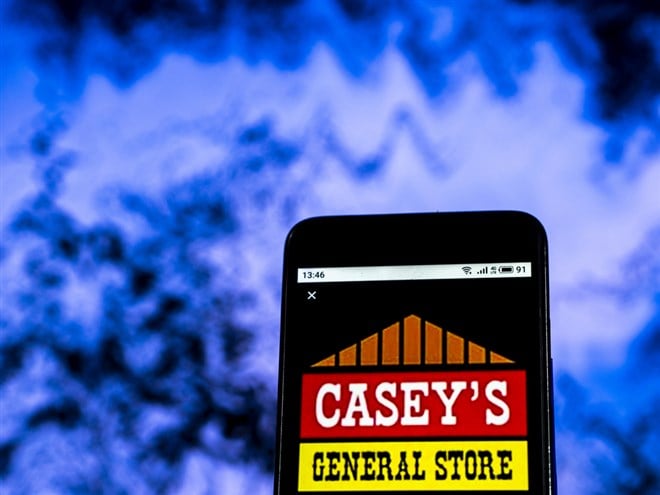 Shares of Casey's General Stores, Inc. (NASDAQ: CASY) are up sharply after the company beat earnings expectations on Wednesday, March 8. The $2.36 earnings per share (EPS) was sharply higher than the $1.83 EPS analysts forecasted. Revenue, however, came in a little light at $3.33 billion versus the $3.35 billion that was forecast. 
The earnings report, which was for the third quarter of the company's fiscal 2023 year, makes it three out of the last four quarters that Casey's has beat earnings expectations. And when analysts forecast an earnings recession, it's important to note that Casey's just posted its fifth consecutive quarter of year-over-year earnings growth.  
Of course, when considering any investment, you know that past performance doesn't ensure future results. So should investors view this earnings report as a buying opportunity?  
What is the Opportunity?
Casey's General Stores operates a national chain of convenience stores and gas stations. That's significant because the company's results could shine a light on several areas of the broader economy. 
First, the company can serve as a proxy for gasoline demand. Casey's reported that year-over-year gasoline, in terms of same-store fuel gallons, was down 0.5% year-over-year with a fuel margin of 40.7 cents per gallon. And for the full year, the company expects same-store fuel gallons to be within a range of –1% to 1% as opposed to the previous guidance of flat to 2%. 
And the company's results can also give investors some sense of the consumer's health. That's because while the company does sell some consumer staples such as toilet paper, it primarily sells discretionary items. With that in mind, the company boosted its guidance for same-store inside sales to a range of 6% to 7% as opposed to the 5% to 7% it had previously forecast.  
Both of these results show that the consumer continues spending and that Casey's is demonstrating an ability "to manage operating expenses in a challenging inflationary period effectively." 
Analysts are Turning Bullish
Even before the earnings report, JPMorgan Chase & Co. (NYSE: JPM) upgraded CASY stock from Underweight to Neutral and had boosted its price target for the stock. Since the company reported earnings, two analysts have weighed in. The Royal Bank of Canada (NYSE: RY) upgraded the stock and increased its price target to $273. And Evercore reiterated its Overweight rating and kept its price target at $280. 
The latter two price targets are above the consensus price target of $259, which is already 20% higher than the current price of CASY stock.  
One reason for this may be that Casey's operates in areas of the United States where new semiconductor plants are being built. As infrastructure money begins to flow, it's likely that Casey's will be an indirect beneficiary.  
Should Investors Buy CASY Stock?
Casey's General Stores checks many of the boxes that investors should look for. It's growing earnings at a time when many analysts are forecasting an earnings recession. The stock is trading at around 19x earnings. That isn't cheap, but with a profit margin that's slightly above the sector average, the company should continue to beat earnings estimates, which would support that P/E ratio.  
Institutional ownership in CASY stock is above 80%. While that doesn't ensure the stock will rise, it's still a good indication that the "smart money" believes the stock will likely move higher.  
And the company pays a dividend that, while not particularly impressive, is very well supported by earnings and has been increasing for the last 20 years.