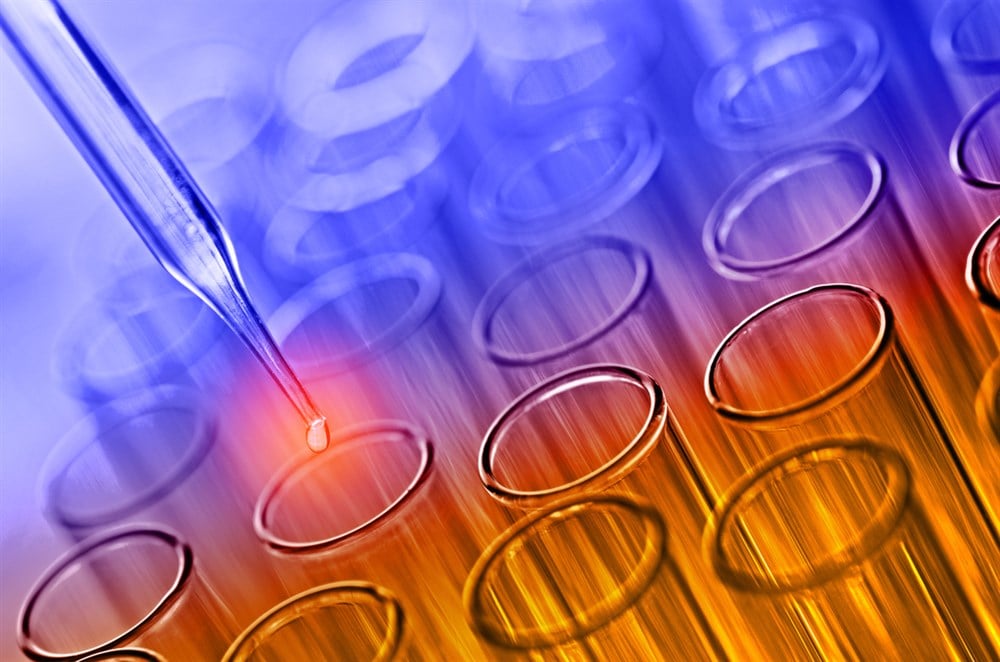 Clinical-stage biotechnology company Viking Therapeutics, Inc. (NASDAQ: VKTX) stock jumped more than 50% on positive Phase 1 data on its novel dual GLP-1/GLP agonist compound VK2735 for the treatment of obesity. Viking Therapeutics develops novel therapies for metabolic and endocrine disorders. Metabolic disorders hurt the body's ability to break down and synthesize nutrients from food, putting the balance of the biochemical process in disarray. This can result in diabetes mellitus since the body can't regulate blood sugar levels.
Endocrine Disorders
Obesity is considered both a metabolic and endocrine disorder. Endocrine disorders affect the glands that create and distribute thyroid hormones into the bloodstream from overproducing or underproducing. Hyperthyroidism is an endocrine disorder where the body doesn't produce enough thyroid hormones, which leads to slower metabolism and weight gain. Other contributing factors include diet, medications, and genetics. Viking has many competitors, including Altimmune Inc. (NASDAQ: ALT), Eli Lilly & Co. (NYSE: LLY), Pfizer (NYSE: PFE), and Amgen Inc. (NYSE: AMGN) in the weight loss space.

Positive VK2735 Obesity Phase 1 Data
The Phase 1 randomized, double-blind, and placebo-controlled clinical trial involved patients undergoing a single ascending dose (SAD) and multiple ascending doses (MAD) of VK2735. The SAD single shot of VK2735 had a half-life of 170 to 250 hours with a time to reach maximum plasma (Tmax) between 75 and 90 hours. The MAD portion was a 28-day study administered weekly.
Safety and Efficacy
Both doses were well tolerated and showed positive clinical signs. All participants experienced weight loss of up to 7.8% from baseline. They also experienced mean body weight reduction of up to 6% versus placebo. The weight loss was maintained or improved compared to the placebo 21 days after the last dose. Safety was proven as 98% of participants reported only mild or moderate. In addition to obesity, the drug always targets NASH and diabetes.
Upbeat CEO
Viking Therapeutics CEO Brian Lian, Ph.D., commented, "These Phase 1 data highlight VK2735's attractive early profile, encouraging safety, tolerability, and positive effects on body weight. The initial data suggest excellent clinical characteristics, with good tolerability and up to approximately 18 pounds of mean weight loss from baseline. Though subjects in this study were only exposed to higher doses for a limited time, no signs of plateau were observed. We look forward to exploring higher doses over a longer treatment window in the Phase 2 trial."
Five More in the Pipeline
Viking has six compounds in various clinical stages in its portfolio pipeline. Its lead compound is VK2809, an oral therapeutic for the treatment of non-alcoholic steatohepatitis (NASH) and hypercholesterolemia. It targets liver fat reduction. NASH is a liver condition of inflammation and fat accumulation that can lead to liver cirrhosis, fibrosis, and failure. The NASH market is estimated to grow to $35 billion in the coming years. It will report the results of its Phase 2B VOYAGE study in the first half of 2023. Its other therapeutics include VK0214 in Phase 1b for X-ALD, VK5211 for treating hip fracture surgery, VK0612 for type 2 diabetes, and VK1430 for hypertriglyceridemia and NASH. Clinical trial data for each of these can produce significant gaps up or down, as evidenced by the move on VK2735.
Daily Rectangle Breakout
The daily candlestick chart on VKTX illustrates the large gap and go price action stemming from its Phase 1 study results for VK2735. The stock had a daily rectangle on Feb. 9, 2023, as shares formed a flat-top resistance upper trendline at $11.99 and flat-bottom support lower trendlines at $8.68. Shares looked like they were going to break down just before the announcement. The gap has now caused the daily stochastic to cross back up through the oversold 20-band on over 40 million shares daily trading volume.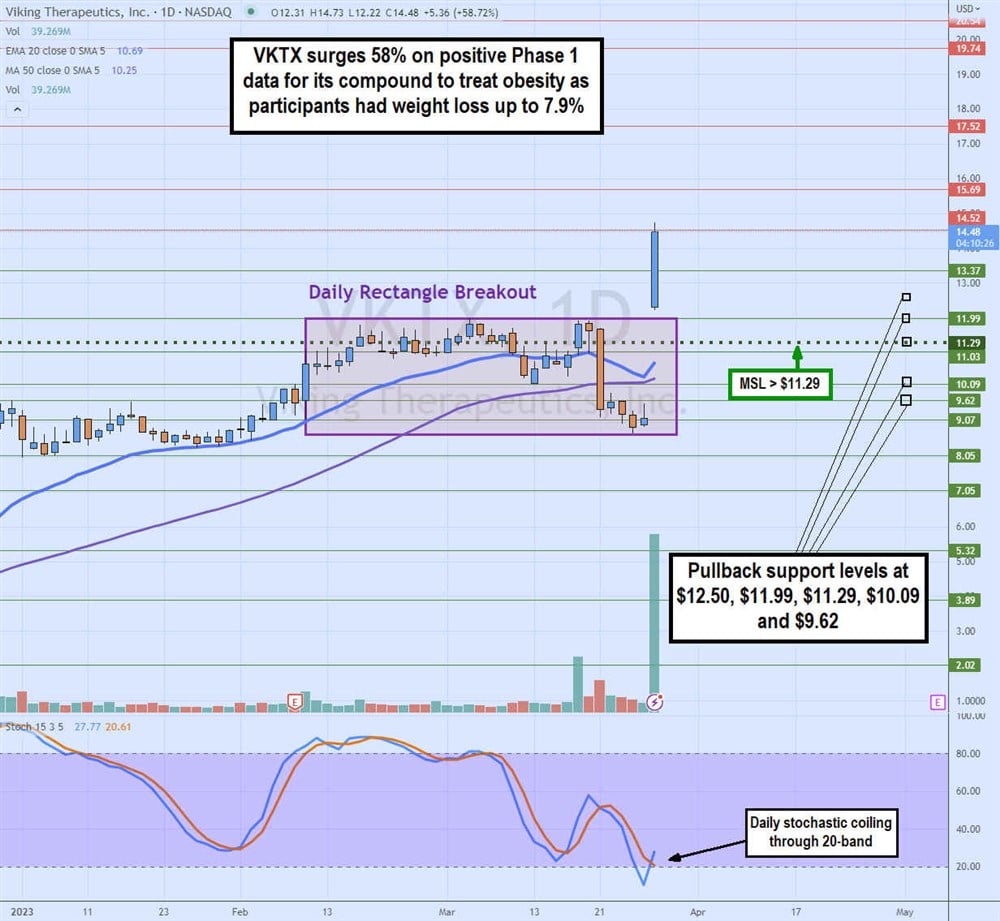 Shares gapped to $12.31 on the announcement on March 28, 2023, from a close of $9.12 the previous day. Shares barely pulled back, hitting a low of $12.22 before rocketing up through $14.50. The gap triggered the daily market structure low (MSL) above $11.29.
The daily 20-period exponential moving average (EMA) support is rising at $10.69, followed by the 15-period MA support at $10.25. Pullback support levels are $12.50, $11.99 daily rectangle upper trendline, $11.29 daily MSL trigger, $10.09, and $ 9.62.