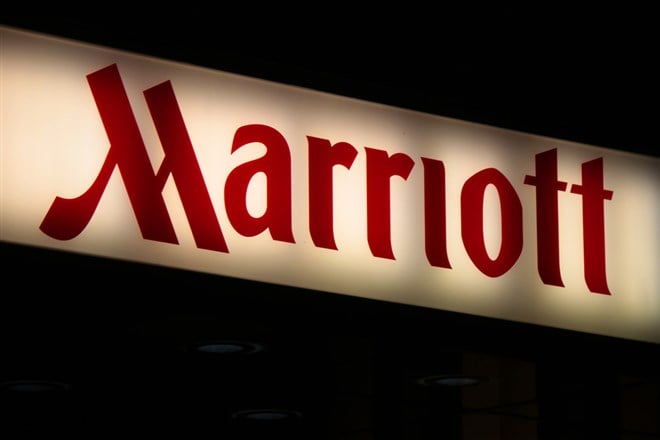 If you had any doubt, travel is back, as February 14 earnings from Marriott International Inc. (NASDAQ: MAR) clearly show.
The company reported $1.96 per share, up 51% from a year ago. Revenue was $5.293 billion, a gain of 33%. MarketBeat earnings data for Marriott show the company topping views by $0.12. 
"Just two years after experiencing the sharpest downturn in our company's history, we reported record financial results. Our fee-driven, asset-light business model generated significant cash during the year, allowing us to both invest in the growth of our business and return $2.9 billion to shareholders," CEO Anthony Capuano said in the earnings release statement.
Capuano referred to the "asset-light" business model, whereby hotel operators focus on managing and franchising properties with less reliance on owning the properties. That model has grown in popularity over the past decade, after 2007 through 2009 financial crisis made hoteliers realize they didn't want to be so exposed to the myriad problems inherent with owning the properties. 
Back To Pre-Pandemic Levels 
There was a lot to digest in the release, and it all speaks to the wider economy and continued pent-up demand for travel after pandemic lockdowns. 
In the fourth quarter, Marriott's worldwide revenue per available room (RevPAR) grew 5% compared to 2019, driven by a 13% increase in the average daily rate (ADR). 
That brings up two points:
Marriott revenue is higher than pre-pandemic levels. 
If you've booked hotel rooms lately and the price seemed higher, like the price of everything else, you weren't wrong.
In its earnings release, Marriott said that except for Greater China, which didn't reopen until early January, "all regions more than fully recovered and continued to show meaningful advances in occupancy and ADR.  In the fourth quarter, our international business posted RevPAR 3% above 2019."
"Leisure demand remained robust, and group demands more than fully recovered, leading to fourth-quarter group revenues 10% above pre-pandemic levels," said Capuano. 
Hotel industry analysts have been concerned about group demand, which includes meetings, conferences, exhibitions, and other large gatherings. That segment was slower than leisure travel to rebound. 
In another piece of good news, Marriott said business travel demand was at nearly 90% recovery in the quarter. 
The company also focuses on expansion, with more than 65,000 rooms globally added last year and more than 496,000 new rooms in the development pipeline.
Shares Trending Higher Since Mid-December
Capuano said "Marriott is well-positioned for strong growth over the coming years" and Wall Street seemed to agree, sending shares  3% higher in heavier-than-normal volume."
With the price action on February 14, Marriott shares were still 8% off their April 2022 high. The stock has been forming a choppy base since then. A handle may form, but a look at its chart shows the stock has been trending higher since mid-December and may be at a juncture where an early buy point may reward investors. 
Marriott is a component of the S&P 500's consumer discretionary sector, as tracked by the  Consumer Discretionary Select Sector SPDR Fund (NYSEARCA: XLY).
On February 14, Marriott wasn't the only hotel stock in the sector getting some love from Wall Street. A look at the MarketBeat S&P 500 Heat Map shows that investors sent Hilton Worldwide Holdings Inc. (NYSE: HLT), Las Vegas Sands Corp. (NYSE: LVS), and PENN Entertainment Inc. (NASDAQ: PENN) higher. 
Marriott's market capitalization of $56.869 billion makes it the largest stock within the sub-industry of hotels and lodging
Marriott Dividend Increase
Marriott's current quarterly dividend is $0.40 per share, for a yield of 1.89%, MarketBeat dividend data show. The company slashed its dividend in 2020, eliminated it in 2021, and reinstated it last year. In November 2022, the payout increased by 33% to the current $0.40 a share. 
Wall Street expects the company to earn $7.43 per share this year, an increase of 11%. That consensus estimate was recently revised higher. Next year that's seen rising another 12% to $8.35 per share.