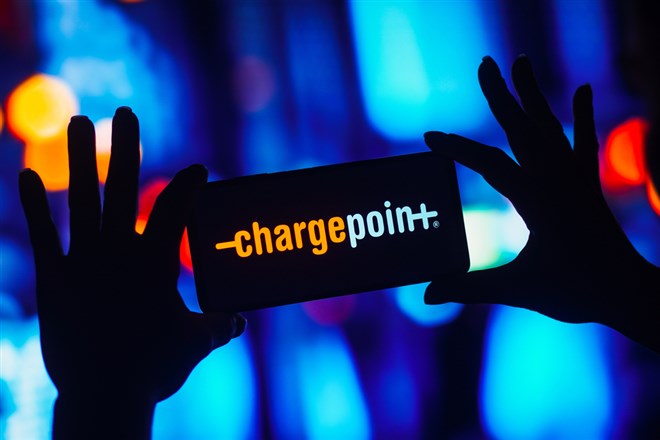 The ChargePoint Holdings, Inc (NYSE: CHPT) stock price took flight on 9 Jan, gaining over 14% in a single trading session. Shares of the electric vehicle infrastructure company rose 9% in yesterday's trading session and currently trade near the bottom of its 52-week range.
Bulls might feel excited about a development in the company's fundamentals, namely in the form of an expanded partnership with Mercedes-Benz Group (OTCMKTS: MBGAF), and MN8 Energy.
The new deal will see the trio expand the number and capacity of electric vehicle charging hubs throughout the United States and Canada. Over 400 hubs will be established, consisting of over 2,500 ChargePoint fast charging ports.
A benefit for Mercedes-Benz is that its customers who own its electric models, such as the EQC N293 can rapidly charge their batteries at these stations, as they offer a maximum output of 500kW per port. The stations may also improve the convenience and reach of these and other electric vehicles.
So let's peel back the curtain a bit more and examine how this expanded partnership could improve ChargePoint's fundamentals moving forward.
ChargePoint's Earnings Improve
At first glance, an additional 400 charging hubs may not seem overly significant. The company claims to have the largest network of electric vehicle charging stations worldwide and has seven times as many locations as its closest competitor. In the USA alone it has more than 56,000 EV hubs and 148,000 charging ports under its brand.
However, ChargePoint continues diversifying its revenue streams by providing high-quality software-as-as-service (SaaS) subscriptions to businesses, especially Fortune 500 companies. This operating segment contributed $13.39 million to its revenues in the quarter ending October in FY2021 and grew 61.83% to $21.67 million in FY2022 for the corresponding period.
Thus, a stronger physical presence also helps enable a network effect to allow these highly profitable and high-quality subscriptions to be acquired and protected from ChargePoint's competitors. And more generally, as the adoption of electric vehicles continues to rapidly take hold.
How the EV transition will affect ChargePoint
As electric vehicles (EVs) become increasingly popular, Chargepoint is well-positioned to benefit from their adoption.
In addition to providing charging infrastructure, Chargepoint also offers various services to make charging an EV more convenient for drivers. These services include mobile apps and payment options, which make it easier for drivers to locate and pay for charging services.
Chargepoint also offers energy management solutions that can help drivers to optimize their energy usage while charging. Chargepoint can help make owning and charging an EV more convenient and efficient by offering these services.
Moreover, as electric vehicles become increasingly popular, Chargepoint benefits from the increased demand for charging solutions, as more and more people turn to EVs, the need for charging infrastructure will only continue to grow, creating a perfect opportunity for ChargePoint to capitalize on this trend.
Growth of EVs in Europe
According to Statista, the EV market in the US is set to grow at a CAGR of 22.76% from 2023 to 2027, thus leading to a total market volume of $139.20 billion over this period. However, the case of Europe's transition to EVs is arguably more impressive. It's expected that the European EV market will become the largest in the world by 2030, as 70% of all vehicles purchased on the continent will be powered by electric batteries.
The European Union has taken several measures to promote the adoption of electric vehicles, such as setting targets for the number of electric vehicles on the market by 2030 and providing incentives for consumers to purchase electric vehicles. The European market for electric vehicles is also driven by the continent's commitment to reducing carbon emissions.
Europe has some of the most stringent emissions standards in the world and is committed to reducing emissions from the transportation sector. This commitment has made electric vehicles attractive to consumers, as they produce fewer emissions than traditional vehicles.
Taking advantage of this trend is ChargePoint's expansion plans into Europe, which has more than tripled in size since FY2020 and looks to continue on this trend into the future.