DANBURY, Conn., Aug. 08, 2023 (GLOBE NEWSWIRE) -- Ethan Allen Interiors Inc. ("Ethan Allen") has been named to Newsweek's list of America's Best Retailers 2023. This prestigious award is presented by Newsweek and Statista Inc., a leading statistics portal and industry ranking provider. The list was announced on July 19, 2023, and can be viewed on Newsweek's website.

Ethan Allen and other retailers named as America's Best Retailers 2023 were identified based on the results of an independent survey of more than 9,000 U.S. customers who have shopped at the retail stores in person in the past three years. In total, over 140,000 evaluations were collected.
The final assessment and rankings were based on the likelihood of recommendation and the following five evaluation criteria:
Products: measures the quality, price, range, and variety of products offered in store
Customer service: measures the friendliness, helpfulness, and availability of employees in store
Atmosphere: measures the general atmosphere, lighting/illumination, music, cleanliness of stores
Accessibility: measures the parking availability, store hours, convenience of store location
Shop layout: measures the order that products are displayed, aisle size, product presentation, store size

"Ethan Allen is pleased to be recognized on Newsweek's list of America's Best Retailers 2023, including as the #1 retailer of Premium Furniture," said Ethan Allen's Chairman, President and CEO Farooq Kathwari. "Congratulations to all our associates, who continue each day to uphold our reputation for quality, craftsmanship, and exemplary service."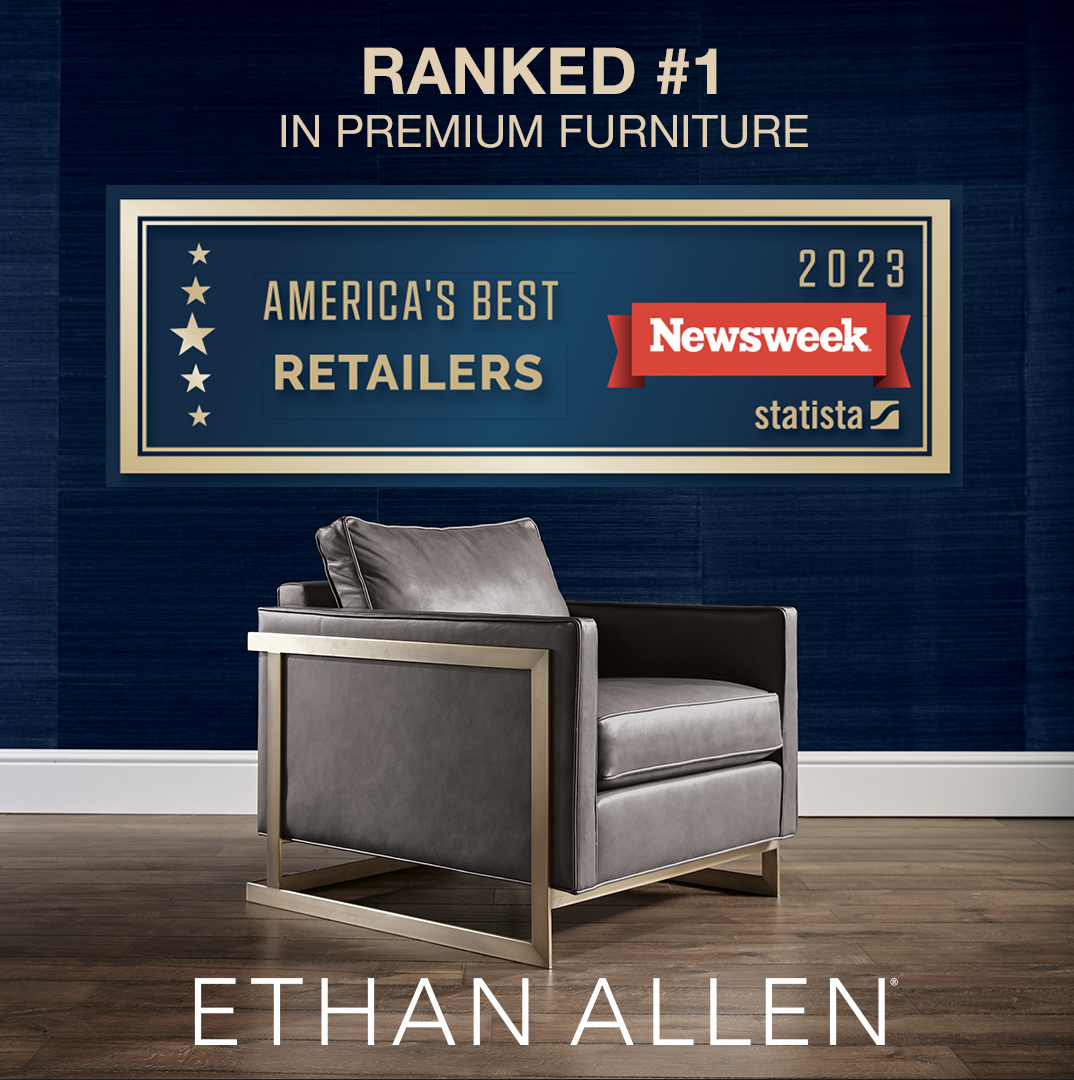 ABOUT ETHAN ALLEN
Ethan Allen Interiors Inc. (NYSE: ETD) is a leading interior design company, manufacturer and retailer in the home furnishings marketplace. The Company is a global luxury home fashion brand that is vertically integrated from product design through home delivery, which offers its customers stylish product offerings, artisanal quality, and personalized service. The Company provides complimentary interior design service to its clients and sells a full range of home furnishings through a retail network of design centers located throughout the United States and abroad as well as online at ethanallen.com. Ethan Allen owns and operates ten manufacturing facilities located in the United States, Mexico and Honduras, including one sawmill, one rough mill and a lumberyard. Approximately 75% of its products are manufactured or assembled in these North American facilities.
For more information on Ethan Allen's products and services, visit www.ethanallen.com.
Media Contact:
Catherine Plaisted
Vice President, Marketing
203.743.8665
Catherine.Plaisted@ethanallen.com
A photo accompanying this announcement is available at https://www.globenewswire.com/NewsRoom/AttachmentNg/67a4442a-a45e-4452-9617-c2385f5dae26