WAYNESBORO, VIRGINIA - Dominion Hemp, formerly known as Old Dominion Hemp, the leading distributor of high-quality hemp bedding for horses, chickens, and pets, unveils its new brand identity. 
Along with changing the name from Old Dominion Hemp to Dominion Hemp, the company developed a new logo and new packaging as well as launched a redesigned website.
The rebranding initiative underscores the company's dedication to providing superior hemp bedding that helps ensure happy, healthy animals.
Since 2015, Dominion Hemp has been a trailblazer in the hemp bedding market, with its owner, Marty Phipps, emphasizing the potential of local hemp to not only bolster his business but also to create more business opportunities across the United States.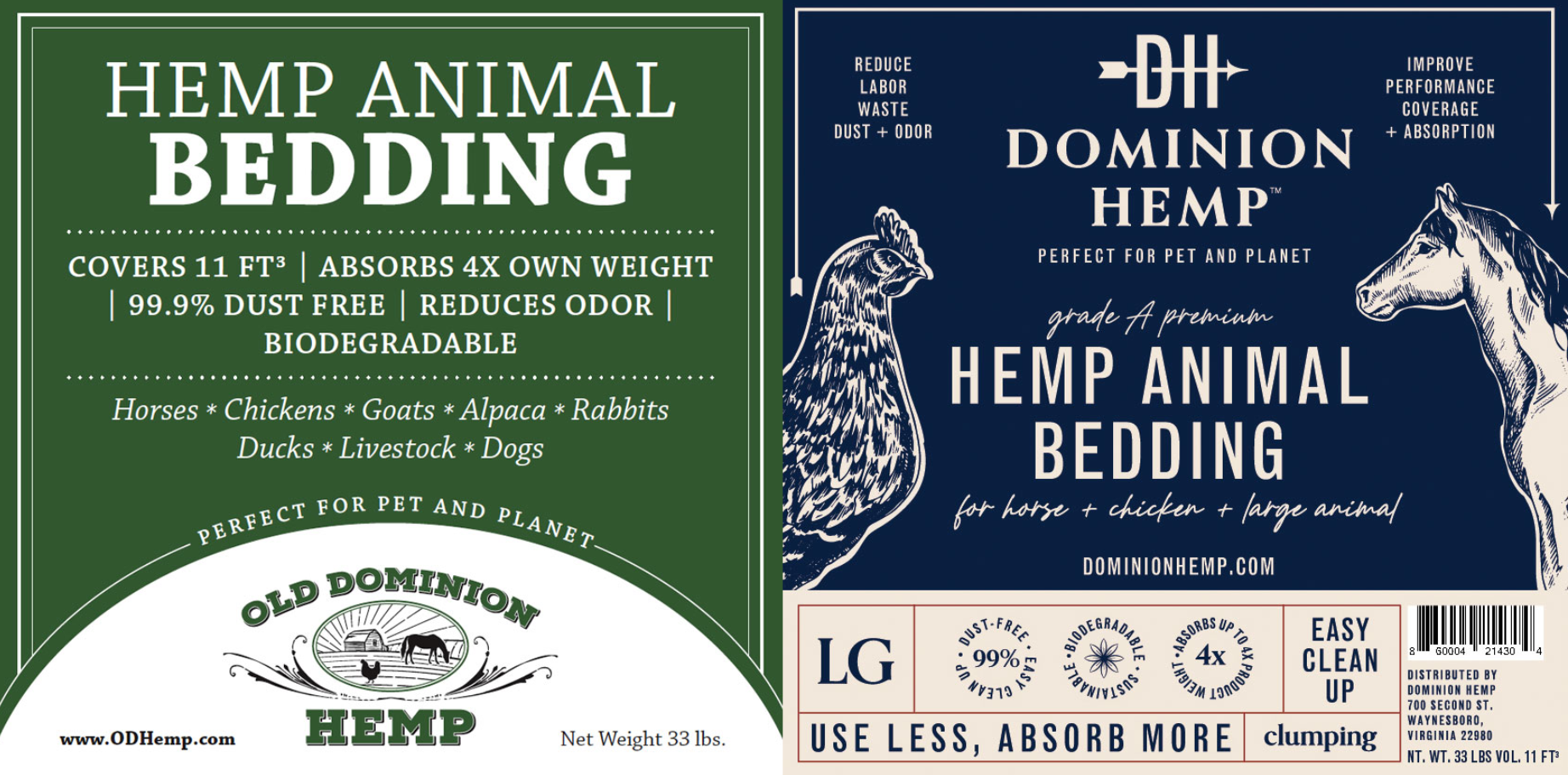 "When I founded Dominion Hemp in 2015, our goal was to show the general public that hemp was a versatile crop and could be used for not only building, plastics and paper products but also as a superior animal bedding," says Mr. Phipps.
This has been proven over the past eight years, as Dominion Hemp first began selling palettes of their bedding to farms and horse operations but quickly expanded into online sales, where the company found an incredible demand for hemp bedding for chickens.
The transition to Dominion Hemp represents a commitment to reach more animal and pet owners with a simple message: hemp bedding solves many of the problems associated with conventional animal bedding. 
"We have aspirations of becoming a national brand. When I started Old Dominion Hemp, it was an homage to my home state, Virginia. Seedhouse, our branding and packaging design group, tested the rebrand and our customers approved. Dominion Hemp is our 'coming to market' facelift,"  added the founder.
Bryan Vanderwarker, principal at Seedhouse, said of the rebrand, "Dominion Hemp better takes credit for the work that the company has done to bring hemp back as an important crop in the United States." The new branding and packaging telegraphs the premium quality of the product and positions the brand as the high-end, more sustainable hemp alternative to the dusty, acidic, inefficient pine shavings. The new monogram logo is reminiscent of vintage barn weather vanes and all things americana. It also points to the future that Dominion Hemp is helping to shape.
The company's new slogan, "Perfect For Pet and Planet" highlights the benefits of hemp bedding, from its incredible absorbency to its natural anti-fungal properties to its eco-friendliness as a fully biodegradable and compostable material.

Dominion Hemp alleviates the hassle of the labor and disposal and lightens environmental impact so that animal owners can run a cleaner, more efficient barn or enclosure - which in the end allows them to care for their animals at the level that they care for their family.
With its recent move into Runnings stores nationwide, Dominion Hemp is quickly expanding its brick-and-mortar presence across the country. For animal owners who prefer the convenience of online shopping, Dominion Hemp bedding is available on Amazon.com with free shipping every day. 
In addition to serving animal owners, the company will continue to foster partnerships with local farmers and emphasize the importance of reintroducing hemp as a sustainable, profitable crop.
Mr. Phipps is confident about the success of Dominion Hemp and hemp as a whole:
"Hemp is here to stay. The uses are endless. Significant investments are being made in the hemp space every day. The current hurdles are government and regulatory groups, who are suppressing the crop. Supporting our farmers is the key to success in this industry. When farmers are permitted to do what they do best, we all succeed."
About Dominion Hemp
Dominion Hemp, formerly Old Dominion Hemp, values community, hard work, the environment, and above all, the health of animals. The company works to innovate on tradition and distribute an American-grown, sustainable, efficient animal bedding product that helps equestrians and small animal owners alike take superior care of their animals. 
Learn more at https://www.dominionhemp.com.
Media Contact
Company Name
Dominion Hemp
Contact Name
Marty Phipps
Phone
434-987-2663
Address
700 Second Street
City
Waynesboro
State
Virginia
Postal Code
22980
Country
United States
Website
https://www.dominionhemp.com/