Gilbert, AZ -  Zerorez Phoenix is proud to announce its unrivaled range of professional cleaning services, serving homes and businesses in Gilbert, AZ, and the surrounding areas. With a commitment to innovation, excellence, and sustainability, the company has firmly established itself as the industry leader in carpet cleaning, area rug cleaning, upholstery cleaning, air duct cleaning, and more.
At the heart of Zerorez Phoenix's success lies its revolutionary cleaning process that combines advanced technology with a commitment to eco-friendly practices. Unlike conventional methods, the company utilizes a proprietary three-component approach to deliver a truly transformative clean, eliminating the need for harsh chemicals and leaving no residues behind.
The company's carpet cleaning process commences with a non-toxic pre-treatment spray, followed by the use of the Zr Lifter®, an innovative agitation tool equipped with counter-rotating brushes. These brushes meticulously dislodge hair, dead skin, and deeply embedded dirt from carpet fibers, a feat that traditional vacuuming simply can't accomplish.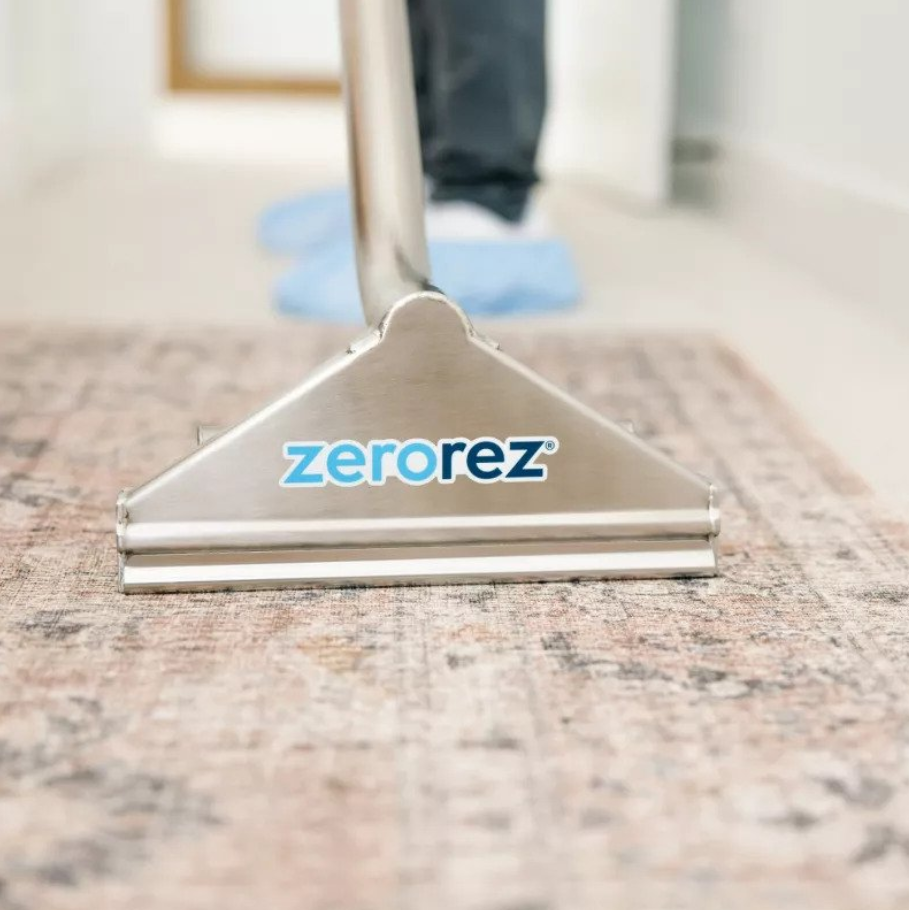 Central to Zerorez Phoenix's groundbreaking process is the patented Zr Water®, a game-changing cleaning fluid that transcends conventional cleaning agents. This ionized,  electrolyzed, alkalinized cleaning fluid acts like soap without the chemicals, leaving carpets residue-free and free from the clutches of sticky, dirt-attracting residues. The best part? Zr Water® is entirely non-toxic, ensuring the safety of people, pets, and the environment.
The proprietary Zr Wand® encapsulates the extraction phase of the process, thoroughly rinsing carpet fibers with Zr Water® through an intricate fluid-controlled mechanism. This procedure extracts hidden dirt and debris without overloading the carpet's backing and pad. Coupled with Zerorez Phoenix's advanced truck mount technology, this process enables rapid water recovery and significantly reduced drying times, setting them apart from competitors.
The culmination of these innovative steps guarantees a Zero Residue® clean, a promise that Zerorez Phoenix delivers on every time. Clients can expect carpets free from the sticky fibers and harsh detergents associated with traditional cleaning methods. Moreover, the process eliminates reappearing spots, pet odors, and the environmental impact of toxic chemicals. With rapid drying times, the Zerorez clean ensures minimal disruption to daily routines.
Zerorez Phoenix's pursuit of becoming the most trusted provider in the industry extends beyond technology-it encompasses the caliber of its technicians. Every technician undergoes rigorous screening, including background checks, motor vehicle checks, and drug screenings. They are bonded, licensed, and insured, ensuring clients' peace of mind.
These clean experts receive continuous training from IICRC-certified trainers, enabling them to master the latest and most effective cleaning practices. Moreover, they are trained to be professional and courteous in customers' homes, going the extra mile to listen to concerns and address problem areas. They provide insights into the nature of spots, offer treatment options, and furnish tips for maintaining the pristine condition achieved by Zerorez Phoenix.
The company celebrates its commitment to cleanliness with unbeatable promotions for a limited time.
Zerorez Phoenix is located at 1431 W Harvard Ave, Gilbert, AZ, 85233, US. To schedule a consultation, contact their team at (480) 507-2419. For more information regarding the services offered, visit the company's website.
Media Contact

Company Name
Zerorez Phoenix
Contact Name
Jessica Shira
Phone
(480) 507-2419
Address
1431 W Harvard Ave
City
Gilbert
State
AZ
Postal Code
85233
Country
United States
Website
https://zerorezphoenix.com/