HONG KONG, Sept 6, 2023 - (ACN Newswire) - The Asian annual fashion showcase, CENTRESTAGE, kicked off today and runs for four days at the Hong Kong Convention and Exhibition Centre. The first two days of the fair are exclusively dedicated to buyers, while the final two days, 8 to 9 September, are open to both industry professionals and the public.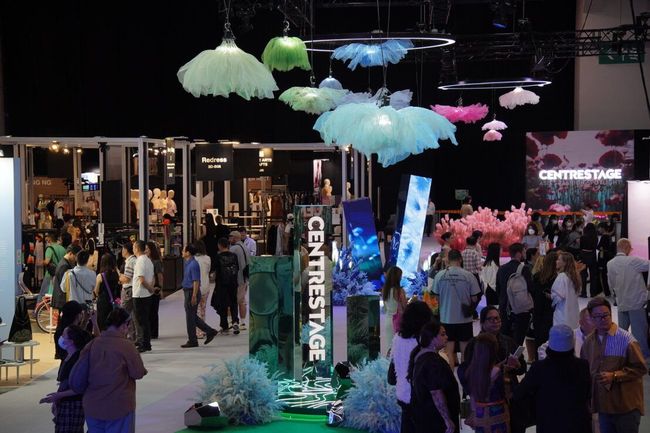 The annual Asian fashion extravaganza, CENTRESTAGE, kicks off today at the Hong Kong Convention and Exhibition Centre. Numerous brands are unveiling their latest collections during the four-day exhibition.



The fair features exclusive retail offers and special promotions from various local and international brands and is an opportunity for buyers and fashion enthusiasts alike to stay updated with the latest fashion trends. The theme of this year's fair Radiant Wellness aims to underscore the impact fashion can have on individual well-being.

CENTRESTAGE is organised by the Hong Kong Trade Development Council (HKTDC), with Create Hong Kong (CreateHK) of the Government of the Hong Kong Special Administrative Region (HKSAR)* as lead sponsor.

Now in its eighth year, CENTRESTAGE is an iconic fashion event in the Asia-Pacific region. With the reopening of the Hong Kong-Mainland China border, this year's fair features increased participation of international brands. Its diverse line-up of over 240 brands represent 19 countries and regions. In addition to Hong Kong, they include Australia, Mainland China, France, Indonesia, Italy, Japan, Korea, Macau, Thailand, the United Kingdom, the United States and Vietnam.

Hong Kong brands showcased include REDEMPTIVE, Barney Cheng Couture, D'Orient by Dorian Ho, Sparkle by Karen Chan, IKA BUTONI, 112 mountainyam, Rickyy Wong Studio, Kowloon City Boy, SZMAN, Natacha Van, WHATEVER NEXT, and VDLM, each presenting their latest collections.

Other participating brands from different regions include FETICO (Japan), Pitattsu (Japan), SAMSARA (Japan), XAVAN (Vietnam), CHILLOSOPHY (India), and YINYANG (Korea).

A dazzling display of fashion's captivating charisma

Throughout the four-day exhibition, an array of unmissable fashion shows is held daily.

The opening ceremony, officiated by Kevin Yeung, Secretary for Culture, Sports and Tourism of the Hong Kong SAR Government, kicks off CENTRESTAGE, followed by the CENTRESTAGE ELITES fashion show. At this event, the Spring/Summer 2024 collections of Hong Kong designer Wilson Choi's high-end streetwear brand REDEMPTIVE and FETICO, a women's retro fashion brand by Japanese designer Emi Funayama, are showcased. Celebrities Hanna Chan and Pete, and Hong Kong high jumper Cecilia Yeung grace the runway in the latest creations of these two talented designers.

CENTRESTAGE ELITES showcases the interconnectivity of the world of artificial intelligence (AI) and the real world, showcasing a fantastical journey of an AI fashion enthusiast.

This year, the Fashion Hong Kong Runway Show, featuring Hong Kong fashion designers, takes a cross-disciplinary approach. Dancers from the Hong Kong Ballet present the latest designs from four Hong Kong fashion brands: 112 mountainyam, ANGUS TSUI, DORISKATH, and SUN=SEN, offering a visual feast that combines fashion and contemporary ballet.

FASHIONALLY Collection #21 features seven local designer brands, including FromClothingOf, Lapeewee, MARCCH, MOODLABBYLORRAINE, NONOBO, VO-YAGE, and WHY. Three FASHIONALLY presentations showcase the latest works of three emerging local fashion labels: Kinyan Lam, the Hole, and IP AXIS.

The highly anticipated finale of the Hong Kong Young Fashion Designers' Contest (YDC) 2023, a showcase of Hong Kong's budding fashion talents, takes place on 9 September, with MINI Hong Kong as the lead sponsor for the seventh consecutive year. YDC 2019 winner Wilson Yip integrates sustainability, Big Love and inclusivity into his brand Wilsonkaki SS24 series for MINI and will perform together with the Hong Kong indie band The Hertz. The public can vote for the My Favourite Collection Award online before midnight on 8 September and be in with a chance to win one of five HK$3,000 Lee Gardens Area e-gift coupons. Voting link: https://bit.ly/YDC2023_VOTENOW.

Exploring Market Trends and Sustainable Development

A series of seminars are being conducted to delve into fashion trends and sustainable development of the fashion industry. The annual fashion summit organised by Jiemian News, a subsidiary of Shanghai Media Group, discusses the trends, challenges and opportunities for fashion, beauty and personal care brands in the new era of consumerism. Additionally, the "Partners for Progress" forum, hosted by the Hong Kong Research Institute of Textiles and Apparel (HKRITA), explores how cross-sector collaboration can drive innovation in the textile and garment industry, featuring insights from leading global clothing companies, such as TAL Apparel, ISKO, Fast Fish and the H&M Foundation.

This year's exhibition once again incorporates a wealth of digital fashion elements. The venue features a Digital Fashion Interactive Zone highlighting a variety of fashion garments revolving around the fair's theme of Radiant Wellness, including designs created by Hong Kong Design Institute students. Outfits incorporating the latest fashion trends by FASHIONALLY's local young designers are also showcased.

CENTRESTAGE is held concurrently with the Hong Kong Watch & Clock Fair and Salon de TE organised by the Hong Kong Trade Development Council, offering attendees a one-stop opportunity to explore both branded fashion and renowned timepieces from around the world.

Additionally, the event will host the CENTRESTAGE X Watch & Clock Lucky Draw on 9 September.

Websites :
- CENTRESTAGE: http://www.centrestage.com.hk
- CENTRESTAGE Buyer online registration: https://bit.ly/44HE0OG
- Fashion Hong Kong: https://www.fashionhongkong.com.hk/en
- Hong Kong Young Fashion Designers' Contest (YDC): https://www.fashionally.com/en/
- The HKTDC's Media Room: http://mediaroom.hktdc.com/en
- Photo Download: https://bit.ly/484gbDB

Media enquiries
For more information, Best Crew Public Relations & Marketing
Diana Tang, Tel: +852 3594 6443, Email: diana.tang@bestcrewpr.com
Reni Kwok, Tel: +852 3594 6443, Email: reni.kwok@bestcrewpr.com

The HKTDC's Communications and Public Affairs Department:
Katy Wong, Tel +852 2584 4524, Email: katy.ky.wong@hktdc.org
Janet Chan, Tel +852 2584 4369, Email: janet.ch.chan@hktdc.org

About HKTDC

The Hong Kong Trade Development Council (HKTDC) is a statutory body established in 1966 to promote, assist and develop Hong Kong's trade. With 50 offices globally, including 13 in Mainland China, the HKTDC promotes Hong Kong as a two-way global investment and business hub. The HKTDC organises international exhibitions, conferences and business missions to create business opportunities for companies, particularly small and medium-sized enterprises (SMEs), in the mainland and international markets. The HKTDC also provides up-to-date market insights and product information via research reports and digital news channels. For more information, please visit: www.hktdc.com/aboutus. Follow us on Twitter @hktdc and LinkedIn

About Create Hong Kong

Create Hong Kong (CreateHK) is a dedicated office set up by the Government of the Hong Kong Special Administrative Region in June 2009 to spearhead the development of creative industries in Hong Kong. From 1 July 2022 onwards, it is under the Culture, Sports and Tourism Bureau. Its strategic foci are nurturing talent and facilitating start-ups, exploring markets, promoting cross-sectoral and cross-genre collaboration, and promoting Hong Kong as Asia's creative capital and fostering a creative atmosphere in the community.

* Disclaimer: The Government of the Hong Kong Special Administrative Region provides funding support to the project only, and does not otherwise take part in the project. Any opinions, findings, conclusions or recommendations expressed in these materials/events (or by members of the project team) are those of the project organisers only and do not reflect the views of the Government of the Hong Kong Special Administrative Region, the Culture, Sports and Tourism Bureau, Create Hong Kong, the CreateSmart Initiative Secretariat or the CreateSmart Initiative Vetting Committee.

Source: HKTDC

Copyright 2023 ACN Newswire . All rights reserved.