HONG KONG, Sept 5, 2023 - (ACN Newswire) - Some 90% of Mainland China-based companies planned to expand their level of international business activity in the next one to three years, in line with the national drive to "go global". This commitment was highlighted in Hong Kong as the Premier Platform for Mainland Companies to Expand to BRI and RCEP Markets, a major survey released today (5 September 2023) by the Hong Kong Trade Development Council (HKTDC).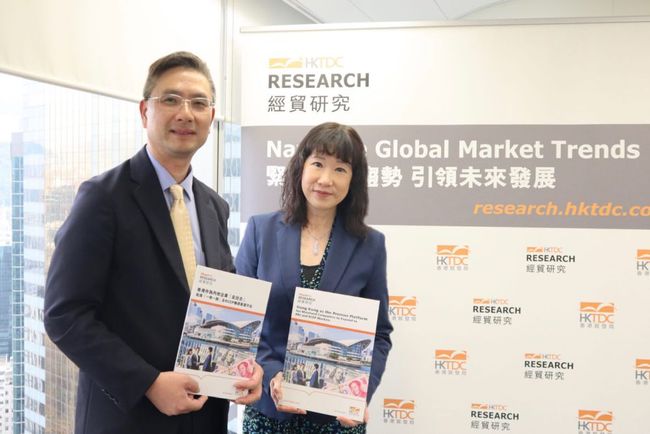 Wing Chu, Principal Economist (Greater China Research Team) of HKTDC (left); and Irina Fan, Director of HKTDC Research



More than 70% of these firms focused on countries that were Regional Comprehensive Economic Partnership (RCEP) signatories or Belt and Road Initiative (BRI) beneficiaries. Tellingly, the findings also showed that more than 60% of mainland enterprises preferred engaging Hong Kong-based professional service providers to ensure successful international expansion.

Commenting on the survey findings, Irina Fan, Director of HKTDC Research, said: "This survey more than confirms Hong Kong's status as a 'super-connector', one uniquely well-positioned to help mainland companies make good on their global expansion plans. Within the shifting global economic landscape, Hong Kong's well-established business platform remains a preeminent resource. The city's extensive array of premium financial and professional services and comprehensive international network make it the perfect partner for any business looking to optimise its outcomes within the RCEP region, along the BRI routes or, indeed, pretty much anywhere else in the world."

Expanding on the survey's findings, Wing Chu, Principal Economist with HKTDC Research, identified four key areas in which mainland businesses planned to expand overseas operations. Mr Chu, who heads the Greater China Research Team and had overall responsibility for the survey, said: "The four priority expansion areas appear to be logistics and transport, as singled out by 28.8% of respondents, marketing and sales (26.9%), factories (23.3%) and overseas procurement (15.9%).

"Drilling down into the findings, the survey also shows that 62.1% of expansion-minded mainland companies favour Hong Kong as a source of professional-service support, while only 47.7% would opt for mainland service providers. In more specific terms, most Greater Bay Area-based businesses designated Hong Kong as their preferred service provider locale, while their Yangtze River Delta counterparts divided their needs more or less evenly across Hong Kong and Shanghai."

Responding to another finding, which showed 83.9% of survey participants were driven to expand internationally by concerns over long-term viability of their traditional markets, Ms Fan said: "Geopolitical tensions, falling demand and economic uncertainties have all reduced confidence in many of the traditional overseas markets. As a result, 71.6% of expansion-oriented mainland businesses are targeting one or more of the 14 overseas RCEP member nations, while 64.3% expressed interest in venturing into the emerging markets along the routes of the BRI and beyond, including those located in the Middle East, Central and Eastern Europe, South America or Africa."

Survey methodology and remit

Between May and July this year, HKTDC Research surveyed 791 mainland enterprises operating primarily in the Guangdong-Hong Kong-Macao Greater Bay Area (GBA) and the Yangtze River Delta region. The survey had two primary objectives - improve understanding of the overseas expansion plans of participating businesses and build up a clearer picture of diverse challenges they face.

To gain a wider perspective, HKTDC Research also conducted in-depth interviews with recognised experts in many of Hong Kong's professional service industries, including representatives of the legal and financial sectors. The consensus was that the many areas in which Hong Kong could boost outward-bound mainland businesses included negotiating with overseas partners; overseeing legal, investment and general business arrangements; financing arrangements, providing project valuations and meeting due-diligence obligations, as well as assisting with tax planning, risk management and compliance with overseas regulatory requirements. It was also noted that Hong Kong offered exemplary international and regional logistics services and possessed unrivalled expertise when it came to ensuring products / services complied with a wide range of overseas standards and legal obligations.

The Eighth Belt and Road Summit

To fully capitalise on the many emerging BRI opportunities and celebrate the 10th anniversary of the programme, the eighth edition of the Belt and Road Summit, jointly organised by the Government of the Hong Kong Special Administrative Region (HKSAR) and the HKTDC will take place at the Hong Kong Convention and Exhibition Centre (HKCEC) on 13 and 14 September (Wednesday and Thursday) The Summit fully aligns with the objectives of China's 14th Five-Year Plan, which emphasises the key roles Hong Kong and Macao are set to play in the ongoing rollout of this vast infrastructure development and trade facilitation programme.

The Belt and Road Summit will assemble more than 80 key officials and business leaders from many of the countries and regions along the BRI routes, as well as investors, project stakeholders, operators and service providers from around the world. Together, they will provide an overview of the programme's landmark achievements throughout the past decade and detail many related future investment and business opportunities, while showcasing the unique benefits of the Hong Kong platform.

References
- HKTDC Research Portal: https://research.hktdc.com/en/
- Hong Kong as the Premier Platform for Mainland Companies to Expand to the BRI and RCEP Markets [Only Chinese versions are available]: https://research.hktdc.com/tc/article/MTQ3MTQ1NjU4OA
- Photo Download: https://bit.ly/47XHeAz

The Eighth Belt and Road Summit

Date: 13 and 14 September 2023 (Wednesday and Thursday)
Venue: Hall 5B-E, Hong Kong Convention and Exhibition Centre, Wan Chai
Remarks: Video and audio recordings at the forum should be used only in the context of media reporting
Media Registration: Please contact awong@yuantung.com.hk or ayiu@yuantung.com.hk for media registration
Websites:
- Belt and Road Summit: https://www.beltandroadSummit.hk/conference/bnr/en
- Programme: https://www.beltandroadSummit.hk/conference/bnr/en/programme
- Speaker list: https://www.beltandroadSummit.hk/conference/bnr/en/speaker

About HKTDC

The Hong Kong Trade Development Council (HKTDC) is a statutory body established in 1966 to promote, assist and develop Hong Kong's trade. With 50 offices globally, including 13 in Mainland China, the HKTDC promotes Hong Kong as a two-way global investment and business hub. The HKTDC organises international exhibitions, conferences and business missions to create business opportunities for companies, particularly small and medium-sized enterprises (SMEs), in the mainland and international markets. The HKTDC also provides up-to-date market insights and product information via research reports and digital news channels. For more information, please visit: www.hktdc.com/aboutus. Follow us on Twitter @hktdc and LinkedIn

Media enquiries
Yuan Tung Financial Relations:
Anson Wong, Tel: +852 3428 3413, Email: awong@yuantung.com.hk
Louise Song, Tel: +852 3428 5691, Email: lsong@yuantung.com.hk
Agnes Yiu, Tel: +852 3428 5690, Email: ayiu@yuantung.com.hk

HKTDC's Communications & Public Affairs Department:
Jane Cheung, Tel: +852 2584 4137, Email: jane.mh.cheung@hktdc.org
Clayton Lauw, Tel: +852 2584 4472, Email: clayton.y.lauw@hktdc.org

Source: HKTDCBelt and Road Summit

Copyright 2023 ACN Newswire . All rights reserved.