HONG KONG, Aug 31, 2023 - (ACN Newswire) - The eighth edition of the Belt and Road Summit, jointly organised by the Government of the Hong Kong Special Administrative Region (HKSAR) and Hong Kong Trade Development Council (HKTDC), will take place at the Hong Kong Convention and Exhibition Centre (HKCEC) on 13 and 14 September (Wednesday and Thursday). This year's Summit comes a decade after the launch of the Belt and Road Initiative. Under the theme Prospering on a Decade of Collaboration, the Summit creates a vital platform for Belt and Road-related business exchange.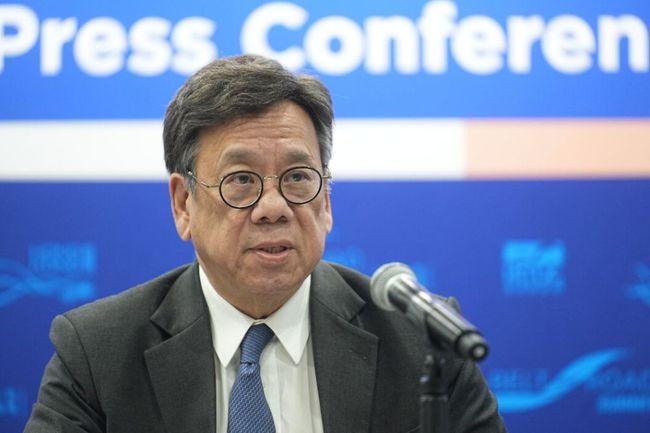 Algernon Yau, Secretary for Commerce and Economic Development of the HKSAR, describes the government's role and achievements in the Belt and Road Initiative, as well as development opportunities for Hong Kong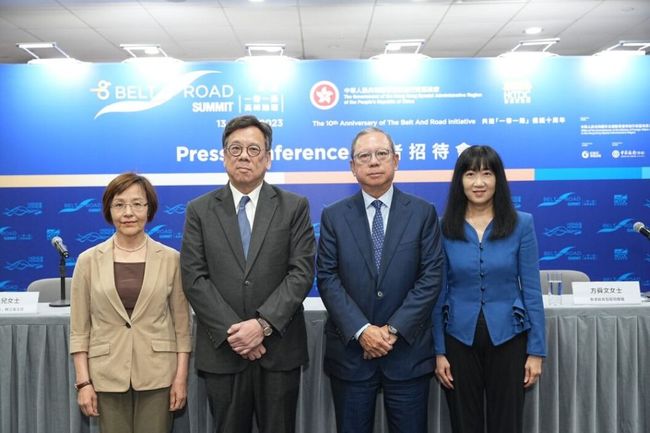 Julina Chan, Director-General, Belt and Road Office; Algernon Yau, Secretary for Commerce and Economic Development of the HKSAR; Dr Peter K N Lam, Chairman of the HKTDC; and Margaret Fong, Executive Director of the HKTDC [L-R]



Some 80 government officials and business leaders from countries and regions along the Belt and Road, as well as project owners, investors and service providers from around the world, will gather to share their Belt and Road experience over the past 10 years and explore investment and business opportunities while showcasing Hong Kong's unique advantages to the global community.

Algernon Yau, Secretary for Commerce and Economic Development of the HKSAR, said: "The physical return of the Belt and Road Summit after the pandemic carries great weight as it coincides with the momentous 10th anniversary of the Belt and Road Initiative. This Summit is a valuable opportunity to deepen understanding of Hong Kong's pivotal role in the Belt and Road Initiative and to foster increased business opportunities, particularly in emerging markets such as ASEAN and the Middle East. Hong Kong's internationalisation, exceptional professional services, and talented workforce have always played a critical role in connecting the global community. Leveraging our strengths in finance, risk management, accounting and taxation, architecture and engineering, legal services and commercial arbitration, construction management, logistics and more, Hong Kong actively contributes to the high-quality development of the Belt and Road Initiative and endeavours to meet Mainland China's evolving needs."

Dr Peter K N Lam, Chairman of the HKTDC, said: "Since its inception in 2016, the Belt and Road Summit has evolved into a preeminent global business platform for discussing opportunities arising from the Belt and Road Initiative and fostering substantial cooperation. The Summit has consistently garnered high-level support from the mainland. This year, we anticipate the participation of over 5,000 distinguished guests for fruitful exchanges. The HKTDC will continue to build on the annual Summit, enhance the information platforms, and leverage our extensive network of 50 offices worldwide to assist the business community in seizing the vast opportunities presented by the initiative. These concerted efforts help reinforce Hong Kong's role as the commercial hub for Belt and Road opportunities."

Connecting policy and business leaders to explore collaboration

Over the past decade, more than 150 countries and regions and over 30 international organisations have signed more than 200 Belt and Road cooperation documents, covering markets accounting for 40% of global GDP and 45% of world goods trade. Hong Kong has been an active participant and contributor, helping international companies expand in Belt and Road countries and regions, fostering deeper exchanges and cooperation between nations, and promoting high-quality economic growth.

The Belt and Road Summit, recognised as a crucial platform for promoting the business opportunities under the Initiative, features discussion sessions and exchange. These include the Opening Session, Policy Dialogue, Business Plenary, Thematic Breakout Sessions and Project Pitching Sessions. At the Opening Session John Lee, Chief Executive of the HKSAR, will deliver an opening address. Aset Irgaliyev, Chairman of Agency for Strategic Planning and Reforms, Republic of Kazakhstan, and Rizal Affandi Lukman, Senior and Special Staff to the Coordinating Minister for Economic Affairs of Indonesia, will also deliver keynote addresses.

Overseas officials join expanded policy dialogue

This year's Summit will feature two Policy Dialogue sessions. The first session, hosted by Christopher Hui, Secretary for Financial Services and the Treasury of the HKSAR, is titled Tapping into the Potential of the Middle East. The dialogue aims to explore effective ways for Hong Kong and international companies to access Middle Eastern markets, fostering collaborative advantages, reciprocal benefits and collective development. Speakers sharing their insights will include Rania A. Al-Mashat, Minister of International Cooperation of Egypt; and Abdulla Bin Touq Al Marri, Minister of Economy of the UAE.

The second session, Belt and Road Initiative as a Catalyst for Regional Cooperation and Development, will be hosted by Mr Yau. This session, focusing on market integration and connectivity among economies, will feature high-ranking officials from ASEAN and Europe who will share their insights, including Peter Szijjarto, Minister of Foreign Affairs and Trade of Hungary; and Zambry Abd Kadir, Minister of Foreign Affairs of Malaysia.

The Business Plenary on the afternoon of the first day revolves around Fostering Business Collaboration along the Belt and Road through Hong Kong. The 10-year milestone of the Belt and Road Initiative coincides with a crucial phase in the post-pandemic era, characterised by a focus on global economic improvement, where multilateral cooperation assumes paramount importance. The discussion, chaired by Antony Leung, Chairman of the Nan Fung Group and Group Chairman and Co-founder of New Frontier Group, will analyse how growth momentum in the Guangdong-Hong Kong-Macao Greater Bay Area (GBA) can propel development of the Initiative and the strategic role of Hong Kong and the GBA. Esteemed guest speakers, including Jeffrey Cheah, Founder and Chairman of Sunway Group; Jean-Pascal Tricoire, Chairman of Schneider Electric; Wang Haihuai, Director and General Manager of China Communications Construction Company Limited; and Wang Xiangming, Chairman of China Resources Group, will share their insights.

New Middle East Forum to explore collaboration

In February this year the Chief Executive led a delegation organised by the HKTDC to the Middle East. The visit proved highly successful in exploring opportunities and strengthening trade ties with the region. The Middle East Forum debuts at this year's Belt and Road Summit, focusing on opportunities, developments and collaboration the Middle East presents. Countries in the region are key Belt and Road partners and their relationship with Hong Kong is going from strength to strength. The Middle East Forum will feature Business and Investment Outlook in the Middle East Market, a business session hosted by Ronnie C. Chan, Chairman of Hang Lung Properties Limited, which will invite distinguished guests, including Nicolas Aguzin, Chief Executive Officer of Hong Kong Exchanges and Clearing Limited; and Hossam Heiba, President of General Authority for Investment & Free Zones, to analyse trade and investment prospects of the Middle Eastern market and further strengthen the connection between Hong Kong and Middle Eastern countries.

Finance Chapter, Youth Chapter debut

The Finance Chapter and Youth Chapter debut this year. The Finance Chapter will delve into Hong Kong's superior financial services, innovative technologies and sustainable-development vision, exploring how they can contribute to the Initiative and countries and regions along the Belt and Road. The Youth Chapter will invite young business leaders and start-ups to share insights on discovering and seizing opportunities.

This year the Ministry of Commerce will host the Mainland-Hong Kong Services Industry Symposium on day one of the Summit for the first time. The HKTDC will also collaborate with the Department of Justice, Development Bureau, Financial Services Development Council, Insurance Authority, Hong Kong Monetary Authority, Hong Kong Science and Technology Parks Corporation and Cyberport, to co-organise Thematic Breakout Sessions on different topics. These sessions will introduce Hong Kong's professional services and advantages in such areas as legal cooperation, infrastructure, insurance, finance, green finance, digital advances and innovative technology. The sessions aim to comprehensively showcase Hong Kong's role and contributions in the Initiative. The China International Contractors Association will also continue to collaborate with the HKTDC to co-organise a session exploring infrastructure project opportunities.

Extending, optimising deal making

The HKTDC will extend its online and physical deal-making service to seven days (13 to 20 September), expecting to arrange more than 800 one-to-one project-matching sessions covering more than 280 investment projects this year. The deal-making service includes one-to-one business matching meetings and project investment sessions. Business matching meetings will connect participants based on investment preferences and business expertise to facilitate one-to-one discussions on collaboration opportunities. Project investment sessions will provide a platform for project owners from different countries to present projects, giving investors and service intermediaries a comprehensive understanding of the investment opportunities in different sectors. Project investment sessions will focus on four main areas: (1) energy, natural resources and public utilities, (2) innovation and technology, (3) urban development, and (4) transport and logistics infrastructure. New this year will be project-pitching sessions on the Middle East and emerging markets.

This year's Summit will showcase project collaboration opportunities from various markets worldwide including the Middle East, with more than 80 exhibitors. The exhibitions will be divided into the Global Investment Zone, Hong Kong Zone and RCEP Tech Zone. The Global Investment Zone will showcase large-scale investment projects and opportunities from different countries to attract international investors and partners; the Hong Kong Zone will demonstrate excellent services and business advantages the city's enterprises offer; while the RCEP Tech Zone will feature high-end innovative technologies, artificial intelligence, digital technologies and solutions offered by exhibitors from the region.

Inaugural multimedia display highlights achievements of Hong Kong companies

The Cocktail Reception Celebrating the 10th Anniversary of the Belt and Road Initiative will be held at the Summit. The Summit will also feature a multimedia display marking a decade of the Initiative, which highlights participation by Hong Kong companies in Belt and Road projects. Additionally, the 6th Belt and Road Global Forum Annual Roundtable on 15 September will run in conjunction with the Belt and Road Week, using Hong Kong as a base to share perspectives on the Belt and Road collaborations, exchange the latest information and seize cooperation opportunities.

China International Capital Corporation Ltd serves as the Strategic Partner of the eighth Belt and Road Summit; Bank of China (Hong Kong) Ltd as the Banking Partner; The Hongkong and Shanghai Banking Corporation Limited as the Global Connectivity Partner; Standard Chartered as Diamond Sponsor; Huatai International Financial Holdings Company Limited as Sapphire Sponsor and China Mobile International Limited, China Unicom Global Limited and China Telecom Global Limited as Platinum Sponsors.

The Eighth Belt and Road Summit

Date: 13 to 14 September 2023 (Wednesday and Thursday)
Venue: Hall 5B-E, Hong Kong Convention and Exhibition Centre, Wan Chai
Remarks: Video and audio recordings at the Forum should be used only in the context of media reporting. Please consult HKTDC's Communications & Public Affairs Department for live or video broadcast
Media Registration: Please contact awong@yuantung.com.hk or ayiu@yuantung.com.hk for media registration
Websites:
- Belt and Road Summit: https://www.beltandroadSummit.hk/conference/bnr/en
- Programme: https://www.beltandroadSummit.hk/conference/bnr/en/programme
- Speaker list: https://www.beltandroadSummit.hk/conference/bnr/en/speaker

Media representatives who would like to conduct interviews with the speakers please submit their interview requests via email to awong@yuantung.com.hk or ayiu@yuantung.com.hk by 8 September 2023.

Photos Download: https://bit.ly/3Z0aRwQ

About HKTDC

The Hong Kong Trade Development Council (HKTDC) is a statutory body established in 1966 to promote, assist and develop Hong Kong's trade. With 50 offices globally, including 13 in Mainland China, the HKTDC promotes Hong Kong as a two-way global investment and business hub. The HKTDC organises international exhibitions, conferences and business missions to create business opportunities for companies, particularly small and medium-sized enterprises (SMEs), in the mainland and international markets. The HKTDC also provides up-to-date market insights and product information via research reports and digital news channels. For more information, please visit: www.hktdc.com/aboutus. Follow us on Twitter @hktdc and LinkedIn

Media enquires
Yuan Tung Financial Relations:
Anson Wong, Tel: (852) 3428 3413, Email: awong@yuantung.com.hk
Louise Song, Tel: (852) 3428 5691, Email: lsong@yuantung.com.hk
Agnes Yiu, Tel: (852) 3428 5690, Email: ayiu@yuantung.com.hk

HKTDC's Communications & Public Affairs Department:
Jane Cheung, Tel: (852) 2584 4137, Email: jane.mh.cheung@hktdc.org
Clayton Lauw, Tel: (852) 2584 4472, Email: clayton.y.lauw@hktdc.org

Source: HKTDC

Copyright 2023 ACN Newswire . All rights reserved.