Pops Fried Turkey Chops App, will give an eating experience, you will never forget!
Seattle, WA, USA - July 8th 2022 - Based in Lakewood WA.-Pops Fried Turkey Chops Inc. ("PFTC"), an African American-owned business, is pleased to announce it raised over $7.5Million in its 1st round of funding led by BarterVentures. The Black Unicorn Factory has helped generate equity of $10.5M in revenue for Pops Fried Turkey Chops Inc. since its launch in 2021. The Black Unicorn Factory program takes businesses from startup to the Stock Market, using a new IPO law called "Jumpstart Our Business Startups Act of 2012 (J.O.B.S. Act of 2012) which was passed into Law by President Obama in 2012.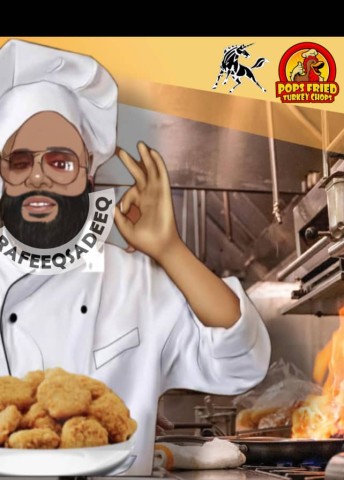 PFTC is on track to become the upcoming largest fried poultry tech company. It has already gained a reputation for being the most unrivaled healthy fast-food companies since its launch. With their vision, expertise and drive, they will have the ability to turn typical protein into a profitable, billion-dollar tech enterprise. The Halal Turkey used by PFTC is always 98% lean white meat seasoned to be very flavorful, delicious and extremely tender. Pops Fried Turkey Chops (PFTC) App menu is full of mouthwatering options including turkey chop sliders, smothered, bbq, and buffalo flavored options. PFTC also offers delicious sides to enjoy with your turkey chop options.This in correlation with the amazing combination of spices and herbs used, is sure to keep customers coming back for more. Pops Fried Turkey Chops is a Pre-IPO Company on a clear path to going public.
The CEO/founder Herb Sanford states "these fried turkey chops are going to disrupt the fried chicken franchise." Poultry based food venues today are redundant to our taste buds, also turkey is a healthier option to chicken. Pops Fried Turkey Chops Inc. is an online soul food restaurant that offers delivery as well as pickup options. At (PFTC) customers will receive a healthy and delicious soulful meal with fast-food establishment convenience. We're excited about the opportunities Pops Fried Turkey Chops (PFTC) has to offer to the drive thru & food Truck industry.
Furthermore, PFTC is launching an app offering fast and easy options for pick up and delivery. The goal is to create convenient and reliable food delivery options. Through our app our customers will receive exclusive offers and promotions from PFTC. Customers will be encouraged to download the app."This is going to be a gamechanger for those who want to invest but never could because they don't have the needed capital," added Dr. Melissa Caudle, bestselling author. "This will give the community value also a chance to learn how to start investing. Our goal is to teach and help build wealth in our community and help share the importance of investments. Offering a risk-free opportunity to gain an understanding of investing and build wealth for our communities." says Herb Sanford(CEO)
Follow US On Instagram: Pops Fried Turkey Chops
Launches: July 5th
Media Contact
Company Name: Pops Fried Turkey Chops Inc.
Contact Person: Herb Sanford-CEO & Founder of Pops Fried Turkey Chops Inc.
Email: Send Email
Phone: 1-(833) 487-7677(POPS)
Address:9808 59th Ave SW
City: Lakewood
State: WA 98499
Country: United States
Website: https://www.formds.com/issuers/pops-fried-turkey-chops-inc