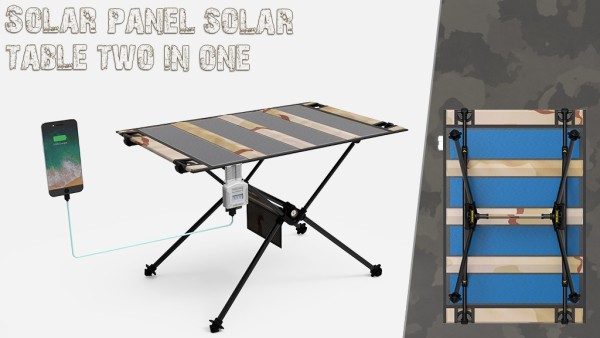 Premier tech manufacturer, ES is proud to announce the release of the ES 30W Portable Solar Folding Table, the perfect solution for all your outdoor power needs.
Featuring a 30W peak power output, this folding table is capable of charging a variety of devices, including GoPro, Portable game devices. Tablet PC, Video Camera, E-reader. Cell phone, Smartphone. Digital Camera, MP3 player, External battery, USB radio. Flashlight. Its compact and lightweight design makes it easy to take on the go, and the folding legs allow for easy storage and transport.
Made with high-quality materials, the ES 30W Portable Solar Folding Table is both waterproof and dustproof, making it ideal for use in a variety of outdoor environments. The anodized bracket and ABS base provide added durability and stability, while the sleek design ensures that it will blend in with any outdoor setting.
''Our ES 30W solar panel adopts a folding design, and the kinematics model of each unit and the folding flexible compound joint is obtained by the geometric method. It can be folded when it is not in use and unfolded quickly to generate electricity. Most importantly, its portability makes it easy to carry and install for emergency or disaster relief,'' said the founder of ES.
The surface is coated with PE protective film, which can protect it from acid rain or saline-alkali water. So you can use it as you like. Extra strong, scratch-resistant, and rust-free. Both can be used sunny or rainy. Its durable 600D polyester oxford construction makes it easy to clean,  so you don't have to worry about oil stains during camping.
The ES 30W Portable Solar Folding Table is the perfect companion for camping trips, hiking excursions, and any other outdoor adventures. So why not invest in a reliable source of power that will keep your devices charged and ready to go, no matter where you are.
This table is more durable under harsh conditions. The Solar Table is designed for outdoor use and has a strong anti-scratch function.
Since the  ES 30W solar table can be charged from anywhere it can be hung or placed, the high flexibility of the solar table opens up multiple possibilities of use. For example, a solar table can be hung on a tree; it can also be placed on tent ropes, on grass, on rocks, or even in a stream
The ES team has been working in the solar energy and power supply industry for nearly 20 years. They are committed to providing mobile energy equipment for outdoor enthusiasts around the world, with three core values: "green technology, low-carbon environmental protection", and "craftsman spirit." The company believes that by expanding its products and services, they can provide more convenient, higher quality products, and innovation to lead the fashion, health, comfort, rich and colorful outdoor leisure lifestyle.
To know more about the ES 30W Portable Solar Folding Table, check out the company's page on Kickstarter.
Media Contact
Company Name: ES
Contact Person: Jason
Email: Send Email
Country: China
Website: https://www.kickstarter.com/projects/essolartable/es-30w-portable-solar-folding-table?ref=iw75a1&token=e2d0f892