What's In Store For the RETL ETF as 2020 Saw Record Store Closures?
January 05, 2021 at 11:27 AM EST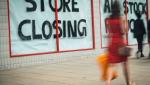 2020 wasn't kind to brick and mortar retailers with a record number of store closings and more could be ahead in 2021. While ETFs like the Direxion Daily Retail Bull 3X ETF (NYSEArca: RETL) managed to finish 2020 up over 60%, can it maintain its level of performance last year? RETL seeks...