Testy Times for Tesla: Can S&P Induction DRIV(e) this ETF Forward?
December 15, 2020 at 12:58 PM EST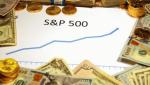 With the induction of electric automaker Tesla into the S&P 500, heavy volume is expected this week. Tesla is one of the top holdings of the Global X Autonomous & Electric Vehicles ETF (DRIV), so it's one fund to watch if its over 50% gain year-to-date isn't enough reason...