Are Commodities Setting Up for a 2021 Bull Market?
October 31, 2020 at 08:00 AM EDT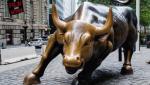 By Frank Holmes, CEO, U.S. Funds A week after reporting earnings, Delta Air Lines jumped more than 7 percent last Thursday after the carrier announced it would continue to block the middle seat until at least January of next year. This increase helped its share price climb above the 200-day moving...