Is China's Dip in Online Shopping a Sign of a Slow Recovery?
September 24, 2020 at 10:40 AM EDT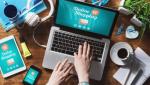 Consumers' willingness to open their wallets and spend is certainly a sign that the economic effects of the Covid-19 pandemic could be subsiding, and for a little while, China was experiencing just that before online shopping took a dip in August. Is this a sign that the recovery will be a...