Will Chinese Investors Dump Real Estate and Focus on Equities?
August 14, 2020 at 10:55 AM EDT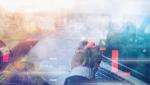 Less real estate and more equities—that's what analysts are seeing when it comes to investor trends in China. As such, this could help fuel China-focused exchange-traded funds (ETFs) as investors shift to more liquid investments. Per a CNBC report, the "Chinese government's efforts to tamp down...