Are Bonds Behind the Current Gold Rally?
July 24, 2020 at 12:07 PM EDT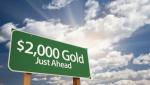 Demand for bonds and gold was at a fever pitch during the height of the pandemic sell-offs in March, but is one feeding into strength for the other? Rising bond prices mean lower yields and that, in effect, is helping to fuel the recent demand for gold. Per a recent Bloomberg report, "negative real...