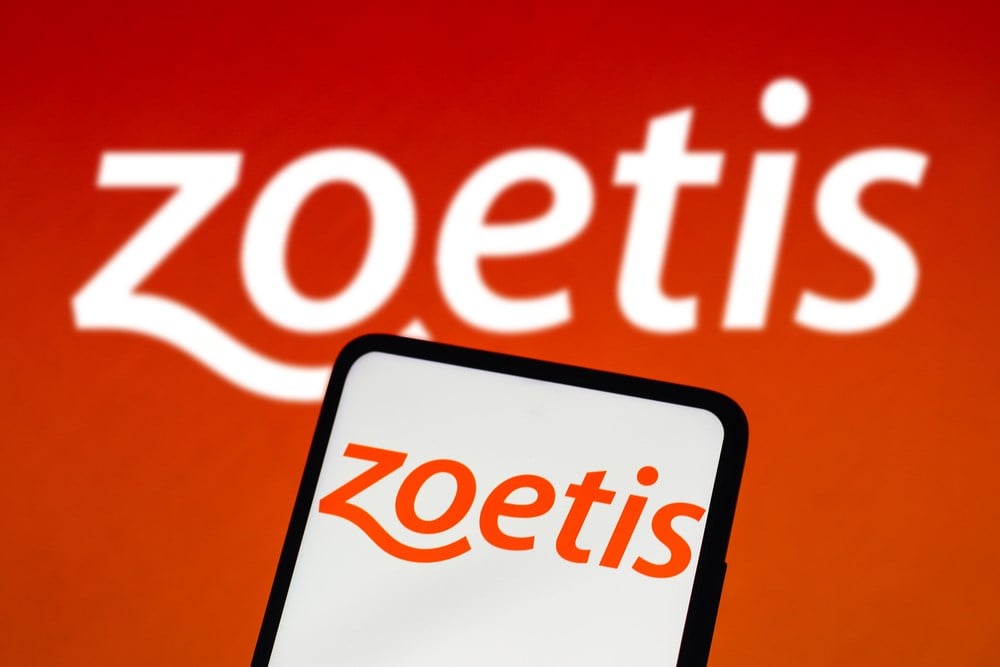 When Zoetis Inc. (NYSE: ZTS) reports second-quarter financials next week, the market will be expecting its best revenue growth in a year and a 9% jump in profits. If history repeats, the results will be even better.
The maker of medicines and vaccines for pets and livestock is coming off a strong first-quarter report in which earnings per share (EPS) topped consensus expectations. Cattle and poultry deserve most of the credit. 
The beat was driven by Zoetis's smaller but thriving livestock business which is seeing higher demand for its products in a healthy commodity price environment. As grocery shoppers can attest to, a dozen eggs cost 17% more than they did last month. Over the past 12 months, feeder cattle prices have risen 37%. With farmers scrambling to capitalize on these higher prices, securing supplies of chicken, cow and pig medicines has become a top priority. 
The projected 6% sales growth at Zoetis in 2023 is about the dogs and cats too. Companion animal product sales slipped 7% in Q1 due to distributor de-stocking and promotional activity — but the nation's leading animal health company remains positioned to benefit from pet care trends accelerated by the pandemic.
Rising pet adoption, along with advancements in veterinary medicine, are behind what's poised to become a $60.9 billion global animal health market by 2027. 
During Q2, the U.S. Food & Drug Administration (FDA) approved Zoetis' Librela injection for the treatment of osteoarthritis pain in dogs. It follows the recent FDA approval of Apoquel chewable tablets for dogs with allergic and atopic dermatitis.
Both medicines are the first in their categories to hit the U.S. market and exemplify 1) the crossover of treating common human conditions in pets and 2) the company's broadening opportunity set across a range of companion and livestock animals. 
How Does Zoetis Create Shareholder Value?
Also in Q2, Zoetis held its annual Investor Day event at which management outlined its four pillars for creating long-term shareholder value:
above-market revenue growth
profit growth that exceeds revenue growth
investment in innovation and
return of excess capital to shareholders.
All of the above have contributed to success since the company's founding over 70 years ago — and are likely to do so over the next several years. 
Since its IPO a decade ago, Zoetis has grown revenue 8% annually compared to 5% for the overall animal health market. It plans to mimic this performance by broadening its existing billion dollar franchises, building new blockbuster franchises, expanding in emerging markets and gaining market share.
As for #2, how does a company go about growing profits faster than sales? It generates higher profit margins. Through a combination of higher prices, lower costs and product mix, Zoetis has expanded its net profit margin by 12.5% over the last 10 years. The scale benefits that come with being a much larger business today and a focus on higher margin products could create more of the same as the current decade progresses.
Over the last 10 years, more than $4 billion has been invested in research & development. Zoetis has acquired a bunch of complementary businesses along the way to diversify into areas like animal diagnostics and aquaculture. Planned investments in R&D, new products and supply chain capabilities stand to repeat the script going forward.  
Lastly, Zoetis delivers value through share price appreciation, dividend payments and share repurchases. An investor who purchased ZTS at its $26 IPO price a decade ago would have a cumulative gain of around 460%, more than double the S&P 500's return over the same period. Meanwhile, the dividend has been increased by 20% annually over the last nine years.
The yield is modest at 0.8% but a low 25% payout ratio leaves a lot of room for further increases. More than $5 billion of historical stock buybacks and $2.3 billion left in the current authorization adds up to one shareholder-friendly company. 
Does That Mean Zoetis Shares Are Undervalued?
Based on the latest consensus estimate for 2023 earnings, Zoetis has a P/E ratio of about 35x. Over the last five years, it has commanded an average P/E of 41, meaning there is significant room for multiple expansion to the historical norm — 18% to be exact.
Looking ahead to 2024, the stock is trading around 31x which makes it more appealing relative to its own history and some S&P 500 industry peers. Eli Lilly and Catalent are going for 37x and 40x next year's earnings respectively. Investors that typically focus on LLY, JNJ, MRK and PFE when it comes to large cap pharmaceutical plays may wish to consider an alternative bet on pets.